20/20 vision: 20 local artists tipped for greatness in 2020
2019 was an incredible year for local music, with a host of up-and-coming artists building their repertoires, while those already on the rise are now ready to rise even further. Stephen Pennell kept our ears to the Marshall amps and penned 20 of his favourite local artists and acts that he thinks are set for big things this year, whether that means enhancing reps, playing to bigger crowds or, in some cases, moving towards world domination.


Ruth Kokumo
Ruth didn't waste any time in 2019, releasing a song on the 1st of January. A pocket dynamo with a huge voice, her live shows put one in mind of Amy Winehouse playing the juke joint in The Color Purple, and connoisseurs of classic soul will know what I mean when I call her Little Mama Thornton. With perfect symmetry, she played out the old year magnificently with her exciting new band The Ark at Mama Roux's on New Years Eve and absolutely slayed her Discover Birmingham gig at The Sunflower Lounge more recently.
---
Lady Sanity
Lady Sanity released a handful of great tunes and recorded a session at the BBC's legendary Maida Vale studios last year, in which she looked every inch the musician on the edge of greatness. This is probably one of my favourite moments in hip-hop since Public Enemy dissed Elvis and those in the know tell us that her next project is "amazing".
---
The New Consistent
A heady cocktail of The Streets, Swim Deep and a more reflective, less angry Sleaford Mods. Downbeat, lo-fi and an accomplished acting debut in this video, perfectly conveying the sense of confusion at the life that awaits the protagonist after a painful break-up. I can't wait to hear his second EP, which is all recorded ready to drop in the summer, with a single expected in spring.
Read: Swim Deep prodigy The New Consistent talks life, love and a BBQ with Wolf Alice
---
Flares
They make indie-punk bangers that are as catchy as the Happy Days theme tune. After their gig at the Castle & Falcon in September, lead singer Arthur helped me type their lyrics into my phone notes, and I felt younger than the band, even though hardly anybody actually is. I'm told that guitarist Leo is in year 11 at school for God's sake, and Edie, Arthur and Reuben have only just left. Flares are the shape of things to come for Birmingham indie. Excuse my dodgy camera work:
---
Call Me Unique
Two doyens of the Birmingham music scene team up on this gorgeous summer vibe by Call Me Unique and Vital. The night Unique curates (The CMU Experience, every second Saturday at Mama Roux's/Digbeth Dining Club) is quite possibly the best night out in town – any town – and I'm excited about a new project that she is all set to unveil soon.
---
Glass Ceilings
It's been a year of rapid progress for this quality quartet, from supporting The Clause in February to their own sell-out headline shows and rave reviews for their next single I Don't Mind, out next month. Their powerful, punchy sound has gained many new admirers and with tunes like this from last year, they will only add more.
Read: Review: The Clause impress at phenomenal sold-out Birmingham show
---
Anderson 100
The Birmingham MC's state of the art beats and bars have won the much sought-after backing of Daniel Sturridge's label, Dudley Road Records, and with that kind of support, the future looks bright. Latest single House Rules is worth checking out but I opted for this one on the toss of a coin:
---
The Clause
Powerful, swaggering rock n roll with more drug references than your average episode of Breaking Bad, In My Element caused a lot of people (including Universal, who subsequently signed them), to sit up and take notice. It made number one in the iTunes rock chart and even sneaked into the general top 50, and I'm eager to hear what they come up with in 2020 for their shiny new label. All the lads will tell me is "it's class" and if this is anything to go by, I've no reason to doubt them.
Read: The Clause launch new single In My Element at The Sunflower Lounge
---
The Novus
The most powerful thing to come out of Birmingham since the industrial steam engine, I scored tickets to see them four times last year and still can't get enough. Mere words can't convey the electricity they bring to a stage, and their first single of the new decade promises even bigger and better things.
Read: Review: The Novus bring the noise at their 'secret location' Birmingham gig
---
Namiwa Jazz
My discerning friend Steve Wells, who has DJd at hallowed Birmingham club night Sweat For decades, told me he'd love to play this out if he could get it on vinyl – a thrilling piece of old-school funk from a ridiculously talented songwriter and performer. Warning: I've heard some of her new stuff and trust me, you ain't seen nothin' yet. Watch out Adele.
Read: Review: Namiwa Jazz performs powerful set at the Hare & Hounds
---
Mayday
The King of Kingstanding made enormous strides in 2019, being omnipresent at local events, yet somehow finding time for recording sessions in Jamaica and shows in Japan alongside Stretch DCM. Their trip to the far-east inspired a new project, an EP called Slowgress, that drops at the end of January and drips with Oriental flavour and eastern promise for the year ahead.
---
White Flag Dares
Sam Rogers has been grinding for a while now, but he's really found his groove on this one. It combines the Mod vibes of Ocean Colour Scene and the Spencer Davis Group with a restless, experimental spirit, and if he and his band continue in this vein the future is bright.
---
Truemendous
Truemendous always brings brilliant wordsmithery, and when she teams up with Janel they make a deadly duo. The hook is a perfect summary of this wonderful MC – "the baddest in the room becomes the average in the room once you enter". Hotly tipped by Wordplay magazine too, and she's so prolific, I guarantee new magic soon come.
---
Shiraz
This would have been number one for weeks back in the day had the Pet Shop Boys or the Eurythmics released it. Expect big things from Shiraz in 2020 as some serious players in the music business have been alerted to her talent by this throbbing slice of 80s electro-pop melancholy. Get down to hot new venue Dead Wax Digbeth on February 21st for her headline show and see and hear for yourself.
---
Chartreuse
From nowhere on my playlist, the Black Country newcomers went straight to the top of it with this sumptuous erm… country-soul-pop? I dunno, you try categorising it. All I know is it's absolutely gorgeous, and I can't wait for more.
Read: Review: Chartreuse stun a sold out Hare & Hounds at debut headline show
---
La Dharma
One of the city's great indie hopes, La Dharma mix great lyrics, bouncy eighties pop and a big 1975 influence, topped off by Chris Leedham's distinctive vocals. It's all there in spades on this beauty below.
Read: Review: La Dharma soar on 'I Don't Believe That I'm Ready'
---
Stefflon Don + MIST
Some might say that Stefflon Don being born in Birmingham is too tenuous a link for my list, so luckily for me she collabed with Erdz boy MIST on this one. And there's a bit of Bhangra on it as well, another great Second City export. World domination awaits for these two.
---
Lady Leshurr
To further demonstrate the strength in depth of big hitters on the urban scene, here's a four-strong crew of Brummies (Swifta Beater, Lady Leshurr, Remtrex, Bowzer Boss) on a collab with an added bonus – a verse of The Queen of Grime's hardest bars of the year. Dare we hope for her long-delayed debut album in 2020?
---
Karkosa
My hope for these lads (and lass) is that they bring home the chaos that pops off every time they set foot in South Korea. They can make a start with a headline show at Mama Roux's on February 19th, the launch night for their new single. More tunes like this and the madness is guaranteed, so come on Brum, let's be 'avin ya!
Read: Meet Karkosa: the local lads making waves in South Korea
---
The Nu
Darius Zaltash has got so many irons in the fire of the Birmingham scene, one of them's bound to spark this year, and he could network for England. A big personality around town, but more important than that, he has the talent to match, as evidenced by this big pop banger.
---
Peace
Peace, my favourite band ever, are about due a new album I reckon, and I confidently predict it will be the greatest long player of all time, knocking their last one, Kindness Is The New Rock and Roll, into second place. So after all these predictions, I'll sign off looking back to the song of the last decade (according to me and Frances Bean Cobain).
Read: Review: Peace play secret intimate gig at Symphony Hall for Sofar Sounds
Header photo (The Clause) by Matilda Hill Jenkins
---
Like this? Try these…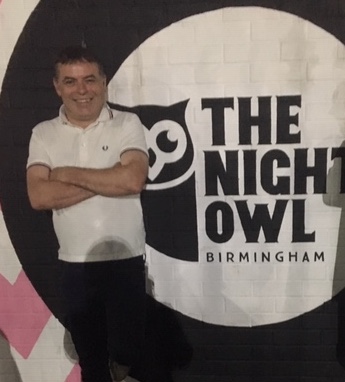 Militant anti-racist and Brummie. Lucky to be born in the most innovative musical city on Earth. If I hadn't been, I'd have moved here by now.