Review: Peace play secret intimate gig at Symphony Hall for Sofar Sounds
Peace were surprise headliners inside the luxurious Symphony Hall on June 27th
Sofar Sounds are known for their intimate gigs that focus on giving the artist full focus
The night was full of stories of Peace's Birmingham beginnings, acoustic renditions and unexpected covers
[amazon_link asins='B079PTDVXB,B00PXUAD36,B06XZTBTJD,B01MAT80MA' template='ProductCarousel' store='counteract03b-21′ marketplace='UK' link_id='86ce2497-837c-11e8-8616-01cb2a3022aa']
Those who know about Sofar Sounds, or have attended, know it's not a glamorous affair. That's not to say that the concept is bad, it's in fact a genius idea. A small number of people attend gigs in living rooms and intimate spaces, sitting on sofas and blankets and giving full, devout attention to the often acoustic or stripped back artist.
However, this Sofar Sounds was a long way away from the usual three bed terraced house setting. This time, around 100 people sat on the stage of Birmingham's prestigious symphony hall, facing the rows and rows of empty chairs that they would normally fill. Mic stands were adorned with glowing fairy lights, and the rows of balconies above dimly lit. This was probably one of the very few times the Symphony Hall has looked so beautifully simple. The final part of the magic was that no one who had a ticket knew what artists Sofar Sounds had in store.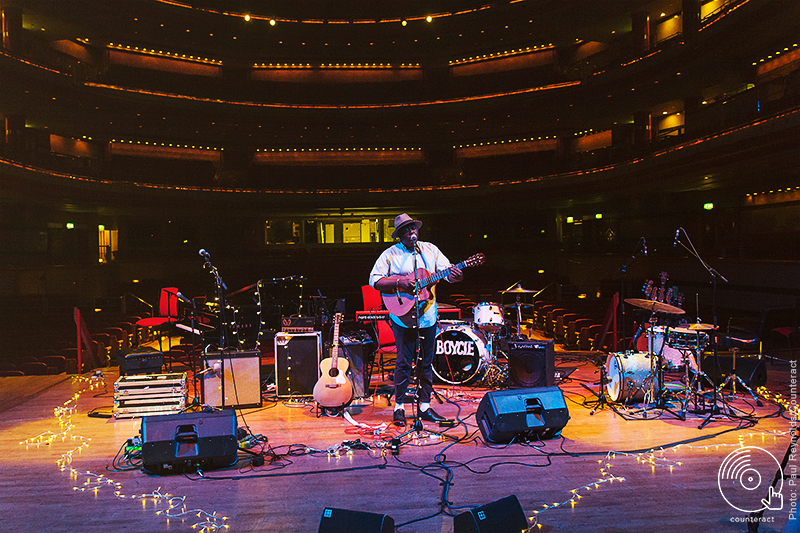 Jordan Mackampa
Coventry based Jordan Mackampa opened the night with folky blues ballads that were as theoretical as they were poetic. He created paintings of stars and planets, questioning morality and youth through crooning highs and floating lows that wrapped around the crowd, with thanks to the acoustics of the hall.
Mackampa's 'Care For Your Mother', an ode to an estranged father – put himself in his father's shoes, a grieving and cathartic piece that was followed by the soulful and subdued 'Yours to Keep'. His frank portrayals of the sting of silence in a relationship, or the painful language barrier of being a small immigrant child in London, were wrapped up in raindrop guitar strings and a voice that had seen the hurt in the world and came out the other side. The set ended with a stripped back 'One In The Same' – an anthem that filled the room with soul, not even needing the mic and amp, and ended his set on an all-time high.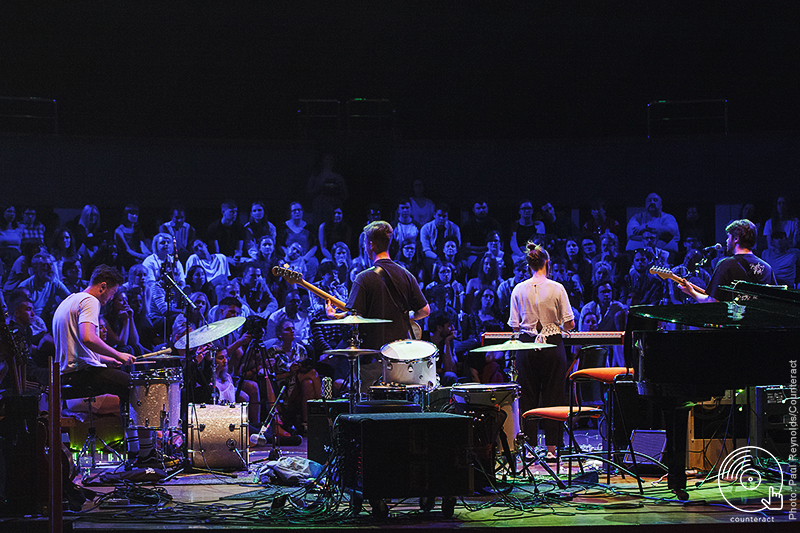 Chartreuse
Much loved by Sofar Sounds were next act Chartreuse, a four-piece jazz pop ensemble that let their instruments sing, with their voices as a backing compliment. Soft keys and bass mixed with a mumble of vocals seemed hyper aware and shy. The mirroring of female to male vocals encapsulated the bouncing thoughts inside an anxious mind – commenting on simple pleasures like drinking coffee with a lover, but also second guessing how much someone loves you in comparison to them.
Their tracks built to crescendos as the tentative drums built up, members swapping from simple pianos to reverb clad guitars. A common comparison would be to pop duo Oh Wonder, and fans would certainly take comfort in Chartreuse. However, this band has a lot more careful thought, meticulous vocals and empowering instrumentals to offer.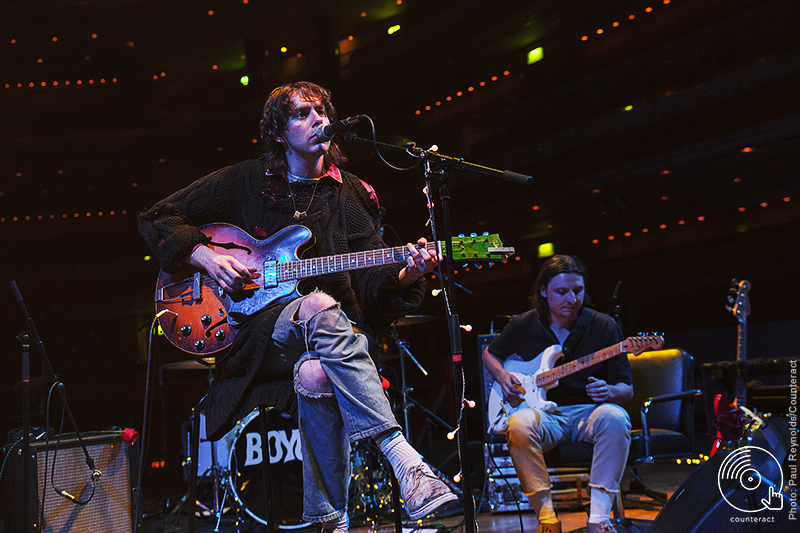 Peace
The secret had been well kept well so far, despite the famous 'Boycie' drum waiting in the background. Roses were scattered around the instruments before the Birmingham legends, Peace, sat down and introduced themselves humbly and singer Harry Koisser explained how he was wanting to play an acoustic gig just days before he got the call. New single 'You Don't Walk Away From Love' introduced them to a brand new crowd, and the track was given a stripped back rendition with guitars that had a seemingly country influence.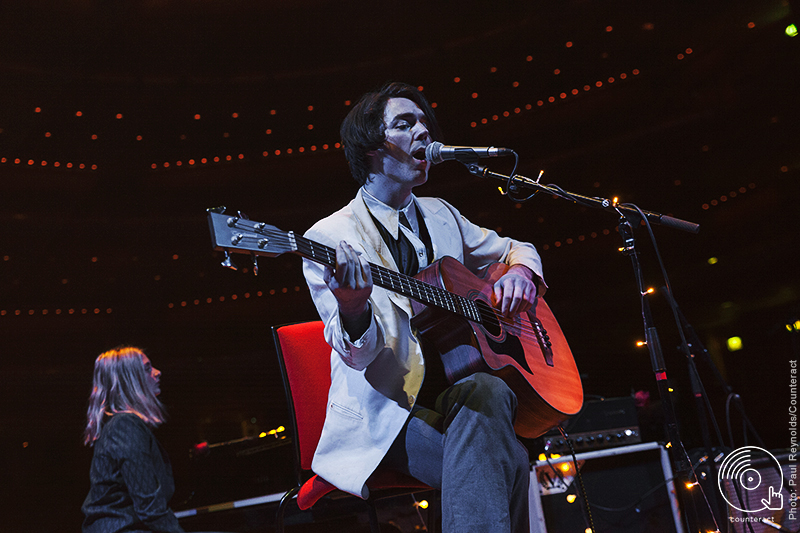 Peace
Peace flitted between older tracks 'Perfect Skin' and 'Scumbag' to singles from new album Kindness is The New Rock and Roll. 'Angel' and 'From Under Liquid Glass' suited the warm glow of the hall, before they abruptly switched up the set, skipping songs to move on to 'Magnificent'. "Some time capsules aren't meant to be opened" explained Koisser.
If the night wasn't enough of a surprise in itself, Peace pulled a few unexpected covers from up their sleeves. After telling stories of 2010 parties in Yardley Wood when "everyone said we sounded like Foals", Peace dived into a cover of 'Milk and Black Spiders'. The Beatles classic ballad 'Don't Let Me Down' followed and suited the tone, but was given a Peace twist with a lick of electric guitar grooves. Finally, a powerfully emotional cover of Nine Inch Nails' 'Hurt', made famous by Johnny Cash's rendition, brought their intimate set to a close.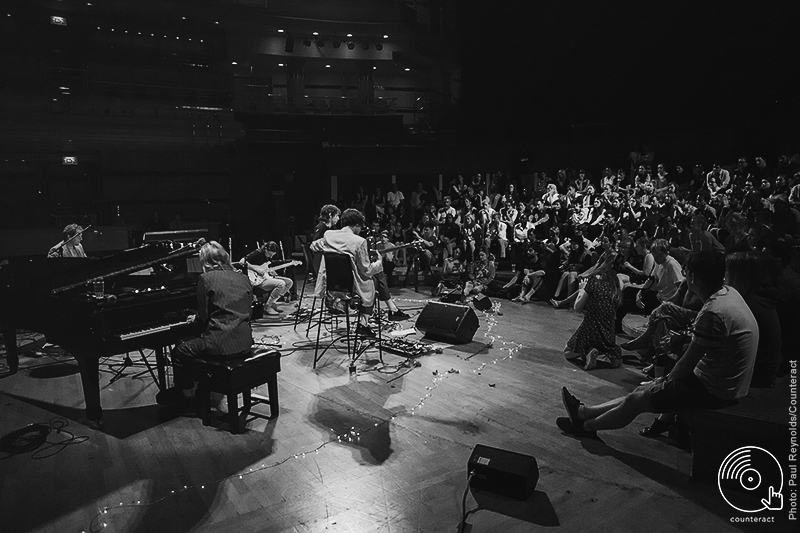 Peace
Since their dawning days in 2012, Peace were known for the groove based riffs, 60s psych influences and worldly optimism. This was all stripped away for Sofar Sounds, replaced with nostalgia and apparent heartbreak, but their set was still a glowing performance. The crowd were completely different to those at a usual Peace gig, with some introduced to the band with a completely different persona – one that we don't get to see every day.
Photographs by Paul Reynolds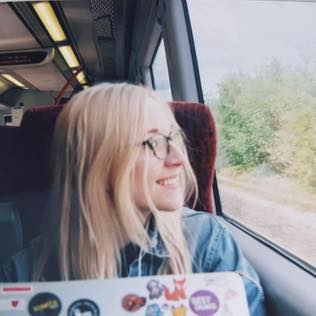 PR, events and social media by day, lover of all things geeky and retro. Can often be found scribbling notes at the back of the gig.