Not Safe For Work: the next wave of Birmingham MCs ready to rise
There's a new wave of incredible Birmingham rap on the come up, and there's a danger it could become a tsunami.
[amazon bestseller="grime book"]
If you've seen the Noisey Birmingham documentary "The Unstoppable Rise of Birmingham Rap", you'll be aware that our top MCs are doing bits, making moves, and on the threshold of world domination. The film concentrates on the growing success of Lady Leshurr, Jaykae, Mist, DapzontheMap and Lotto Boyz, and while it's a great advert for the second city, the truth is it barely scratches the surface of the scene.
There's so many waves of incredible talent in this city that there might be a tsunami. Don't worry – we're fully qualified hip-hop lifeguards and we're here to clue you up, tip you off, wax your surfboards and get you ahead of the curve.
Lady Sanity
With Leshurr off on a mission to conquer the world, B-town has a new queen of rap. Her lyrics are intelligent, concscious and constructive, and in an art-form in which many are role PLAYERS, Sanity is a role MODEL. Inspiration and truth shine through in her music, as does pride in her city. But be warned: "even if I didn't live in B23, the corrupt still don't want you to be too free". Watch below to see her looking every inch the boss she is.
---
Zeeks
His friends thought he was mad when he took time out from the game to get a business degree, but he had the confidence to prepare himself properly before unleashing the aptly-named 'The Introduction' on the world. He's still talking business when he says "I put ten down-in-street, but that don't mean I met Theresa May". The 26-year old from Quinton has got the looks, the lyrics, the lifestyle, the lot, but don't take our word for it, see for yourself.
---
Emkay
Hoping to shell dem from Sheldon, this former parring partner of Jaykae is aiming to follow in his friend's footsteps along the Coventry Road to success. He says "I'm not Mike Skinner but I make music for the streets", and he's certainly made a good start with this banger.
---
Kaycee²
We first heard 18 year-old Kaycee² at a Dope Vibes open mic event at The Night Owl when she probably wasn't old enough to buy a drink in there. Ironic then that it was while we were trying to get served she started rapping, and we couldn't help but notice people getting their phones out to film her, and start migrating from the bar to the bars. Like everyone else we were impressed as we watched her "still breaking down bricks like kilos/still trying to see more Green like Ce Lo". Further investigation revealed this glorious freestyle over a killer Missy Elliott beat.
---
T.Roadz
From a gyal in her late teens (Kaycee²) to a yute in his young teens, T.Roadz is bringing back old skool grime even though he's barely old enough to remember it. He goes in harder than many an MC twice his age and he's a happy reminder, in looks and flow, of Brumtown legend Depzman (RIP). When he says "Eminem isn't the only one who's superhuman", I think he has a point. Phenomenal video coming your way.
---
Mowgs
Edrz boy Mowgs is the real deal, his lyrics describing thug life with no trimmings, no glamourising and no BS – "I gotta take a trip driving in the fast lane, I don't listen so I gotta learn the hard way". All the way from the notorious Wyrley Birch estate, he's racking up numbers and views that will eventually get him to the Calthorpe Estate – as long as he stays out of trouble!
---
Fox
Yes, he's been on road, and he's got the record to prove it. But now he's got bars even stronger than the ones he used to be behind and uses them eloquently and elegantly to explore the mental health issues that led to his incarceration. If you think the rap game is all about beef, bitches and blazing – watch, listen and learn:
---
Truemendous
Truemendous is, in our words, one of the most accomplished wordsmiths in rap, and we don't just mean in this city. In her (much better) words, she's "a ballerina in a balaclava with a bag of armour". Which kind of proves our point. Her bars are dense with detail, multi-layered, and uncomfortably honest. We sometimes wonder if the world is ready for her, but we love her anyway and hope we've said enough to make you watch the video for this incredible track, which has the added bonus of Brum soul chanteuse Janel Antoneshia's beautiful vocals.
---
Mayday
Unashamedly repping his B44 (Kingstanding) postcode – "round here we weren't built to win/nobody famous where I lived" – Mayday is on a mission to change that. Weaving intricate stories over garage-infused beats, he studiously avoids the cliches of the grime genre. Look out for his upcoming Ghost of October project, including lead single 'Estate's A State', in which he aims to ride the wave created by his latest jam.
---
Lekky
The self-proclaimed Melody Warrior came to prominence with the gorgeous indie hip-hop of 'It's Such A Shame' over four years ago, and the grind hasn't stopped since. She can always be relied upon for chilled out good vibes, and although she says "it could change next week, it ain't that deep", she's bringing more of those good vibes than the Beach Boys on this new joint.
---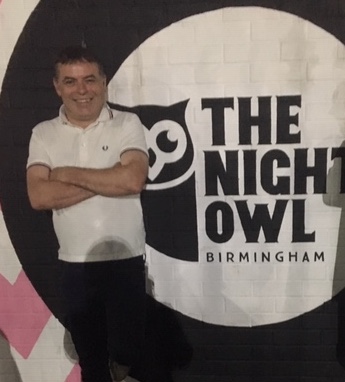 Militant anti-racist and Brummie. Lucky to be born in the most innovative musical city on Earth. If I hadn't been, I'd have moved here by now.