Venue guide: The Night Owl, Birmingham
The Night Owl is a soul and retro nightclub in Digbeth, Birmingham.
Since opening in late July 2015, the venue has played host to live music spanning all kinds of genres – from tribute bands to avant-garde psych, britpop and punk to up and coming indie rock. As well as live music, The Night Owl also frequently hosts themed, retro club nights.
Venue information
The venue has a good selection of reasonably priced spirits, ciders, drafts and soft drinks. The ground floor which includes main bar and dance floor are accessible via ramps or lifts. The mezzanine area features its own small bar and mini dance floor, it is available for private bookings and is only accessible by stairs. The venue has its own cloakroom.
What's on
Find out what's coming up at the The Night Owl here.
Getting to The Night Owl
By car
The Night owl is located at 17-18 Lower Trinity Street, just off Digbeth High Street. Head towards the Custard Factory, take the turning at The Old Crown pub (Heath Mill Lane), and then take the first right on to Lower Trinity Street, where you will find the venue.
Parking
On-street parking available is or Bullring has 3 dedicated car parks offering over 3,000 car parking spaces.
By public transport
Nearest train stations are Moor Street or New Street Station, both are around a 15 minute walk away from the venue There are a number of bus routes that pass nearby too, including numbers 6 and 50. For more information on public transport in the West Midlands, please visit networkwestmidlands.com.
Spot something wrong? Are we missing a venue? Let us know at richard@counteract.co.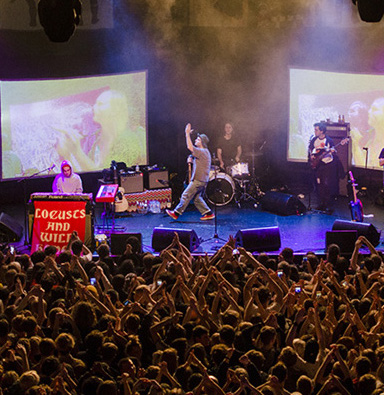 Key information on the best live music venues in and around Birmingham, Coventry, Wolverhampton and the surrounds.