Venue guide: Muthers Studio, Birmingham
Primarily a recording studio with practice rooms and lock ups, Muthers is also home to a fair sized live venue and bar.
Venue information
Even when there is nothing playing in the conservatory venue, Muthers is somewhat of a hub for the Birmingham music scene, with beverages being served over the bar from opening until closing time. Snacks and a pool table are also on offer, as well as Birmingham's premiere independent drum shop, B_Drum. The venue claims to be busy most frequently on a Saturday night and over the years has hosted live bands, DJs, workshops, parties and even film premieres. The complex opens its doors every day at Midday, and stays open late dependent on what's going on. Access to Muthers is by two small steps, but then all floors inside the studio are flat.
What's on
Find out what's coming up at Muthers, by heading to muthersstudio.co.uk.
Getting to Muthers Studio

By car
Muthers is situated on Rea Street South in the back streets of Digbeth, a stone's throw from Birmingham's city centre.
Parking
A small amount of street level parking is available on Rea Street.
By public transport
The studios are sat in the middle of the city, so routes from all major train stations and central bus stops are a short walk away. Directions can be obtained from the map above. For more information on public transport in the West Midlands, please visit networkwestmidlands.com.
Spot something wrong? Are we missing a venue? Let us know at richard@counteract.co.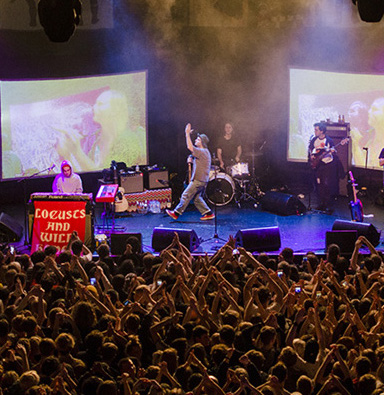 Key information on the best live music venues in and around Birmingham, Coventry, Wolverhampton and the surrounds.