Venue guide: One Trick Pony Club, Birmingham
One Trick Pony Club is a venue, bar and canteen situated in the thriving suburb of Moseley Village.
Within a couple of steps of some of Moseley's most established bars, One Trick Pony Club boasts free live music every other Thursday from some of the world's best garage and punk bands courtesy of Birmingham stalwarts Killer Wave. Music and big screen sport continues 7 days a week, as well as a packed menu of American-influenced food and drink.
Venue information
The venue boasts a scenic and spacious beer garden and smoking area, and hosts DJs and bands every weekend, as well as a quiz each Wednesday. There is a brunch menu, as well as a main menu, and a variety of beers and wines available. The bar opens at midday every day and is accessible by a small step at the front. Once inside the venue, it is all on one level.
What's on
Find out what's coming up at One Trick Pony Club, check out their Facebook page.
Getting to the One Trick Pony Club

By car
The One Trick Pony Club is situated on the main Moseley high street, the Alcester Road, a 10 minute drive from Birmingham city centre.
Parking
Parking is available on the various residential roads around Moseley, but can get busy before 9am and after 5pm.
By public transport
The bar is located in Moseley, a small suburb about 10 minutes from Birmingham City Centre. Moseley is connected with bus routes from all major parts of the city and is reachable from the city centre and Kings Heath by the number 50 bus. For more information on public transport in the West Midlands, please visit networkwestmidlands.com.
Spot something wrong? Are we missing a venue? Let us know at richard@counteract.co.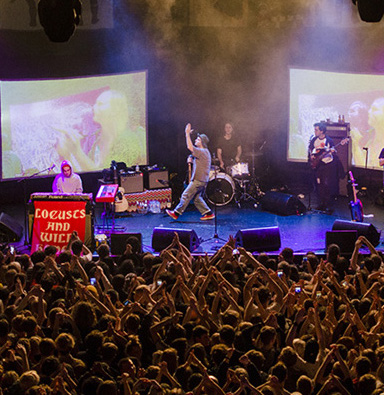 Key information on the best live music venues in and around Birmingham, Coventry, Wolverhampton and the surrounds.