The Clause launch new single In My Element at The Sunflower Lounge
The Clause launch their new single in triumphant style, proving that they're the new kings of Birmingham's indie scene.
There's a certain symmetry to the choice of venue for the launch of this latest banger from The Clause. The video was filmed in Snobs, where back in the nineties DJ Paul Cook put on his legendary Sunflower nights, in honour of the Paul Weller song that heralded the onset of Britpop.
When Cookie decided to open his own venue in Smallbrook Queensway, the name came with him, and now the only band in Britain as well-dressed as the Modfather are launching their new single there. We love The Clause. They are the one band we'd go drinking and shopping with (bass player Johnny Fyffe is a world champion at smoking outside the pub, and lead guitarist Liam Deakin has immaculate dress sense). They're definitely the only band we'd go to Millwall away with on a Wednesday night – frontman Pearce has perfected the thousand-yard stare, and drummer Niall's got the guns.
---
The band have built up a loyal fan-base over the last couple of years, and many of them are here to welcome the new tune and see Pearce take over on the Sunny's wheels of steel for the night. He plays an ice-cool selection of Mod, northern Soul, Britpop and Indie, but there's one tune we're here to hear above all others – their new single, In My Element. He finally gives it an airing at about 10 o'clock, and even though it follows on from a set-list that includes the likes of T.Rex and the Rolling Stones, this is most definitely NOT a case of 'after the Lord Mayor's show'.
It starts with a hint of trance, reminiscent of the pulse of a heart monitor, underneath a Duane Eddy-on-steroids riff. It's almost delicate compared to what's to come, when another guitar explodes out of the speakers like a defibrillator applying a life-giving charge, or like Tony Iommi has smashed through the big front window of the Sunny on a heavy metal wrecking ball. The thud of drums and bass actually sends ripples through our beer and we're off.
Scenes in the sunny @theclausebrum pic.twitter.com/6SFyiCkqT1

— Niall Fennell (@niall_fen) July 12, 2019
Some bands keep you hanging on, but The Clause ain't messing about, hitting you with the chorus straight away. "I feel a rush of blood," sings Pearce, before listing more drug references than your average episode of Breaking Bad, and the guitars alternate between sounding like John Squire at his best and Sly Stone tap-dancing on a wah-wah pedal. Niall's drums and Johnny's elastic bass line also carry a Stone Roses vibe, and it's no surprise that Fool's Gold gets a nod in the lyrics.
During the verses the lead guitar is understated, but you can still hear it in the mix – a mollified pit bull straining at the leash until a crackle of bared-teeth and growling electricity sounds a warning – watch out! the chorus is coming back! – before it breaks free and savages your ears even more brutally than it did on the intro. The twin guitars finally pause for breath, leaving the way clear for a stripped-back drum and bass interlude, along with some mantric vocals – "always be in your element/ain't got time for your sentiments".
The final solo is a real string-bender, up there with the Gallagher-esque one on their third single Sixteen and, dare I say it, the Deakin-esque one on fourth single, Tokyo. As if there isn't enough going on, the last couple of choruses are embellished with tambourine and a swirling glitterball of disco synths, leading to more electronica and an emergency stop finish.
It's so good we struggle to describe it without swearing, and it's not just us. It's been named as track of the month on BBC WM and will no doubt get plenty of airplay on Brum Radio, but it's making waves outside Birmingham too – it's already on heavy rotation on Punk Aristocrats Radio 1 in Los Angeles, and it went in at Number One on the iTunes rock chart. If the band can keep writing and performing at this level, it's elementary that The Clause are destined for greatness.
In My Element is out now and available to purchase and listen/watch here.
Header image by Sam Crowston.
Like this? Try these…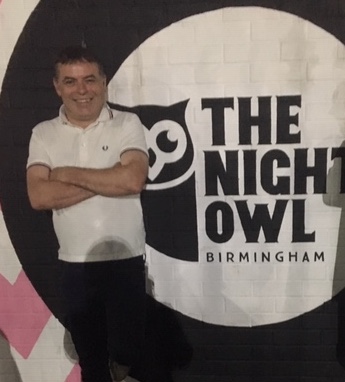 Militant anti-racist and Brummie. Lucky to be born in the most innovative musical city on Earth. If I hadn't been, I'd have moved here by now.