Swim Deep prodigy The New Consistent talks life, love and a BBQ with Wolf Alice
When JAWS frontman Connor Schofield recently gave us a rundown of local artists he thought were making moves and doing bits, it was mostly a case of the usual suspects.
Sugarthief, Ivory Wave, Riscas and The Assist are quite well known to Midlands music enthusiasts, and if they're not they should be. One name on his list, The New Consistent, was new to us, so we fired up the search engine to check them out. We discovered an EP called 'Individual Social Accounts and Commentary', produced by Swim Deep's Ozzy Williams; five slices of post-millennial relationship narrative – and a video for new single Rude Boys. The sound is a sort of low-fi, downbeat mixture of The Streets, Swim Deep and a more reflective, less angry Sleaford Mods, and the video is the kind of thing Shane Meadows might come up with. We were intrigued enough to send Stephen Pennell to search out their driving force, 19 year-old Ben Ramsay, to find out more…
---
How did you link up with Ozzy?
It was a weird one actually. I sent him a demo of mine and he ended up loving it and we got chatting for ages. He kind of took me under his wing and ended up producing most of my EP. I went down to his in London to record it, and we went to a barbecue with Wolf Alice. Very surreal.
I don't know what came first but I can hear your style on Swim Deep's comeback single To Feel Good. Do you think maybe you influenced it a bit?
Yeah a few people mentioned it to me when it came out. I think so, but it wasn't talked about between me and Oz. It is what it is though, if I did influence it then it's a compliment to me I guess. Good tune though, a great one to mark their comeback with.
---
I take it you're a fan?
Yeah of course. I think every kid in Brum is to be fair!
I read that you're from Worcester. How come you ended up in Birmingham?
I'd lived in Brum for seven years with my family before we moved to Worcester, then I came back because of my girlfriend and my mates living in and around the city. I'd always been going to gigs in Brum though because Worcester is so close.
A similar journey to Peace.
Yeah. I think Doug and Dom went to the same sixth form as me actually. Dom's old man was the vicar of a church round the corner from my old house.
How and when did you get into making music?
I'd been doing demos since I was 14 just on my phone, then it developed as I got older. I was 17 when I first started to write seriously though, 3 Years was my first proper song. The demo of it is still on my soundcloud, and that's the first vocal take I ever did!
There's one song on your first EP – Greta Oto – that sounds like it might be about some obscure European actress. So, who is Greta Oto?
Haha, no! It's actually the scientific name for a butterfly with transparent wings – I had to google it – and I felt as though a butterfly with see through wings limits itself in its beauty and is a limited butterfly in general, but obviously it can't help it cos that's just the way it is. And I saw that as a metaphor for me and my mate who the song is about. Our friendship is limited and can never always be good or beautiful because of the natural limitations or problems that my mate has, that will never change. It means a lot, that song. I think everyone's got that mate that they're more like family with, and therefore you go through stages where you're so close, then fall out and don't speak for a while, and it just continues forever.
You use your own accent. Was that ever in doubt?
I was never gonna try and be something I'm not, I couldn't imagine the stick I'd get if I tried anything otherwise.
Obviously I know Swim Deep's sound and I'd pick up on that vibe even if I didn't know Oz was involved, but who else influences you?
Well, there's a few and to be honest since the first EP dropped my sound has shifted slightly and become more of a solid style. Musically I'm influenced by Jorja Smith, Loyle Carner, Rejjie Snow, and lyrically probably The Rhythm Method and maybe Alex Turner, as well as Loyle Carner again.
Where does the name come from?
It was originally a lyric in my debut single. While that was getting mixed me and Ozzy were brainstorming names cos I was struggling to think of one. His girlfriend said "what about The New Consistent?" after she'd heard the song, and it just stuck from there. In the song it kind of represented my new life that I'd found. I'd just come out of a three year relationship that I'd been in since I was 15, and so was experiencing life as a whole different thing, which is what that song is about, and so it summed up my new life. Coincidentally, music started happening around the same time, which made me feel as though The New Consistent was meant to be.
Rude Boys isn't on the EP. Is it the start of a new project?
Yeah it is. It kind of bridges the gap between the first and second EPs. Like I said before the new stuff is me finding my sound and my style, so Rude Boys is leading people into that. It got a good reaction which is promising!
So when can we hear the fabled second EP then?
I'm hosting a Christmas Party at The Sunflower Lounge in Birmingham as my first headline gig on 19th December, presented by Qute Zoo Promotions. Tickets are available from this link.
It's due to be a big event, with support coming from Wolverhampton newcomers Pool, the very exciting 11 57 and new Derby dreamboats Closed Curtains. There'll be a DJ set from Brum indie royalty (to be announced soon) and some very very special guests during the headline set. I'll be debuting the entirety of my unreleased second EP, as well as releasing a remix of something from my first EP to coincide with the show. I've previously supported The Rhythm Method and played the BBC introducing stage at the Worcester Music Festival, but my first headliner is a massive leap for me and I want to make it a hell of a party.
Like this? Try these…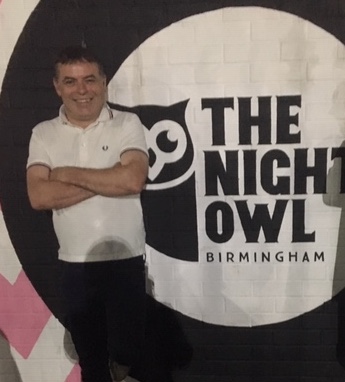 Militant anti-racist and Brummie. Lucky to be born in the most innovative musical city on Earth. If I hadn't been, I'd have moved here by now.