Jaws unveil Brooklyn Beckham directed video for End of the World
No, your eyes aren't deceiving you. Brooklyn Beckham really has directed the new Jaws video.
2019 has been a pretty good year so far for 'b-town' originals, Jaws.
They celebrated the release of their critically-acclaimed third album The Ceiling with a sold-out mini-tour, including a triumphant homecoming at the O2 Institute, and tickets are flying out for a more extensive series of dates scheduled for later this year.
They've doubtless picked up new fans along the way, but none so famous as Brooklyn Beckham, whose mom and dad are also quite well-known, apparently. Beckham Jr. caught the Jaws bug when seeing them live on the last tour, and now, along with friend Louis Valentine Barry, has co-directed the video for Jaws' magnificently moody track, End Of The World, on location in lead singer and guitarist Connor Schofield's hometown of Coseley, Dudley.
---
In light of the video release, we had a brief chat with Connor to bring us up to date on all the latest JAWS-related news.
How did the link up with Brooklyn Beckham come about?
We met at our show in London in April and got talking about working together. The next thing you know there's a video idea in the pipeline!
The song is about a relationship in crisis and that is reflected in the video. What is the story behind the rest of the imagery in the film?
The karate stuff in the video and also in the album artwork is a tribute to our drummer Ed Geach's dad, who passed away last year. When he was younger he did his own class so it's a nod to that and his memory, which is something we really wanted to do.
We were at the Birmingham show in April, which was brilliant. How were the rest of the dates? Any particular highlights?
Every night was really special for us. The last tour was only four shows but three of them were the biggest shows we've ever played. It was really nice to have such a positive reaction to the record and then see that at the shows too.
Along with Peace and Swim Deep, you made up the big three of the original 'B-town' scene. We always detected a sense of camaraderie and the impression that you were all mates. Is that true?
Yeah. We've all toured together and always see each other out and about! It was great to be involved in.
Tell us about your upcoming tour.
This November we're off on a big UK tour. We're hitting a lot of places we haven't been for a while. We're really looking forward to going back to Nottingham, we haven't played there for about 5 years. Oops!
Is it all maximum rock and roll on the road these days, or is it more sedate?
It's about a 70/30 split, we're probably the most sensible band in the world.
There's a bit of a B-town 2.0 thing going on at the moment. Have you got any particular favourites out of the new local bands?
Sugarthief, Ivory Wave, The New Consistent, The Assist and Riscas are all doing great things at the moment.
A lot of the new bands we've spoken to mention being influenced by Jaws. How does it feel to be an inspiration for the current scene?
It's really strange because it still feels like its not that long ago that we were starting out, but its really cool and we massively appreciate the love.
Jaws head off on a tour of the UK later this year, including a date at Coventry Empire on 30th November. For tickets, tap here.
Like this? Try these…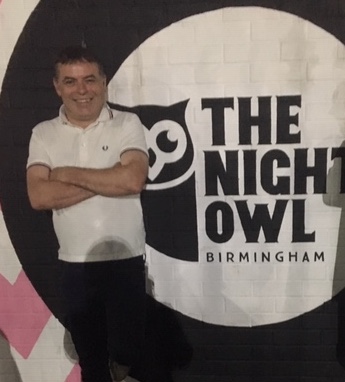 Militant anti-racist and Brummie. Lucky to be born in the most innovative musical city on Earth. If I hadn't been, I'd have moved here by now.