Venue guide: The Empire, Coventry
The Empire Nightclub is a new club in Coventry that opened in September 2015, which can hold up to 1200 people across three main areas.  The Empire is open on Mondays, Wednesdays, Fridays and Saturdays, but can also occasionally be open for events on other nights.
The Empire has hosted/ plans to host acts such as The Specials, The Enemy, Krept and Konan and Scott Mills.
Venue information
The Empire's 1200 capacity can be broken down in to three; the main area holds 700, the bar area holds 300 and the VIP bar/ balcony holds 200. All three areas have views of the main stage but can be broken down for smaller events. The Empire contains one large bar inside, it also has a cloakroom where you can place your coats, bags, etc. for a fee of around £1-£2 per item. They also offer a service on certain events where you can reserve a table and get selected bottles served to you. There is a smoking area outside with tables and chairs to sit on. The venue has full disabled access in to the venue including the bar area and dance floor, with access to the balcony currently being worked on.
What's on
Find out what events are coming up at The Empire Nightclub here
Getting to The Empire
The Empire is very convenient for students as it is only a 5-minute walk from the University, and is very close to the University accommodations. There are also many restaurants and fast food places on the same street as the nightclub.
By car
The most accessible way to get to Coventry is through the A444, unfortunately, there are no signposts leading to the club. As it is situated outside of the city centre, there are many hotels to stay the night.
Parking
The nightclub does offer parking 150 yards away from the venue but drivers can also park on the streets around the venue.
By public transport
The venue is situated half a mile away from the bus station in the city center, but there are also a number of buses that drive past the nightclub, including the number 4, 10, 13 and 16. The train station is also only a mile away from the nightclub.
For more information on public transport in the West Midlands, please visit networkwestmidlands.com.
Spot something wrong? Are we missing a venue? Let us know at richard@counteract.co.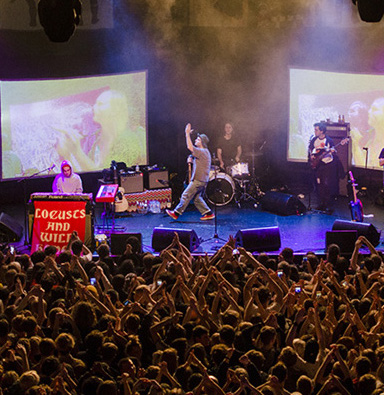 Key information on the best live music venues in and around Birmingham, Coventry, Wolverhampton and the surrounds.