Venue guide: The Copper Rooms, Coventry
The Copper Rooms has a capacity of 900 people in Copper Rooms 1 and 300 in Copper Rooms 2, which is based in the heart of the University Of Warwick campus.
The venue has hosted a number of artists including Alt-J, The Wombats, Labrinth, Feeder and Chase & Status, becoming popular with students.
Venue information
Holding two rooms, The Copper Rooms has seen popular acts in Copper Rooms 1 and usually has club nights and smaller gigs in Copper Rooms 2. No food or drink can be bought into this venue, however, there are restaurants and bars at the venue where you can grab something to eat – but make sure you eat it before the show. Artiste merchandise will only be sold inside the venue.
For people who require disabled access, they must purchase their tickets and fill out an Access Requirements form by contacting reception on 02476 572777.
What's On
Find out what's coming up at The Copper Rooms via thecopperrooms.com.
Getting to The Copper Rooms

By car
Following by the A45, A46, M40 and M42, travelling to The Copper Rooms is exactly the same as The Warwick Arts Centre. On approach to Coventry, just follow the signs to Warwick Arts Centre or the University of Warwick.
Parking
There are 2000 parking spaces close to the venue (the nearest car park is Car Park 7). Parking is free Monday to Friday after 6pm and all weekend, but all other time: £2 half day and £3.50 full day.
By public transport
Regular services run between Coventry, Leamington and Kenilworth (including trains). Bus number 2 and Unibus take you directly to the university campus. For more information on public transport in the West Midlands, please visit networkwestmidlands.com.
Spot something wrong? Are we missing a venue? Let us know at richard@counteract.co.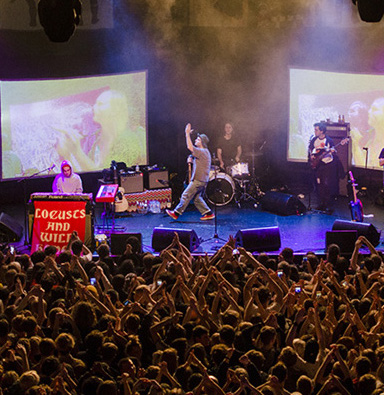 Key information on the best live music venues in and around Birmingham, Coventry, Wolverhampton and the surrounds.