Venue guide: Kasbah Nightclub, Coventry
Kasbah Nightclub is a three-room and overall 1350 person capacity independent nightclub in Coventry.  The venue – formerly known as The Colosseum – is host to many live acts, usually alternative and indie performers almost every week.  The venue has previously hosted massive acts such as Calvin Harris and Arctic Monkeys.
Venue information
Kasbah caters for all; with ramps available around most of the venue to enable easier access when necessary.  Inside the club there is a cloakroom, which is of a small fee (usually around £1-£2 per item), an ATM and a small shop which sells cigarettes, toiletries and snacks.  In the large smoking area there is a shot and cocktail bar, a usual bar – just selling soft and alcoholic drinks, a BBQ, which sells hot food, all alongside a shisha bar.  Because it is a nightclub, the venue is practically all standing, however there are a few sofas and benches located around the club.
What's on
Find out what events are coming up at Kasbah Nightclub Coventry via kasbahnightclub.com.
Often, there are tickets you can buy prior to the event to ensure entry; alternatively you can pay on the door but the fee will usually be slightly higher.  In addition, in the event of a long queue, there is a queue-jump option which is usually double the price of standard entry.
Getting to Kasbah Nightclub
By car
Enter CV1 5LY into your sat nav. Kasbah Nightclub is situated on Primrose Hill Street, around a five minute drive from Coventry train station and just around the corner from Swanswell Park. From Coventry Station, take Fairfax Street and then turn left on to Cox Street. At the end of Cox Street, turn right on to Primrose Hill Street and Kasbah is on your left.
For all other routes; on your approach to Coventry, take the A444 until you get to Stoke Heath. Take the third exit on the roundabout on to Waterman Road followed by the second exit on to Red Lane. Then turn left on to Stoney Stanton Road and continue straight on to Swanswell Street, before turning left on to Primrose Hill Street. Kasbah is then on your left.
Parking
Unfortunately Kasbah does not offer specific parking, however the streets located around Kasbah are available to park in.
By public transport
Alternately, the venue is located approximately a five minute straight-road walk from the bus station in Coventry City Centre.  Taxis are also available all night round, ranking just outside the venue.
For more information on public transport in the West Midlands, please visit networkwestmidlands.com.
Spot something wrong? Are we missing a venue? Let us know at richard@counteract.co.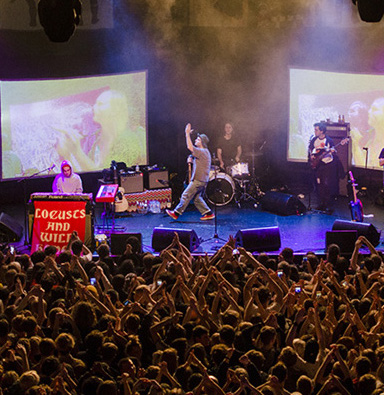 Key information on the best live music venues in and around Birmingham, Coventry, Wolverhampton and the surrounds.