Venue guide: The Tin, Coventry
The Tin venue holds a maximum capacity of 150 people; set in two vaults.  The venue is charity-based, being established in August of 2013. Many indie and alternative acts have performed here, and the Tin has previously hosted the Japanese Culture Festival and the TogetherNest Festival, alongside acts such as John Southworth.
Venue information
The Tin venue claims that they aim to be as accessible as possible, with wheelchair access and an accessible toilet for them.  Ramps are available at the bar area, which sells a variety of drinks and snacks.  Both standing and seated events are held at The Tin.
Moreover, The Tin provide disabled attendees a free ticket for a Personal Assistant/Carer, with availability dependent on the rate of the ticket-holder's DLA (Disability Living Allowance).  To apply for this, the ticket must be purchased and the confirmation must be forwarded to sara@thetinmusicandarts.org.uk.  Alternately, call 02476230699 and have your PA name listed as an extra on the entry door.
Whats on at The Tin
Go to thetinmusicandarts.org.uk for listings and more information.
Getting to The Tin

By car
The Tin is based at the Canal Basin in Coventry city centre, heading just outside the northern part of the ring road.
Parking
Private parking is available, however is very limited and is offered only at a first come, first served basis.  In addition, street parking is available around St. Nicholas Street, Drapers Fields and a large car park is available on Leicester Row.
By public transport
Fortunately, the venue is walking distance from the City Centre, just over the Canal Basin Bridge. The closest bus route to the venue is the number 13/13A West Midlands bus.  Taxis are available on call, but no ranks are situated near the venue. For more information on public transport in the West Midlands, please visit networkwestmidlands.com.
Spot something wrong? Are we missing a venue? Let us know at richard@counteract.co.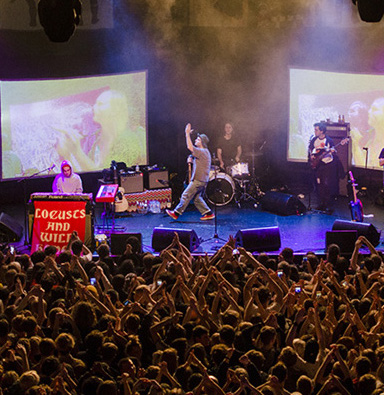 Key information on the best live music venues in and around Birmingham, Coventry, Wolverhampton and the surrounds.