Venue guide: Warwick Arts Centre, Coventry
Opened in 1974 and commissioned by The University Of Warwick, Warwick Arts Centre is a hub for art and music in Coventry and Warwick. Concerts are held in the Butterworth Hall that can seat up to a capacity of 1540 fully seated, or 1,200 standing with a 780-seated balcony.  It has held host to a wide variety of acts from classical and contemporary genres including Paul Weller, José González, The Smiths, Imogen Heap, The National, The Proclaimers and Noah and the Whale.
Venue information
Warwick Arts Centre offers various food and drink options, there is a café bar and Le Gusta Oven & Bar, serving a range of Mediterranean and Moroccan inspired dishes. There's two bars on the ground and upper floors of the Arts Centre and interval drinks can be ordered from there or the foyer. The Butterworth Hall is accessible from ground level and there are several ramps situated throughout the building. There is a limited number of wheelchair spaces to use that must be requested when booking tickets. Assistant dogs are also welcomed and an adjacent seat will be kept free for them when arranged in advance. Complimentary tickets are available for anyone accompanying a disabled customer and can be booked by contacting the Box Office. A Sennheiser infrared system has been installed in all venues to assist with hearing, headsets for which can be collected at the box office. There is a cloakroom available at the venue.
What's on
Details on all upcoming events at Warwick Arts Centre are available via warwickartscentre.co.uk.
Getting to Warwick Arts Centre

By car
Served by the A45, A46, M40 and M42, travelling to Warwick Arts Centre couldn't be easier. On approaches to Coventry, just follow the signs to Warwick Arts Centre or the University of Warwick. For SatNav users, the postcode is CV4 7AL.
Parking
There's over 2000 safe parking spaces in proximity to the Arts Centre, just follow the signs when arriving at the Warwick University Campus. The closest is Car Park 7 where parking is free Monday to Friday after 6PM and all day on Saturday and Sunday. Aside from that it's £2 for a half day and £3.50 for a whole day.
By public transport
The nearest train station is Coventry, from which the number 12 bus can be taken and lasts around 15 minutes. The number 12 and the Unibus are the two man buses that serve the campus, and the new bus terminal is located 100 metres from the entrance. For more information on public transport in the West Midlands, please visit networkwestmidlands.com.
Spot something wrong? Are we missing a venue? Let us know at richard@counteract.co.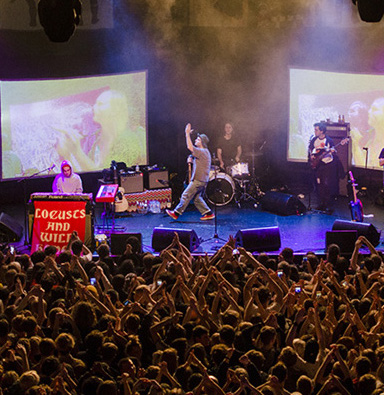 Key information on the best live music venues in and around Birmingham, Coventry, Wolverhampton and the surrounds.