Venue guide: O2 Institute, Birmingham
Converted from a Methodist chapel built in the early 1900s, The O2 Institute (formerly the hmv Institute and The Institute) is a beautiful venue with a lot of history. Having hosted the likes of Pink Floyd, The Cure and Arctic Monkeys down the years, this iconic venue has played an essential part in Birmingham's live music culture for the past 30 years. With four separate rooms – the 1500 capacity main room, the 600 capacity O2 Institute2,  the 300 capacity O2 Institute3, and a separate VIP area, there is something to cater for all.
Venue information
The O2 Institute is a strictly 14+ venue, and under 16s must be accompanied by an adult. The venue has a bar in every room, but outside food and drink may not be brought in. A cloakroom is available at most events for a small charge. The O2 Institute is physically accessible for wheelchair users, but they request that special needs customers contact them ahead of time via 0121 437 4150, so that appropriate arrangements can be made.
What's on
Check out the O2 Institute's listings via academymusicgroup.com.
Getting to the O2 Institute
By car
The O2 Institute is situated on Digbeth High Street, south of the city centre. Once in Birmingham, follow directions to Digbeth and the venue will be easy to find.
Parking
On-street parking is available away from the High Street. The Bullring car park also has hundreds of spaces and is open until 12am – it's just a short five-minute walk to the venue from there. Walk down the hill behind St. Martin's Church, and the venue will be on your left.
By public transport
If travelling by train, New Street Station and Moor Street Station are both a short walk away from the venue. If coming from further afield, Birmingham's Digbeth Coach Station is directly opposite the venue and offers excellent connections with other UK cities including London, Manchester, Leicester and Nottingham.
The venue is also served by a number of local bus routes including numbers 6 and 50. For more information on public transport in the West Midlands, please visit networkwestmidlands.com.
Spot something wrong? Are we missing a venue? Let us know at richard@counteract.co.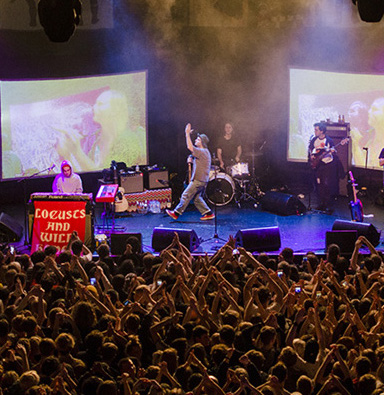 Key information on the best live music venues in and around Birmingham, Coventry, Wolverhampton and the surrounds.