Venue guide: O2 Academy, Birmingham
The O2 Academy is a 3859-capacity venue in Birmingham city centre, comprising of three separate venue rooms. The main room has a capacity of 3009 (including 600 seated capacity in the balcony area), while O2 Academy2 and 3 have capacities of 600 and 250, respectively.
The Academy has been in its current location since 2009, having moved from its original home on Dale End where it was most recently known as the Carling Academy, as well as the Hummingbird and the Top Rank Ballroom. At its current location, the O2 Academy has hosted major artists like Black Sabbath, Ocean Colour Scene, The Streets, and Stormzy, alongside up-and-coming acts in its smaller rooms.
Venue information
Each of the three rooms has dedicated bar and toilet facilities. There are lift-accessible wheelchair spaces on the balconies in the main room and O2 Academy2. O2 Academy3 is on the ground floor, and does not have a dedicated viewing area. The O2 Academy works alongside several groups and details their accessibility options on their site's access page. Cloakroom services are available, for a small fee.
What's on
Check out the O2 Academy's listings via academymusicgroup.com.
Getting to the O2 Academy
By car
O2 Academy Birmingham is located on Horsefair, a short walk New Street train station. Heading north on the A38, the venue is on the left ahead of the Holloway Circus roundabout.
Parking
There is limited street parking on Bow Street and Irving Street. The nearest car parks are NCP Car Park Horsefair and The Mailbox.
By public transport
If travelling by bus, the 61, 63, X64 and 146 services all stop directly outside the venue. Other services will stop in the city centre, a short walk away. The venue is also a short walk from New Street and Moor Street stations.
By foot, from the south exit of New Street station, head south down Smallbrook Queensway to the roundabout. Use the pedestrian underpass to get to the opposite side of the A38 and turn left, where the venue will be visible.
For more information on public transport in the West Midlands, please visit networkwestmidlands.com.
Spot something wrong? Are we missing a venue? Let us know at richard@counteract.co.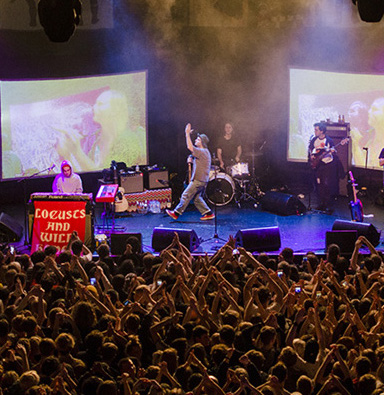 Key information on the best live music venues in and around Birmingham, Coventry, Wolverhampton and the surrounds.