Review: Supersonic Festival is as adventurous as ever in fifteenth year
From 19th – 21st July, Supersonic Festival took over various venues [mostly] in and around Digbeth. An eclectic and varied line up featuring Neurosis, Anna Von Hausswolff, The Bug feat. Moor Mother and Pigs Pigs Pigs Pigs Pigs Pigs Pigs makes Supersonic 2019 another triumph.
★★★★★
As 7:30pm on Friday night approaches, the queue outside Town Hall stretches all the way round to Chamberlain Square. Joining the queue, there's no need to ask if it's the queue for Neurosis – the impressive array of shirts and hoodies tells you all you need to know. Supersonic Festival 2019 kicks off with a special show from the Oakland avante-garde metallers, and Birmingham's own industrial metal pioneers Godflesh.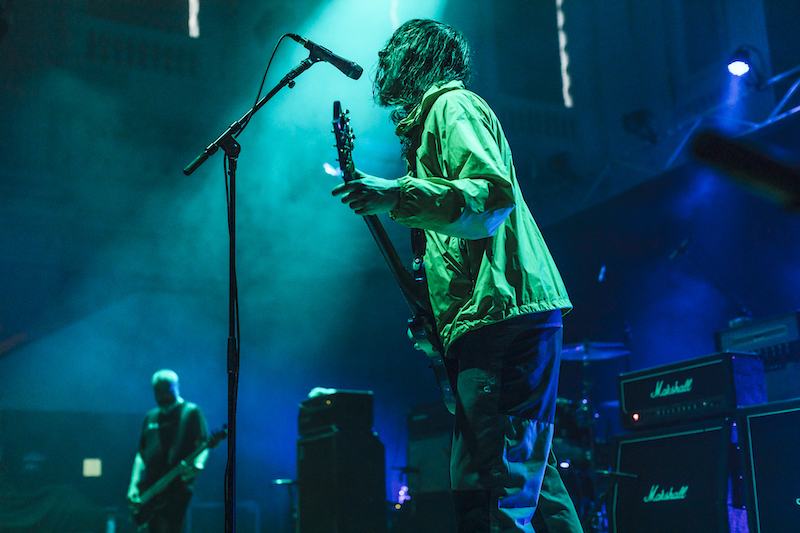 Godflesh
Once the rattling drum machines of the latter give way to the glistening sludge of the former, the festival is well and truly underway. Neurosis' set is crafted with a theatrical sensibility, and their imposing post-metal sound feels strangely at home set against the venue's record-breaking pipe organ.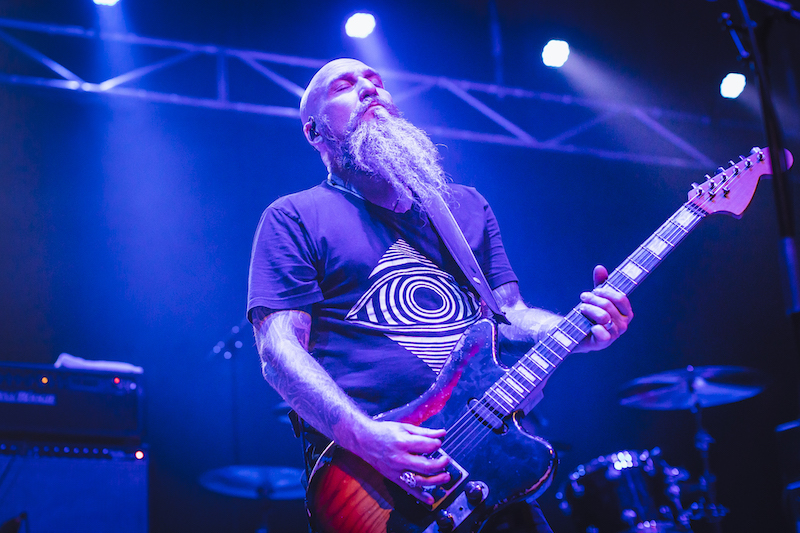 Neurosis
The 2019 line-up veers wildly between loud and soft. Returning to play the festival for a second year in a row, Daniel Higgs opens at The Crossing on Saturday afternoon. His arcane poetry and meandering guitar crackles with energy in the silent room. Barely more than 12 hours earlier, the same venue hosted the opening night afterparty, with alt-rockers Hey Colossus and breakcore merchants Big Lad playing well into the early hours.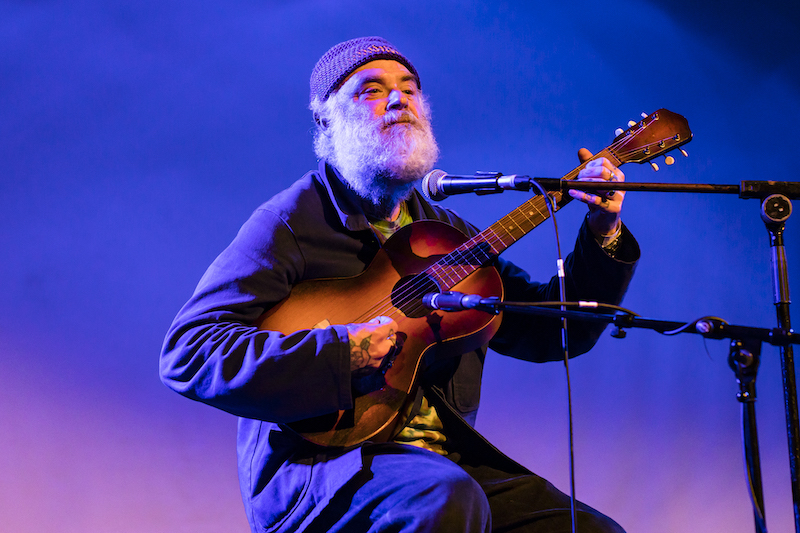 Daniel Higgs
Read: Review: Supersonic Festival 2018 wows curious audiences in Digbeth
Read: Birmingham home to coolest UK neighbourhood
The Crossing functions as Supersonic's headline stage for 2019, but the others have just as much to offer. Eastside Projects is home to Hell Mouth 3, a response to the ongoing Home of Metal arts programme by Turner Prize nominee Monster Chetwynd. The stage itself sits within a huge Lovecraftian sculpture, and performers have to duck right down under a row of demonic fangs to get inside. Over the weekend the venue sees an at-capacity performance from visual artist and neo-punk AJA, not to mention a perplexing and bloody set from VICTIM, a self-styled "metal band from London" made up of members known only as PUB FIGHT, CAR CRASH and IRON FIST. Throughout the festival, art collective Kühle Wampe are in the front row, wearing Halloween costumes provided by Chetwynd herself and swigging from cans of Digbrew's Hell.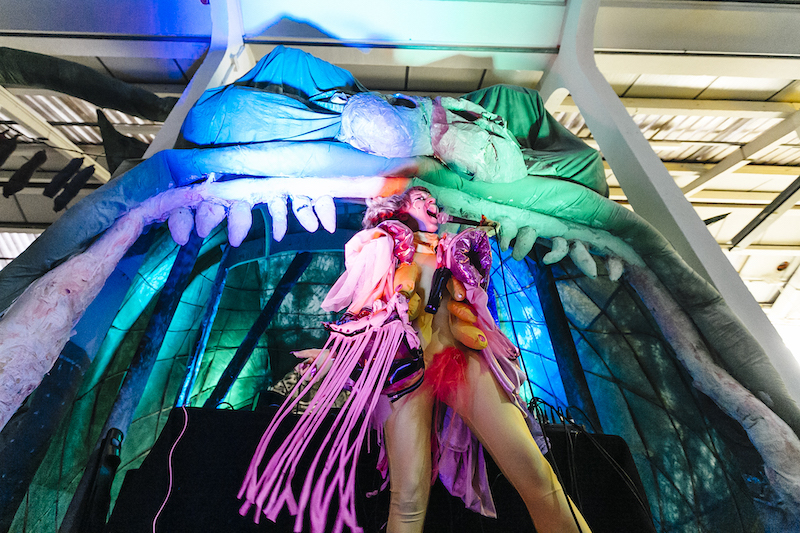 AJA
The swelteringly hot Warehouse venue sees some of the weekend's most exciting performances. Big Joanie make a welcome return to Birmingham after a sparkling set at last year's Future Days festival, and Matters' neon-bathed performance cements their reputation as one of the city's most exciting rising stars. David Hand and Elizabeth Still of Haress deliver their full band show of dark and meditative drone-folk that is only topped by Anna von Hauswolff's headline set of seraphic art-pop. HHY and the Macumbas are another set not to be missed. Their intense mix of brass, bass and cyclical percussion is interwoven by their masked bandleader to create something insistently danceable.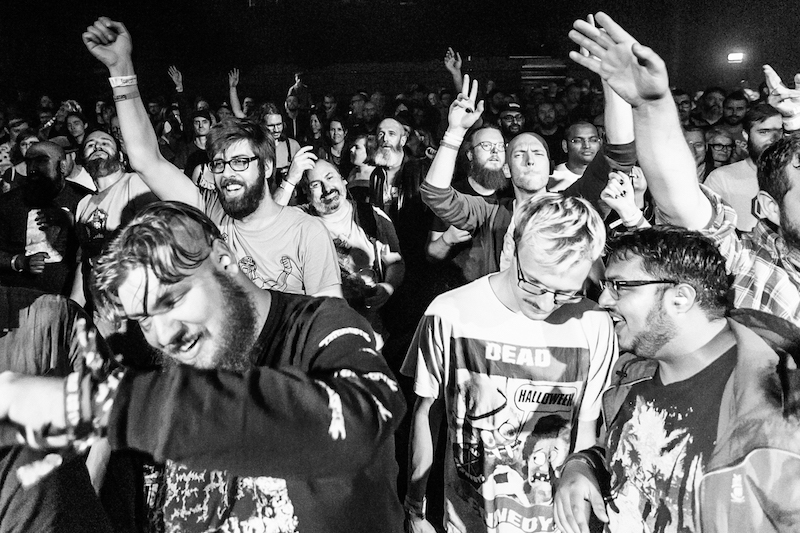 As with previous years, Supersonic Festival features a broad selection of extra curricular activities. One such activity is provided by Charlotte of CHW Ceramics, who guides an eager group of participants (in varying states of sobriety) through clay modelling their own macabre, milagros-inspired votives. By the end of the weekend, a troubling selection of disembodied limbs, organs, torsos and teeth sit drying on the workshop windowsill ready to be hung from necklaces. Not only is it thoroughly in keeping with Supersonic's aesthetic, but it's also a genuinely lovely bonding session between like-minded strangers amid the chaos of the festival.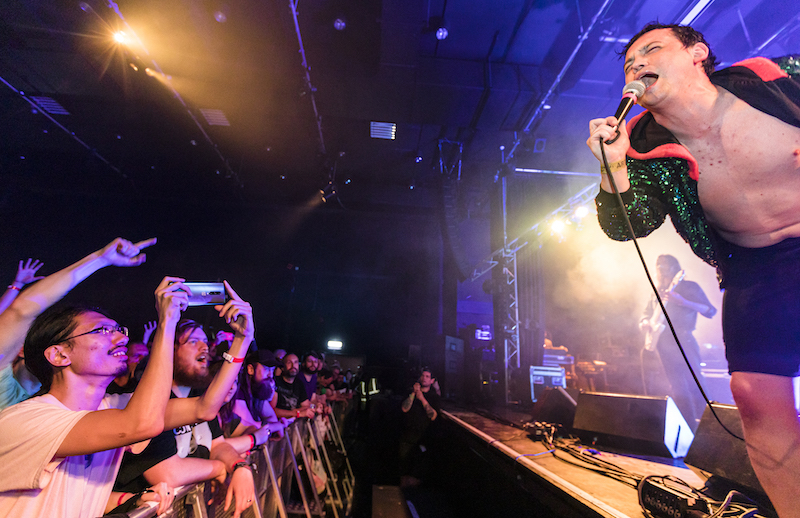 Pigs Pigs Pigs Pigs Pigs Pigs Pigs
Another artist who is back by popular demand is Moor Mother, who this year lends her afrofuturist spoken word performance to the apocalyptic beats of The Bug, who is also joined by the firecracker dancehall MC that is Miss Red. And, in Supersonic's 15th year, there could perhaps be no better closing act than Pigs Pigs Pigs Pigs Pigs Pigs Pigs, often referred to as Pigsx7, whose pleasingly doom-laden sets have made them a firm favourite with the festival's crowd. With the Black Sabbath exhibition still on show up the road at the BMAG, the gurningly heavy riffs of this Newcastle five piece feel right at home in the Home of Metal.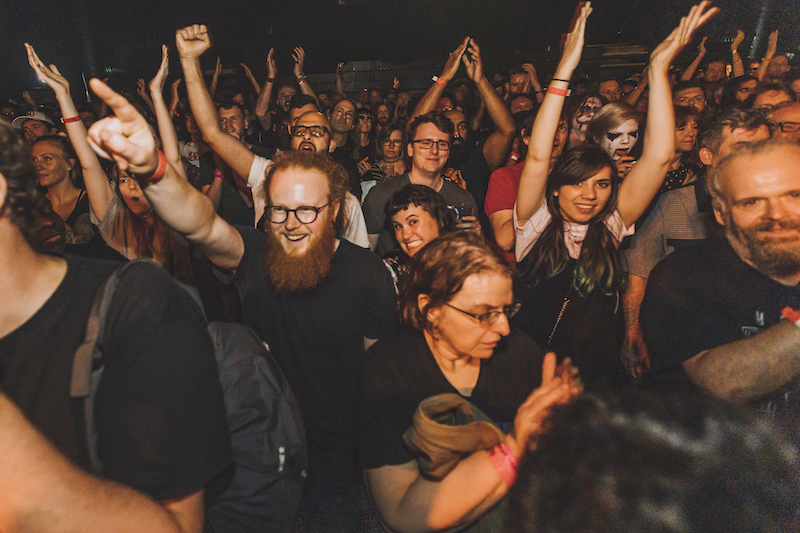 Photographs by Joe Singh – snaprockandpop
Like this? Try these…
Visual artist, multi-instrumentalist, and scrounger. Always wearing headphones, probably listening to Ezra Furman, Sleater-Kinney or Goat.