Review: Woven Skull headline experimental evening at Centrala
Irish experimental folk trio Woven Skull joined local noisemakers Squalor Fan and Haress for a night of experimental performance at Centrala on November 8th.
[amazon bestseller="woven skull vinyl" items="1″]
Set against the lurid green backdrop of Claire Douglass' painting 'The Garden of Earthly Delights', David Hand and Elizabeth Still take their seats. The pair mutter to each other. Still starts up a drone on the shruti box at her feet, while Hand coaxes notes out of his guitar with a bow. The resultant sound is punctuated by the sharp ringing of bells.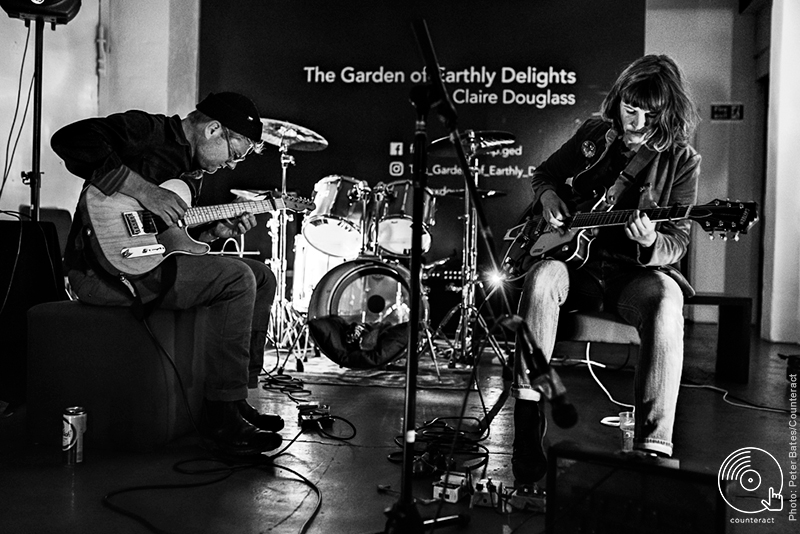 Haress
About a minute after they've started, six audience members have opted to sit cross legged at the front of the performance space. Haress' music, haunting and primal, cultivates a communal atmosphere. The two guitars are locked in a cyclical, sonic conversation, and at times the voices are indistinguishable from one another. Hand and Still are play intuitively, moving fluidly between unison and harmony. They remain seated throughout the set, neither facing the audience nor each other.
The clicks and squeals of gear being plugged in, followed by a throaty drone, herald Squalor Fan's arrival. Their sound is lumbering and abrasive, melting into fizzy euphoria. The pink lights cast a grotesque shadow of drummer Douglas Smith as he rocks back and forth, rattling out a motorik beat. Doomy electronics purr away while fuzzed up bass guitar interjects insistently and repeatedly. Vocal samples are triggered, not fully audible under the drums and bass, but adding another texture to their apocalyptic groove. Unrelenting and taught, Squalour Fan deliver a carefully constructed racket.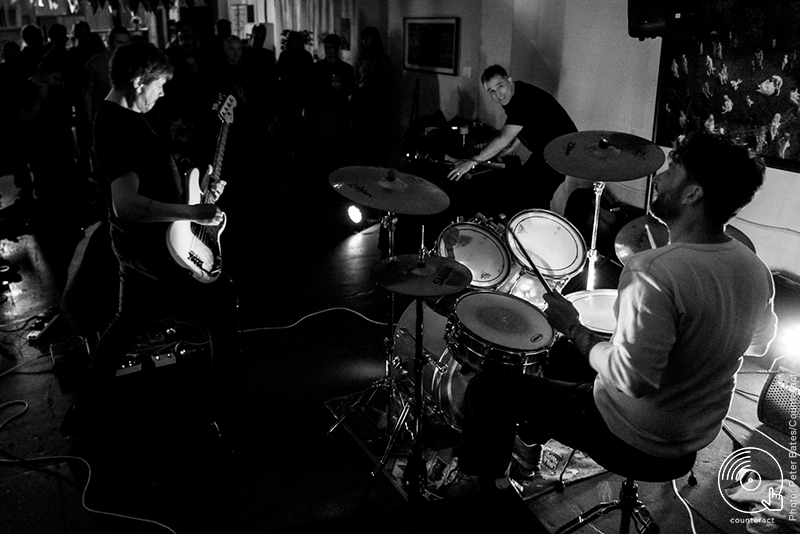 Squalor Fan
The crowd gathers expectantly for Woven Skull. Willie Stewart's stripped back drum kit takes centre stage, and he raps the side of the singular floor tom with his sticks to get the rooms attention. The three piece take up their instruments and begin to play. Their experimental psych-folk conjures up an instant atmosphere. It's richly textured and hypnotic. Natalia Beylis' mandola leads the audience through the evolving repetitions that make up Woven Skull's sound, backed up by the warm, distorted drone of guitarist Aonghus McEvoy. The County Leitrim three-piece are an imposing sight, all three with long hair shaken down over their faces.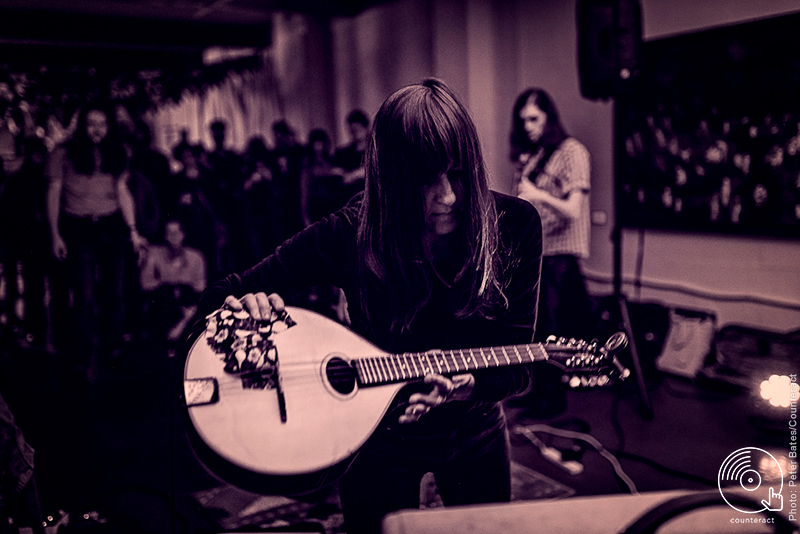 Woven Skull
The set is uninterrupted – at least one member of the band carries the rhythmic thread between songs. At one point, Stewart keeps the beat going with a commanding drum solo while the others tune up. Later, when McEvoy lapses into melodic finger-picking, Stewart makes use of the time to gulp down lager. By the end of the set, Beylis is teasing feedback out of her Fender tweed, waving her mandola in the air in front of it as if she was playing a theremin. The volume builds slowly to a shameless crescendo, and Woven Skull end their performance with a protracted, shivering drumroll.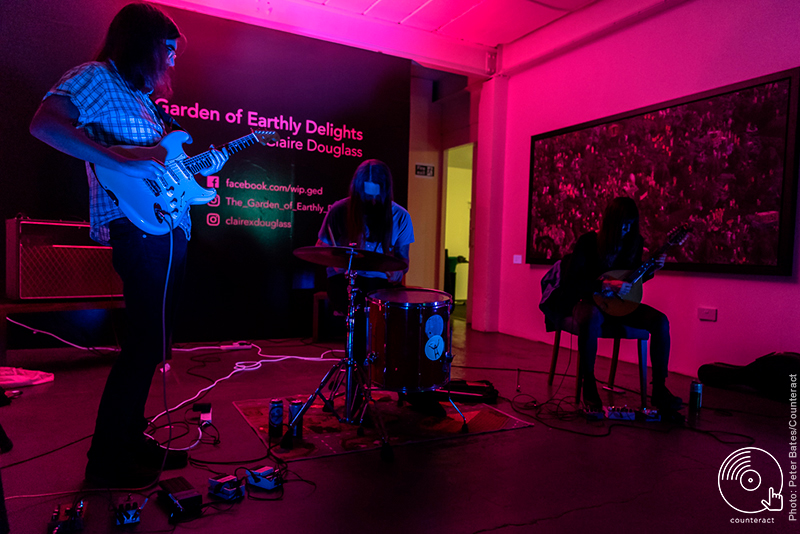 Woven Skull
Photographs by Peter Bates
Visual artist, multi-instrumentalist, and scrounger. Always wearing headphones, probably listening to Ezra Furman, Sleater-Kinney or Goat.