Review: Supersonic Festival wows curious audiences in Digbeth
Supersonic Festival pitches itself at 'curious audiences', and their programme this year certainly satisfied even the most chin-stroking of listeners.
The weekend kicks off with a series of MOOG Sound Lab talks and performances. Experimental hip-hop producer and Afrofuturist Moor Mother gives a compelling Q&A at the Birmingham Conservatoire to a select audience. Hailing from Philadelphia, she gives the crowd an unflinching account of her experience of Birmingham since landing the previous day. It does not paint our city in a flattering light. After making the organisers present feel suitably uncomfortable, she goes on to offer fascinating insight into her recording methods and lifelong appreciation for the Sex Pistols.
"I loved that they were giving it to this queen – I knew nothing about this queen but I loved it."
[amazon_link asins='B01JIU0SY0,B073LYT53Y,B001RXB4EA' template='ProductCarousel' store='counteract03b-21′ marketplace='UK' link_id='8edd843c-85ef-11e8-9842-019e5f859d22′]
Later that evening, Centrala plays host to the If Wet Salon, hosted by musical instrument creator Sam Underwood. Audience members get to peek under the hood of a number of the weird and wonderful instruments set to appear on the festival stages over the weekend. Kathy Hinde explains her Piano Migrations installation, a kinetic sound sculpture that centres around an old piano triggered by video projects of birds. Brian Duffy of the Modified Toy Orchestra shows off one of his newest compositions, written for, "blue guitar, manufactured by Boots the chemist."
London based experimental outfit Housewives kick off proceedings on Stage 1. They serve up a set of rattling alt-rock peppered with skittering synths and shamanic vocals. At one point the guitarist takes a violin bow to his Vox Phantom. The star of their set is the saxophonist, who spends the best part of it jumping around with not top on.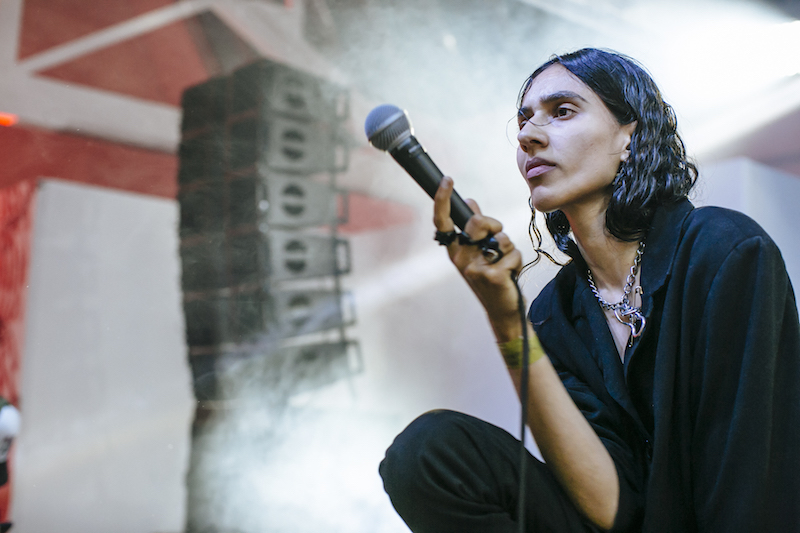 Wetware, photograph by Joe Singh
Over on the second stage, Wetware's Roxy Farman is throwing herself over the stage barrier and into the crowd with an intensity that makes even the most seasoned audience member draw back a little. Press releases are often overblown, but when Dais Records describe Farman as a "weaponised vehicle for performance" they make a fair point. The NYC duo's hypnotic, whirling beats whip the crowd into a frenzy as everyone jostles for a better view.
Moor Mother's set is hotly anticipated following her MOOG Soundlab Residency. Selected by Supersonic's guest curator Robert Aiki Aubrey Lowe, she has described her confrontational sound as 'project housing bop' and 'slaveship punk'. She stands behind her table, eyes closed, weaving beats and jazz samples onto a net of harsh noise. She pulls out her poetry book and begins to monologue.
"Do streets get renamed here? No? You must all be so rich! Throw some money on stage!"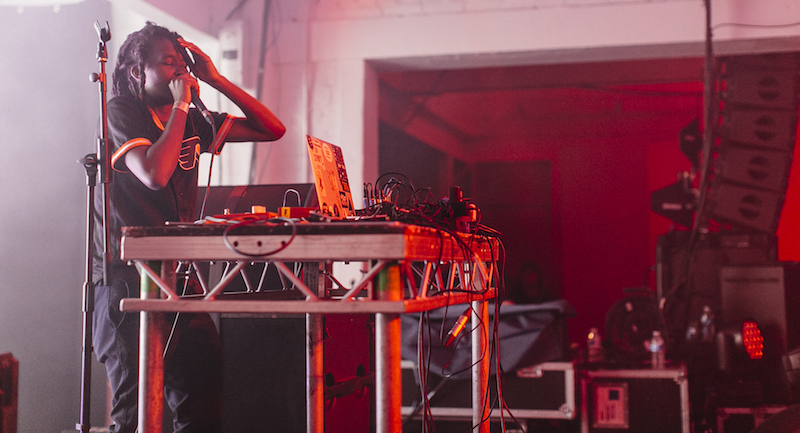 Moor Mother, photograph by Joe Singh
One of Supersonic's strengths is that it is a festival of juxtaposition. That said, it's hard as a listener to go from the provocative sound of Moor Mother to the Dutch punk jazz of The Ex. Their triple guitar line up gives them scope to create impressive polyphonic melodies, and while they're undeniably tight, it all gets a bit noodly. Maybe it's just too late in the evening for this. At around 1am I head over to stage for some pulsating techno from Giant Swan to round off my night.
————————-
While most of Supersonic is contained within the Crossing and the Custard Factory, out on it's fringes are some of the most engaging attractions. Between the 16th and 23rd of July, Vivid Projects over at Minerva Works played host to the art installation Her Horror. The organisers describe it is "a darkly ecstatic blend of ritual, body horror and transformation" in celebration of the bicentenary of Mary Shelley's Frankenstein.
On Saturday afternoon, artists Kate Spence, Sarah Walden, Siân Macfarlane and Vicky Roden (collectively known as the Visceristahood) perform a series of interventions in the space. The collection of video installation, sculpture, and live taxidermy demonstration is provocative and challenging, and leaves audiences reflecting on the role of female figures in horror tropes. As I watch Roden meticulously gut and skin a small white mouse as part of her Transmutation, I begin to feel decidedly faint. I blame the heat.
Over at the Crossing, Sam Underwood and artist Graham Dunning are showcasing their modular mechanical instrument, Connected Devices. The pair describe it as a cross between "a giant music box and an obsolete knitting machine." It's not the most musical performance of the weekend, but it's fascinating to watch, and instills a feeling of genuine chaos.
Things are getting heated over on the third stage as Cattle begin their set. The Leeds noise-rock outfit are the heaviest band of the weekend so far. This is music that hits you square in the chest. The vocalist stands off to the side, allowing the bands two drummers to occupy centre stage. A child of about five years old stands at the front of the crowd (thankfully wearing heavy duty ear defenders), transfixed. Angular, brutal and atmospheric, this is what the festival is all about.
Another of many contrasts in the lineup, Vanishing Twin are next to perform on the main stage. Their dream psych-pop is a balm for tired ears, melodic and theatrical. Frontwoman Cathy Lucas is captivating, dressed in rigid wide leg trousers that until now I thought only David Bowie could carry off. The set it composed mostly of tracks from their 2016 release Choose Your Own Adventure, which represents a rare fresh sound in psychedelic music.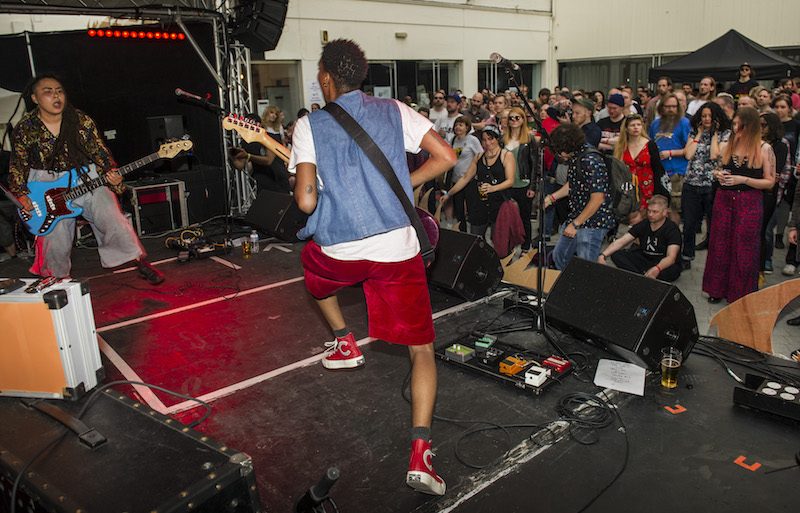 Youth Man, photograph by Katja Ogrin
Youth Man bring things back to heavier ground on Stage 3. With their new Alcopop release Five Songs on the horizon, they treat audiences to a peek at the tracks, with renditions of 'I Don't Know' , 'Valley Girl' and 'Statuesque' going down a storm. Their whole performance is full of blistering energy, and only halts when smoke starts to seep out of the bass amp. It starts to sound even fuzzier than usual, but guitarist Kaila Whyte instructs concerned stage management to, "leave it, it sounds cool."
Next on Stage 3 are Terminal Cheesecake. The courtyard is packed in anticipation of their performance. Their dub-infused psychedelia is exactly what this crowd have been waiting for. When they begin to play everyone surges forward, despite the heat. As the sun sets, their pounding noise echoes around the Custard Factory.
————————-
On Sunday, Daniel Higgs opens the proceedings with a set of his minimal, banjo-led musings. He plays to a hushed, seated audience. It's hard to tell where his meandering songs finish and start. Higgs moves fluidly between song and spoken word, sometimes pausing mid-song to monologue, or explain an especially pertinent lyric.
"This one's about screens…the little glass screens that we carry around in our pockets, and fondle and adore and obey."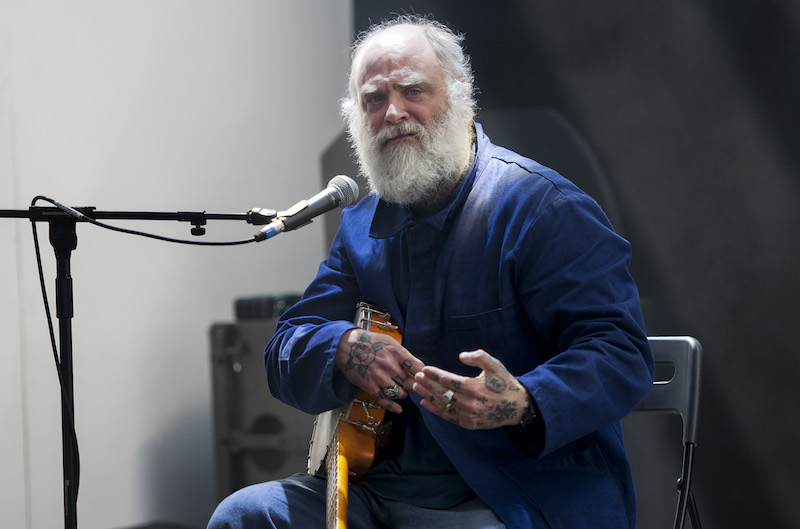 Daniel Higgs, photograph by Katja Ogrin
His performance is both powerful and fragile. Higgs faith healer demeanor lulls the crowd into a trance-like state in the afternoon sun. Pieces like 'The Tribulant Trips' feature cosmic narratives and cautionary tales.
"…but I didn't come here to preach, I came here to enjoy the festival with you all. So I should get to the end of my set."
On Saturday, the Mockingbird Cinema put on a special screening of the 2015 horror The Witch for Supersonic Audience. This was in preparation for a set from the films composer, Mark Korven. Korven hunches over his Apprehension Engine, a purpose built musical instrument for horror soundtracks. As the audience sit in darkness, he teases whooshing, rattling soundscapes out of the imposing structure. The tension builds until one of his racks crashes off of the table. Korven hastily reassembles the rig, blushes, apologises to the audience, and continues. The throaty, wailing sounds bring to mind iconic scores such as Wendy Carlos' The Shining, mixed with Ennio Morricone's The Thing.
It only seems right to follow this up with something equally spooky. As I enter the now sweltering Stage 2, I know I'm in the right place. In the centre of the room is a circle of animal skulls and pots of red and grey liquids. Next to it is an illuminated perspex platform, about 2 feet off the ground, and beneath it more bones. UKAEA are about to perform.
For the uninitiated, UKAEA are a techno drone and performance art collective from London. If you ask them what UKAEA stands for, you will get a different answer every time – last I heard it was "Uncanny Kabal of Astarte Ever After". Over the weekend, posters of a blindfolded woman bearing the simple slogan "SUBMIT' have been popping up around the venues. The drone begins, let by a topless man covered in red paint who is plugging away at a modular synth. The gentleman to my side turns to me and beams – "that's my son up there!"
Two of the performers, both clad in ceremonial robes and makeup, take a seat at the altar. One blindfolds the other, smears the red liquid over her forearms, and leads her to the platform. The blindfolded performer climbs up and begins singing into the microphone, screeching to be heard over the electric violin that's started up. Throughout the duration of their performance, UKAEA invites various audience members to be blindfolded and painted, after which they are tossed back in to the crowd. About half an hour in and there are about twenty-five participants, holding hands and swaying side to side as the drone reaches fever pitch. Then, it stops. Simultaneously, UKAEA grab cups of the grey liquid and douse themselves in it. The blindfolds are returned and the crowd reluctantly dissipates.
————————-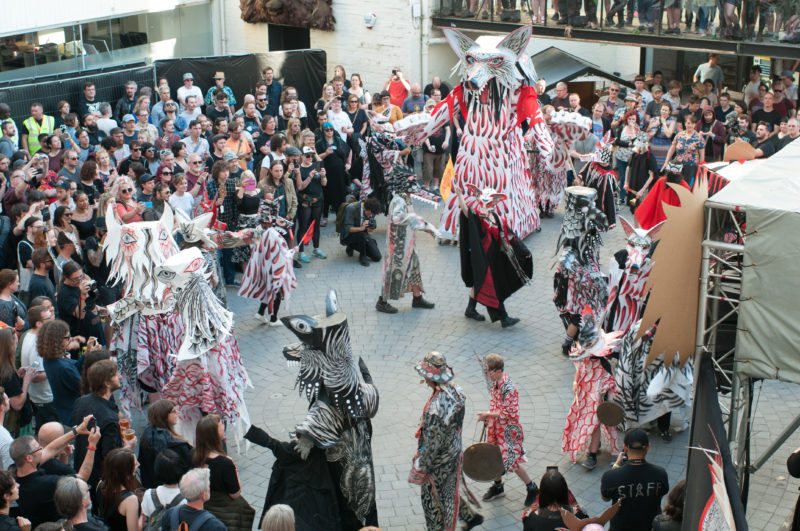 Photograph by Mark Rhodes
Over the festival weekend, a small group of attendees were invited to collaborate with Supersonic's artist in residence Dennis McNett, aka Wolfbat. The group occupied a space in the Custard Factory over the Saturday and Sunday afternoons, and paper mâché-d their way out of varying degrees of hangover. Each made a mask, and at this point on the Sunday afternoon they join McNett's own puppets and costumery to take part in a procession. With a 10 foot tall wolf puppet leading the group, the newfound cult marched through the streets of Digbeth, with the entire audience of Supersonic Festival in tow. The procession culminated in a shamanic ceremony in the courtyard of the Custard Factory, with Brazilian psych-rockers Deaf Kids providing the drums.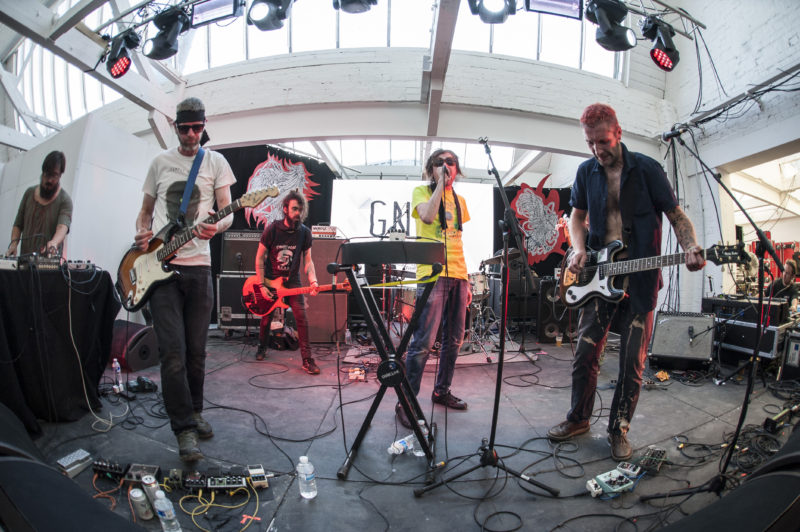 Gnod, photograph by Katja Ogrin
When McNett's ritual is over, the crowd filter through to Stage 2 to watch Gnod. The ever-changing collective from Salford serve up a set of primal noise-rock to an eager audience. Gnod often describe what they do as protest music, and its fair to say that their chaotic drone seems like the only appropriate response to the current political climate. It is an onslaught from start to finish.
Most of the crowd from Gnod are now awaiting the equally heavy Wolves In The Throne Room, and many are perplexed when they wander over to Stage 3 to be confronted with Tirikilatops. Tirikilatops are an avante-garde K-pop outfit from Lancashire, who are on a mission to "save the green planet from too much frowning". Their sugary sound is almost offensive to the ears, and they revel in it. After a couple of tracks, they've won over the majority of the crowd, and the sea of metal and drone heads are gleefully bopping along to a chiptune reworking of 'Material Girl'.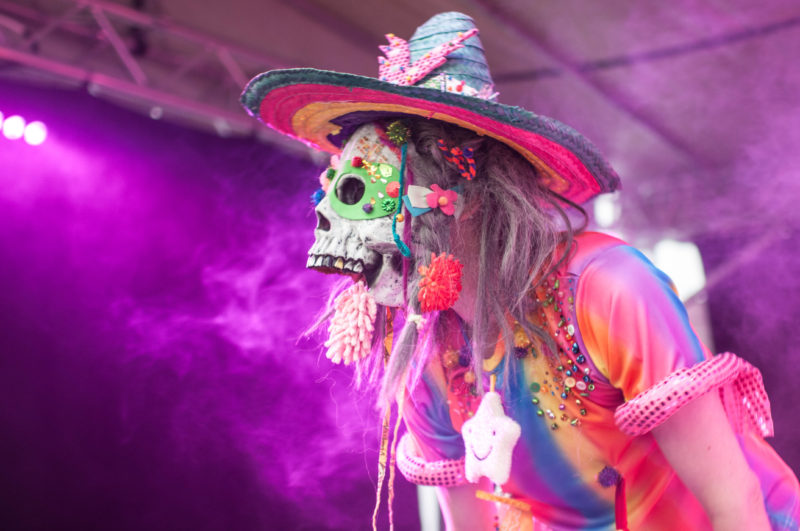 Trikilatops, photograph by Mark Rhodes
Stage 2 is filled with the smell of burning sage when the crowd returns for Wolves In The Throne Room. Banners and wicker sculptures adorn the stage. The band open with the imposing 'Thuja Magus Imperium', coaxing the audience into their world. What follows is a masterclass in high energy black metal from the Weaver brothers and their not-so-merry men.
A fitting end to a festival of genre-clashes, over on the main stage, folk historian Shirley Collins is giving a landmark performance. This is what Supersonic is all about.
Header photo by Mark Rhodes
Visual artist, multi-instrumentalist, and scrounger. Always wearing headphones, probably listening to Ezra Furman, Sleater-Kinney or Goat.