Review: Pigs Pigs Pigs Pigs Pigs Pigs Pigs storm the Hare & Hounds
Newcastle doom-psych quintet Pigs Pigs Pigs Pigs Pigs Pigs Pigs played a sold out show at the Hare & Hounds on 29th March, with support from fellow Supersonic Festival alumni Cattle.
[amazon bestseller="pigs pigs pigs pigs pigs pigs pigs"]
Tickets for tonight's show sold out way back in October, so it's no surprise to see the main room of the Hare & Hounds packed out by 7:30 tonight. The stage is set for Cattle, with two drum kits face to face, centre stage. The Capsule team seem to have a penchant for this setup, having recently had Nottingham drum duo Rattle play at their International Women's Day celebration at Centrala.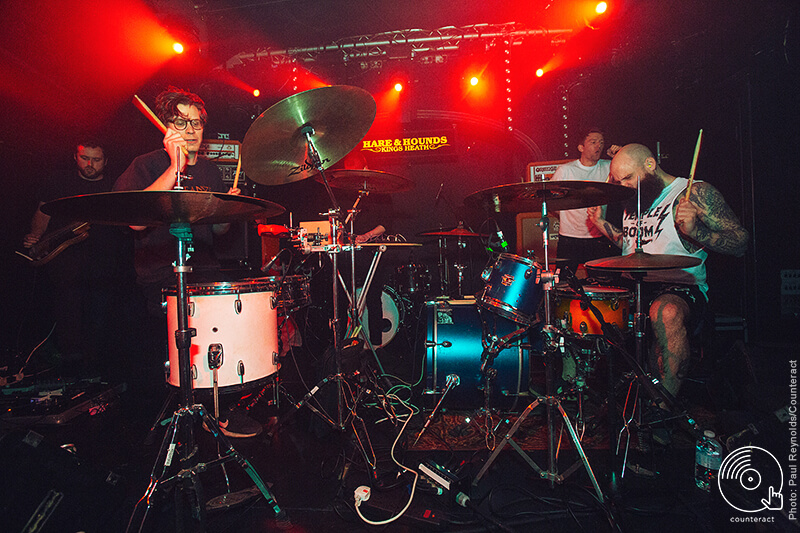 Cattle
Leeds noise rockers Cattle certainly lean into their unconventional line up. Vocalist Chris Riviera stands towards the back of the small stage, but he is more than capable than making himself heard over the thunderous bass and fractious synth lines. The same machine gun onslaught that they delivered in the July sun at Supersonic 2018 is in the room tonight, and more than a few of the same faces make up the front few lines of the crowd. It's impossible to take your eyes off the pair of drummers.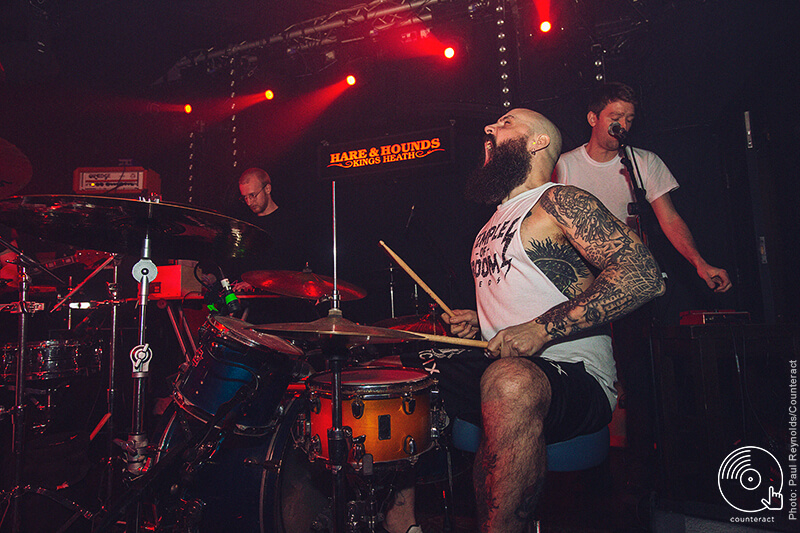 Cattle
It's standing room only once Pigs Pigs Pigs Pigs Pigs Pigs Pigs (also known as Pigs x7, presumably for ease) take the stage, singer Matt Baty pouring bottled water over his head in the already warm room. When they begin their set, a wall of stomach turning bass hits the crowd square in the chest, peppered with wah'd out solos from guitarist Adam Ian Sykes. Baty indulges in a series of sweaty "rock god" poses, getting increasingly tangled up in his mic lead.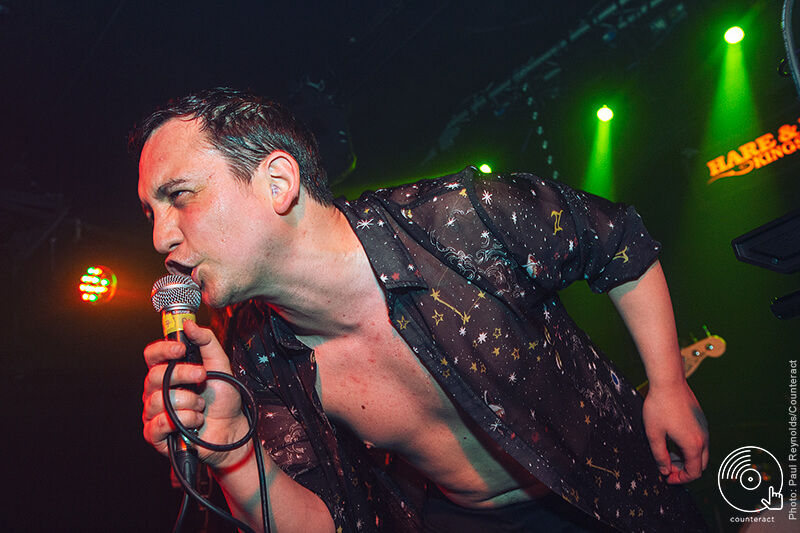 Pigs x7
Two songs in, the Pigs pause to request some gaffer tape from the sound tech; the sub bass is causing Baty's synth to shake so much that the DI box resting on top keeps falling off.
"It keeps creating impromptu synth solos," laughs Baty. "Maybe we should leave it, it's kind of exciting…it's like a Yes gig or something."
Baty is a captivating frontman, and clearly revels in the attention. When he's not screaming into the faces of the crowd, perspiration making his starry print blouse and football shorts cling to his skin, he's flinging pitta breads out from the stage. At one point, he manages to fit the full head of the mic he is using to his mouth – you can only hope he brought his own.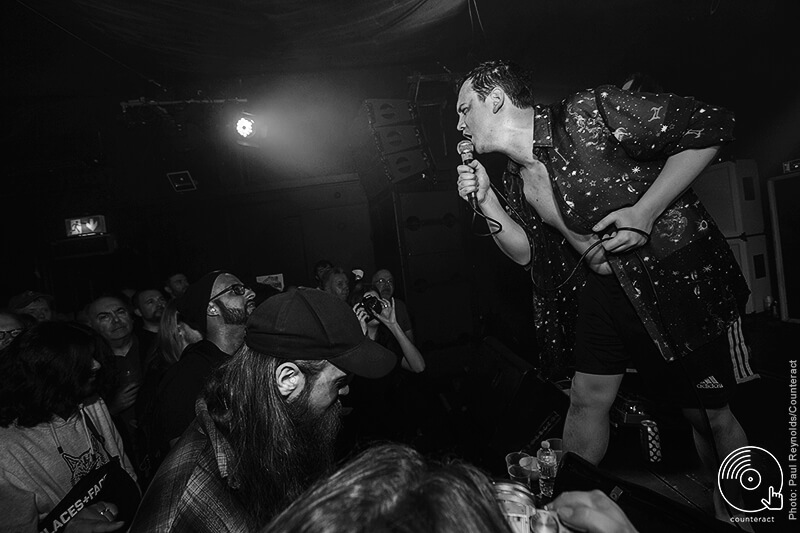 Pigs x7
Every song in the set is a sledgehammer of doom-laden riffs, delivered by stoic rhythm section Christopher Morley and John-Michael Hedley. 'Gloamer', the closing track from the Pigs' latest release King Of Cowards, is a highlight. Sykes punctuates the grinding intro with a series of staccato fuzzy squeals as he flails at the strings and kill switch of his guitar – it's proof that pretty much anything sounds good run through a Fuzz War pedal.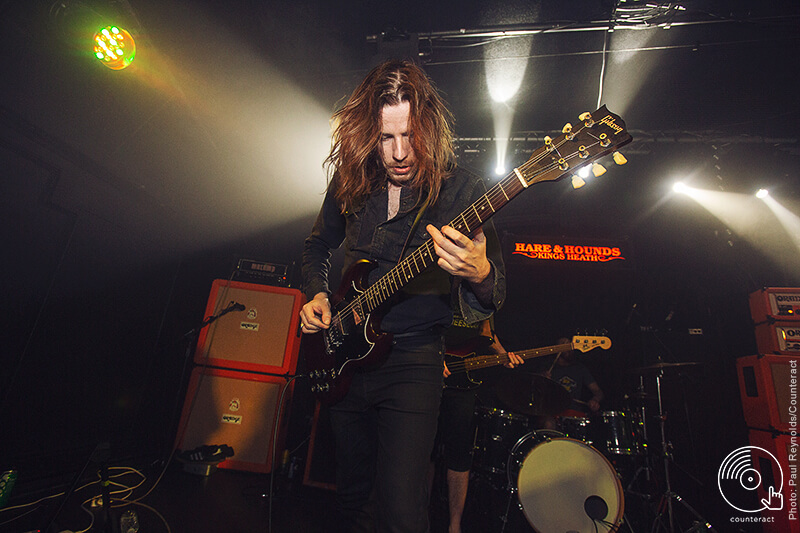 Pigs x7
By the end of their set, Sykes has resorted to letting his SG slip through his right hand and hit the floor over and over while he sips a can of lager from his left. The crowd, unhinged with sweat and adrenaline, is delighted.
Abiding by the firm 10pm curfew, the Pigs slink off to the merch stand, where a queue has already formed. Fear not, however, as they return in July to play Supersonic Festival – and there are still some tickets left.
Photographs by Paul Reynolds
Visual artist, multi-instrumentalist, and scrounger. Always wearing headphones, probably listening to Ezra Furman, Sleater-Kinney or Goat.