Review: Youth Man go out on a high at International Women's Day gig
On Saturday 9th March, the day after International Women's Day, Supersonic Festival threw a party at Centrala to celebrate. Top of the bill, local punks Youth Man later announced that this would be their last show for the foreseeable future – and they certainly made it count.
[amazon bestseller="punk vinyl"]
Sarah Farmer, but known for her involvement in the Ideas of Noise festival and art collective The Lombard Method, is an unassuming presence, but her music is bold and confrontational. Silhouetted by a laser lights, she taps away at her laptop, setting of a drone and a series of vocal samples. The crowd is hushed as the drone then gives way to Farmer's live violin playing, full of swoops and trills that feel both cinematic and experimental. Her set takes the form one piece composed just for the occasion, and it feels fresh and improvisational. Farmer is always hovering by the laptop to trigger the next loop, all the while playing expressively on the violin.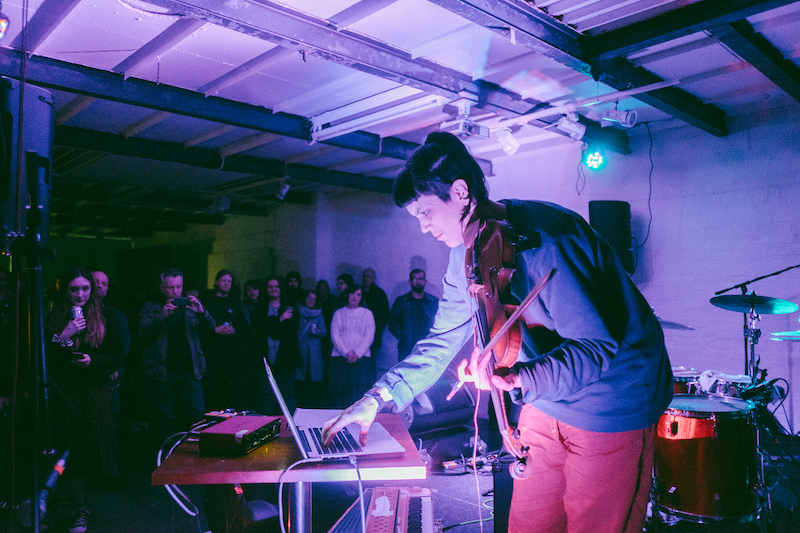 Sarah Farmer
Not long after Farmer's set, the floor begins to vibrate – Godspeed You Peter Andre are performing downstairs. Vocalist Emma Thompson (not that one) is stalking up and down in front of the crowd, wearing sunglasses, a sheer dress, and a spiked headdress. Responsible for the aforementioned floorshaking is Darren Kaskie, who weaves together a dominating web of harsh industrial noise. By this point everyone in the front rows has been sufficiently decorated by the Glitter Station – it's exactly what it sounds like – and are sporting googly eyes which shake in time with the beats. The set eventually dissolves into an arcane monologue as Thompson prowls through the crowd, underpinned by a motorik beat. Above the distortion, the words "patriarchy" and "bodies" are decipherable.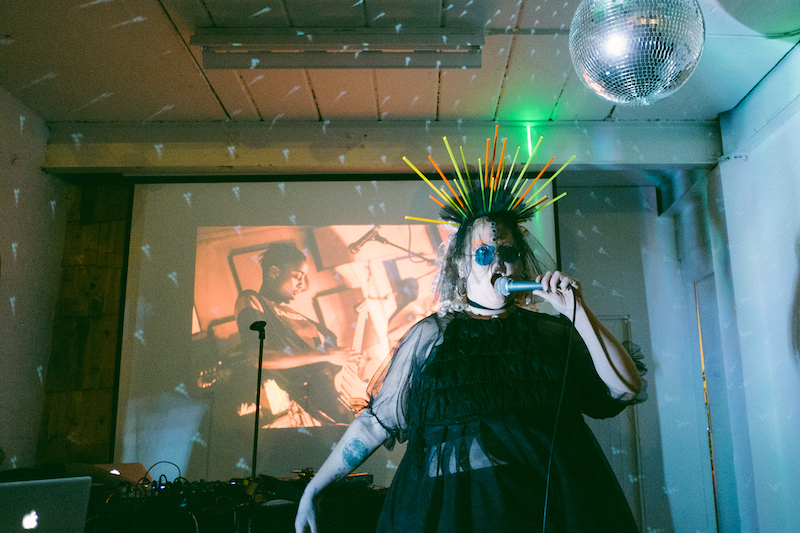 Godspeed You Peter Andre
Back in the upstairs room, Rattle are taking their seats. Proudly calling themselves "the drum band", the Nottingham duo face each other across a pair of drum kits. Their sound is primal, with both of them playing part of one unified rhythm, always perfectly in sync. Katy Brown's vocal is the perfect counterpoint. Melodic and feminine, she weaves her way in and out of the polyrhythms. Their compositions almost have an almost electronic sensibility, all peaks, troughs, and considered dynamic shifts.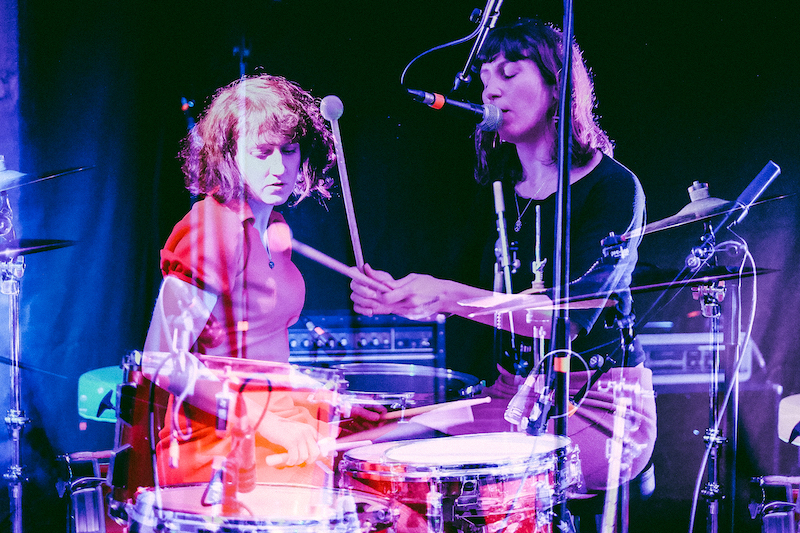 Rattle
Bas Jan are quick to follow, fronted by the enigmatic Serafina Steer. The group are all clad in neon yellow with white trousers, and their art-pop stylings kick off with the wry 'Progressive Causes', a song written using quotes from an interview in Playgirl. Their sound is characterised by kitchy synths and a thread of violin throughout, while all four members make contributions to the vocal. Best known as a harpist, Steer looks equally at home with a Mustang Bass. Bas Jan's latest single 'Profile Picture' is a highlight, though Steer is unsatisfied.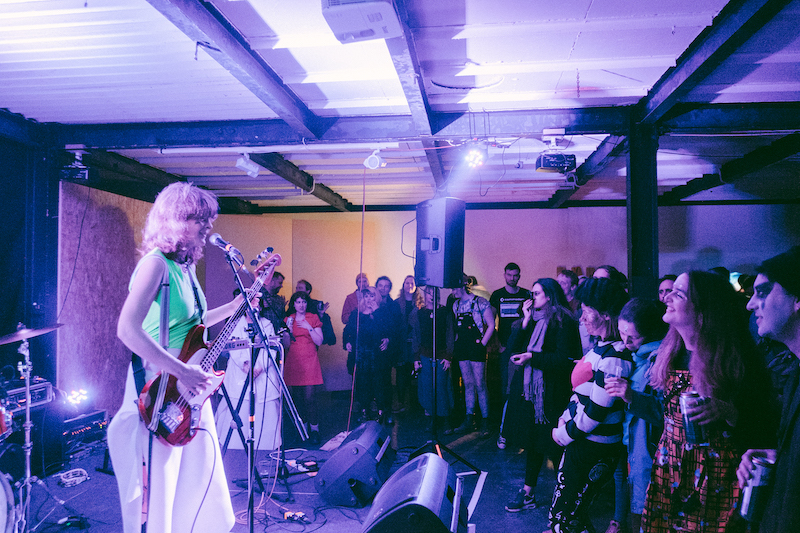 Bas Jan
"Where's the dry ice? We're meant to be shrouded! In mystery and dry ice…behold! The atmosphere cometh…"
Whoever was operating the smoke machine certainly made up for lost time after Bas Jan left the stage; headliners Youth Man played their opener "Skin" through thick haze. Since tickets went on sale for tonight's show, the group have announced that it will be their last "for the foreseeable future." What ensues is a tour-de-force of their back catalogue, with a generous helping of tracks from their latest Alcopop release, Five Songs, all the way back to their 2013 debut 'Heavy Rain'.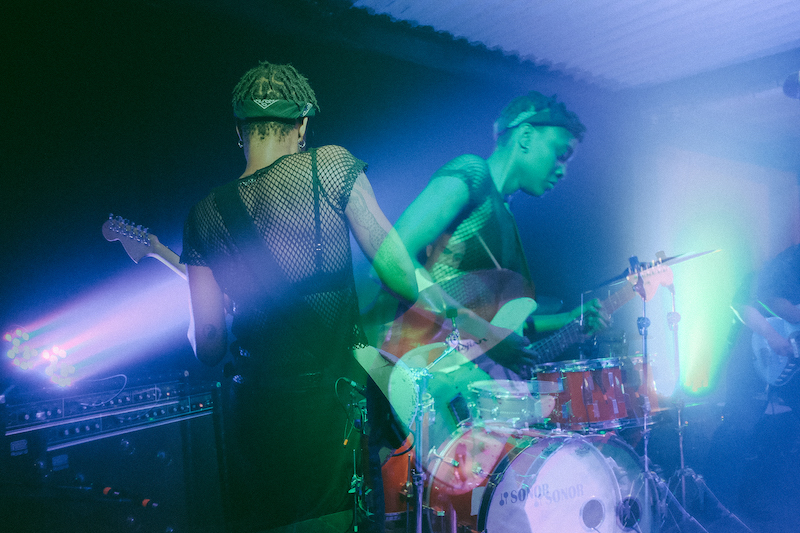 Youth Man
Youth Man's thunderous energy is present as ever, though guitarist Kaila Whyte shows a softer side tonight with a wistful solo rendition of 'Mainland' while bandmates Marcus Perks and Meesha Fones watch from the sidelines. Their noisy, defiant set is a snapshot of the band at their best, and leaves the excitable crowd baying for more.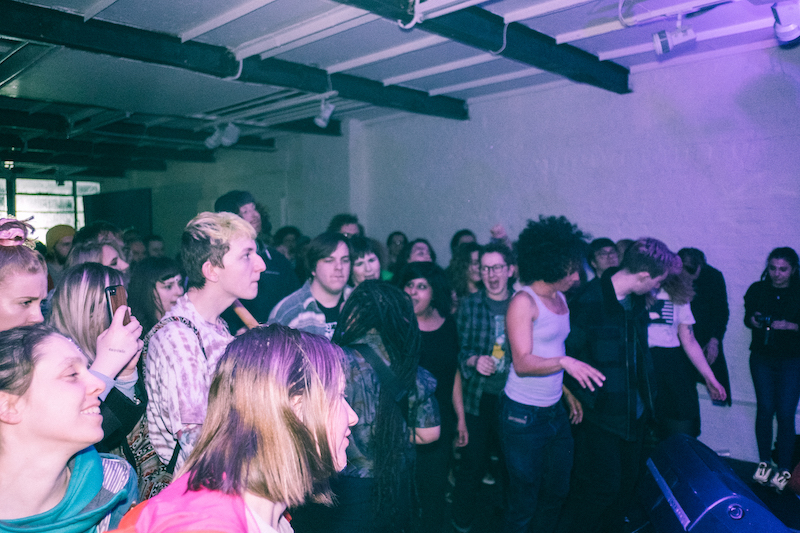 However, as soon as they finish the last song, they down their instruments, the house lights come up, and the audience filters downstairs to the bar.
Photographs by Palm Musik
Visual artist, multi-instrumentalist, and scrounger. Always wearing headphones, probably listening to Ezra Furman, Sleater-Kinney or Goat.