Review: Black Grape and Shaun Ryder funk up a sold-out The Mill
Original members Shaun Ryder and Kermit bring the riotous funk rock energy of Black Grape to a sold-out The Mill with a crowd pleasing mix of classics and newer material.
[amazon bestseller="black grape"]
The Mill is a great venue for live music; rambling corridors, rooftop terrace, three bars with not a queue in sight, friendly security and no sense of crush, even when it's sold-out as it was tonight. It possesses a quirky charm that is the perfect setting for the shaggy rock disco energy of Shaun Ryder's Black Grape and is a wild counterpoint to the sweaty riot of Ryder's headline show in the city with Happy Mondays at the O2 Institute in 2017. Shaun likes Birmingham, he's back with Madchester's finest in December.
Opening the show are local Vox fired lads The Carousels, an indie rock four piece armed with tunes steeped, nay drowned, in the sound of Oasis. Singer Jeff Best even comes equipped with a Liam styled vocal whine, She's all I Need from the band's Demons EP was a standout, but we liked them best when they cut loose with a ramped up version of the Sex Pistols' Pretty Vacant.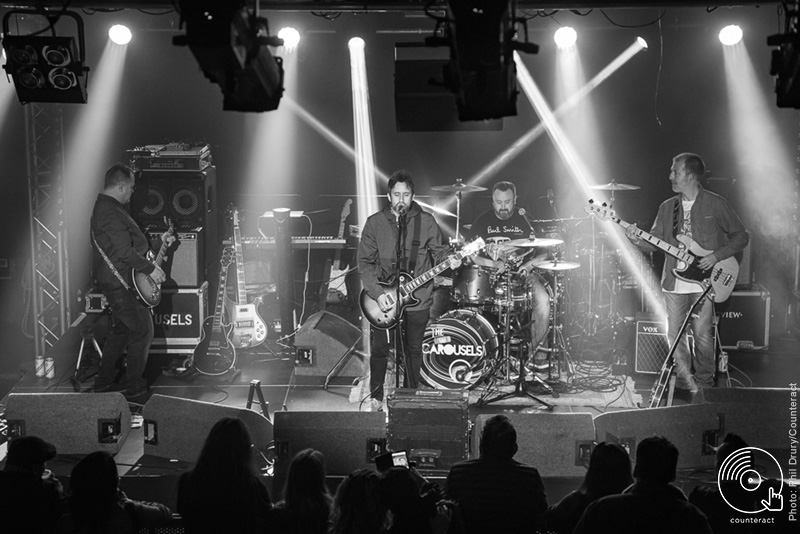 The Carousels
The indolent swagger of Shaun Ryder's craggy lyrical genius is irresistible, compared to W B Yeats by Tony Wilson, literary recognition has finally arrived with the publication of Wrote For Luck, a selection of his off kilter wordplay. Not your conventional poet as he shuffles about the stage sporting a permanent grin, cap, dark glasses and a neverending assault of cheeky Mancunian banter. The good natured riffing between Ryder and other Black Grape original Kermit is raucous fun. The running gag throughout is, 'what's our new album called? Pot Noodle'. Kermit's lithe energy, is he really fifty? Serves as a sparky brickbat to Ryder's static presence, due in part to constantly having to refer to the set list and lyrics at his feet. 'Oh fuck it's a new one'.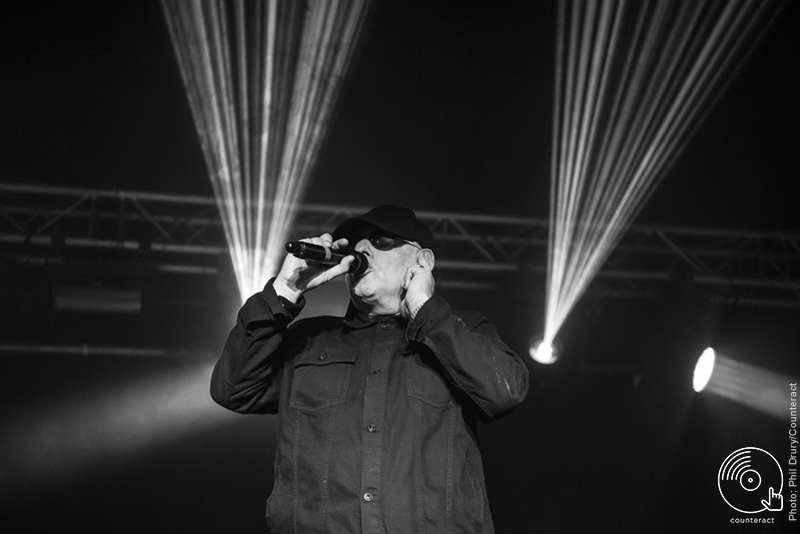 Black Grape
There's only one way to kick off a Black Grape gig. In the Name of the Father, from debut album It's Great when You're Straight… Yeah, is an anthemic monster blueprint of the Black Grape sound, sublime grooved up rock disco laying the musical spine for the droll sharpness of Ryder's lyricism, throw in a terrace chant chorus too. 'Here we go'. It sets a joyous party tone that rolls into the purer funk of tracks from 2017's Pop Voodoo (not Pot Noodle, see above) including Nine Lives, Set the Grass on Fire and the stomping railroad grooves of the title track.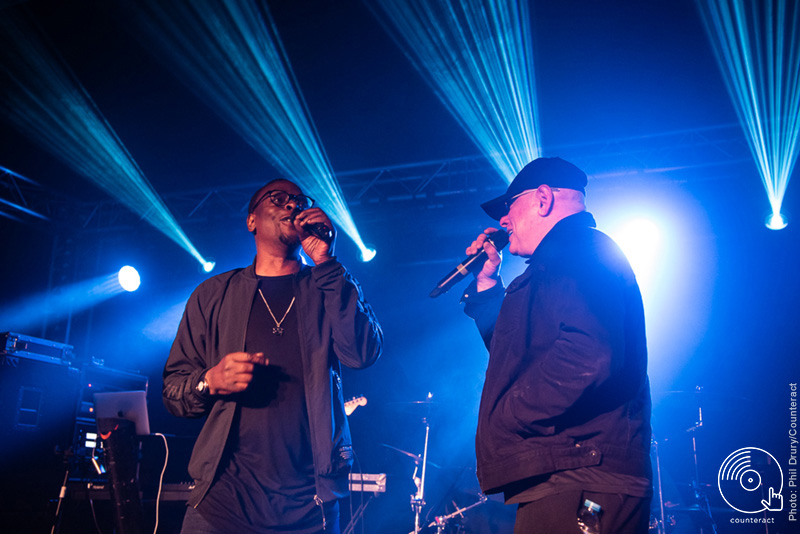 Black Grape
Of course it's the classics that get the best response, much as the new material is good, an extended Reverend Black Grape cues a mass singalong with Kermit officiating from his pulpit and using a microphone to bless the audience. 'Can you feel it?' Oh yes. A rousing version of Kelly's Heroes is followed by an encore, 'for being lovely Birmingham', of Little Bob that ends with Kermit and Ryder offstage and the band flexing their rock out muscles for several minutes after.

Black Grape
A great gig and the feel good vibe about The Mill was palpable with a raft of smiling faces exiting into Digbeth. Ryder's fathers fathers fathers father would have been proud and he was bendy.
Photographs by Phil Drury
"Reviewer, previewer and writer of just about anything. Can usually be found with my eyeballs plugged into sleazy 70's exploitation cinema or riding an antique bike around Harborne. I have no issue with being bought pints or accepting bribes of any sort."