UB40 chat humble Birmingham beginnings, politics and their new album
Brummie legends UB40 are back with their brand new album 'For The Many' – on Friday March 15th, Stephen Pennell caught up with the band ahead of their signing at hmv in the Bullring
[amazon bestseller="ub40 for the many"]
It was back in 1979 that UB40 played their first public show at the Hare and Hounds in Kings Heath, a few stops on the number 50 bus from their old Balsall Heath stomping ground. It seems like every time we go there, someone is taking a photo of the plaque commemorating the legendary gig – an important early milestone on the road to becoming the biggest reggae band in the world.
They've since sold over a hundred million records and spent eleven of the intervening forty years ACTUALLY IN THE CHARTS! Let that sink in for a minute. Now, fresh from a tour celebrating the 40th anniversary of their first public outing, the Birmingham icons are back with a new album, For The Many. It's a vibrant, modern sounding record containing some beautiful, heartwarming love songs and shot through with the kind of radical messages with which the band initially made their name. We went to see the lads (minus Brian Travers, who was unfortunately ill) before their signing session at hmv in the Bullring, and we collared drummer James Brown for a wide-ranging chat about their humble beginnings, the new record, and some points in between.
You've had a forty-year love affair with reggae. How did you all get into it?
"We're mainly from Balsall Heath and Small Heath, where a lot of Caribbean people had settled, and reggae was what we heard coming from the houses and open car-windows. We were already into Tamla Motown and when reggae came along it seemed like a natural progression for us. The alternatives at the time were prog rock and glam rock, which just wasn't us. We felt that was music for middle-class students. We're obviously a multi-racial band and also, reggae was accessible. I wouldn't say it's easy to play but there is a certain simplicity to it, and it all just fell into place. So in a way we didn't choose reggae – reggae chose us."
Were you all mates then?
"Four of us went to Moseley School of Art together, plus the newbie, Duncan (Campbell, who replaced brother Ali on lead vocals after the band's acrimonious and well-publicised split. *At this point, Duncan himself points out the absurdity of being considered the newbie after racking up 4 albums and 500 shows*). The lads meander down memory lane to their schooldays, with tales of stealing paint brushes from The Midland Educational shop round the corner from Oasis market ("we hid them up our sleeves"), and Jimmy reminisces about Duncan's nerves when he first took over Ali's role in the band. "He was like a rabbit caught in headlights, which I enjoyed because he was bigger than me at school."
"Things haven't improved for you in that situation Jim," says Duncan. Jimmy continues: "So, when Ali left, we didn't have to go outside our gang for a replacement, we kept it tight."
It's a very fresh sounding album. It seems the split has given you a new lease of life?
"It has, and not just musically. Ali wasn't happy for a good few years before he left, and when he did it was like a heavy weight being lifted from our shoulders. We play happy music; although a lot of the lyrics are political, the music is supposed to be uplifting, and it's hard to do that when there's someone with a face like a smacked arse over your shoulder. He didn't enjoy playing live, and while the rest of us would come off stage buzzing and having had a great time, he was miserable and that would bring down the vibe. We look forward to the gigs again now."
---
Talking of gigs, how has the new album been received by live audiences?
"We've had a great reaction to it – really good. All the local artists who are guests on the record (Gilly G, Pablo Ryder and Slinger) joined us on the tour and went down a storm. They were on the Baggariddim album from '85 and just picked up where they left off, so the fans were familiar with them and welcomed them back with open arms."
Signing Off was loved by the critics, Labour of Love sold millions – what are you hoping for with this album?
"It's a different business now. Nobody sells millions anymore unless they're Ed Sheeran or the very latest thing, and most people are streaming or downloading. But we've taken more inspiration from Signing Off than Labour of Love on this one. There's plenty of dub and instrumental breaks, five and six minute songs, which we haven't done for a while. We've gone full circle in terms of original songs over covers, and of course the political message."
Has something about today's politics inspired this?
"It's the same politics. If anything, what's happening today has roots in what was happening when we wrote Signing Off. The housing crisis, the banking crash – the seeds were sown by Thatcher in the eighties when she sold off the council houses and deregulated the banks. We were right then and we're right now. The frustrating thing is that a lot of it was carried on by Blair, who had a mandate to repair some of the damage of Thatcherism but didn't. As you get older you kind of give up on changing the world, but having a real Labour man like Corbyn leading the party has given us renewed hope and belief that change is possible, and it's exciting after years of just coming to terms with the idea that things would never really change."
A lot of Birmingham artists achieve barely a fraction of your success and leave. How come you've never been tempted away?
"We've all got families of our own and extended family in Birmingham, and we've never played the game of being in the tabloids, being seen at the right parties, or wanting to be snapped by the paparazzi. We've still got the same mates we always had, so that keeps your feet on the ground. Also, to some degree the city informs what we do – without that influence we wouldn't sound like we do, so we feel it's important to stay."
And yet the music itself travels so well doesn't it?
"Yeah, it's unbelievable at times. A couple of years ago we went to Samoa to their independence anniversary and 20,000 turned up all singing the songs back to us. That's as far as you can go without coming back on yourself so the music has literally gone all around the globe, and everywhere we go we get a brilliant response. For the first ten or twenty years the crowds would be cheering and we were looking round wondering who else had come on stage, until we eventually worked out the cheers were for us."
---
And with that the members of UB40 – supremely talented yet refreshingly modest, fiercely working-class yet absolute gentlemen – left to hear more cheers from the people waiting for them to sign copies of the new album. It's been on repeat since we got it and if those adoring hordes want an authentic, thoughtful and pretty damned inspirational UB40 record, they won't be disappointed.
For The Many is out now.
[amazon bestseller="ub40 vinyl"]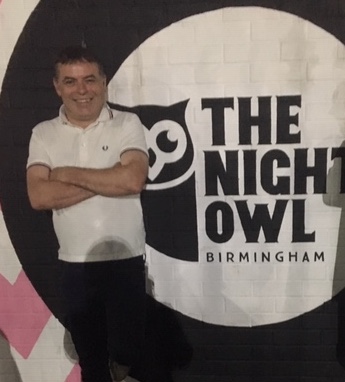 Militant anti-racist and Brummie. Lucky to be born in the most innovative musical city on Earth. If I hadn't been, I'd have moved here by now.