Venue guide: Hare & Hounds, Birmingham
If it's a stripped down, intimate venue you're after, the Hare & Hounds has you covered. With a traditional pub and nouveau bar/diner downstairs, and two intimate venues with one of the best PAs in Birmingham upstairs, this indie-haunt knows its music and what it is to have a good time.
Located just down the road from Moseley on Kings Heath High street, the Hare & Hounds plays host to the big guns before they are titled so, meaning it has quickly built up its reputation in the suburbs of Birmingham.
Venue information
With a large selection of draught drinks, spirits, soft drinks and snacks, the Hare & Hounds is the ideal all-round gig venue; and having just introduced their own Hare & Hounds ale, this has increased their range of drinks even more! You can find bars downstairs and in both venues upstairs.
Both gig venues are up a steep, twisting flight of stairs which makes disabled access difficult. The venue is a grade II listed building, so unfortunately no lift can be installed, and therefore there is no upstairs wheelchair access. When venue 1 + 2 are both in use, access to venue 1 tends to be from the outside stairs in the courtyard, which is accessible through the back bar, while venue 2 is straight up the main stairs in the pub. There is no official cloakroom at the venue.
What's on
Boasting an array of DJs, musicians and home-grown events for all tastes, the Hare & Hounds is definitely one to visit when possible. But make sure to grab tickets quick; with a modest main room capacity of 250 and venue 2 capacity of 150, the venues can be quick to fill. For more information about upcoming events, please click here.
Getting there
By car
Situated on Kings Heath High Street, the Hare & Hounds is a short drive from Birmingham City Centre. Take the Alcester Road from Digbeth and follow signs through Moseley to Kings Heath. From all other areas of Birmingham, the venue is accessible by heading towards Kings Heath or Moseley and following signs to the High Street.
Parking
Parking around the venue is limited. Free street parking is available around Kings Heath on evenings, or pay & display parking is available on Silver Street.
By public transport
The Hare & Hounds is easily accessible from Birmingham and its suburbs by bus. The number 50 stops just outside the venue, which sits half way down the high street and the 76 stops a couple of minutes walk from the H&H's entrance. For more travel information, please visit networkwestmidlands.com.
Spot something wrong? Are we missing a venue? Let us know at richard@counteract.co.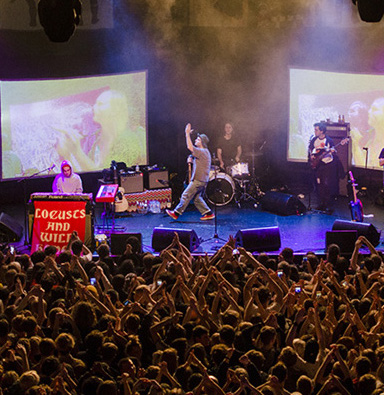 Key information on the best live music venues in and around Birmingham, Coventry, Wolverhampton and the surrounds.