Swampmeat Family Band to bring festive frenzy to The Castle and Falcon
Birmingham's favourite bunch of raucous country punks are throwing a Christmas shindig a little different from the rest. Forget the naff Christmas jumpers, cheese and pineapple sticks and strange goings on in the photocopying room – this is a Christmas party you won't want to forget.
Off the back of fundraising in the summer for a future showcase at the SXSW festival, Swampmeat Family Band have been taking over Birmingham, one huge party at a time. The quartet, comprised of city slickers Daniel Finnemore, Richard March, Thomas Hughes and Thomas Jones, are embarking on their next wild ride in the form of a country Christmas party at Birmingham's The Castle and Falcon on Friday, December 20th.
Those who haven't been charmed by The Family yet are in for a huge treat. They champion loud, undeniably punk riffs which dance with that age old Southern charm. Garage-infused drums rock like a bucking bronco, whilst quick wit lyrics that just won't quit wriggle into your brain and plant themselves firmly in your skull. Dance floors and gig venues all across Birmingham have been infected by The Swamp, bringing out the country fan in even the most sceptical city roller.
---
That's not all to expect from this Christmas knees up, as the supports added to this show make it the gift that keeps on giving. With a summery, 60s-rock-meets-bedroom-indie flair, Robert Craig Oulton is the perfect winter warm up act. Since releasing his newest banger 'Pretend I Was Dreaming', Oulton has captured the hearts of Birmingham with nostalgic guitar hooks, beautiful yet melancholic lyrics and a one of a kind voice. The Temple St. Resistance complete this line up, comprising of two brothers with roots deeply embedded into Birmingham's music scene. Country punk with a kick, this duo enamour with stomping beats and whiskey-drenched riffs.
The Castle and Falcon is an independently ran music venue and late night bar on Moseley Road, Birmingham. It's unique size of 300 capacity makes it the perfect venue to see the best upcoming acts, without missing a single beat. The Castle and Falcon has seen the likes of Sam Fender, Sunflower Bean, The Murder Capital, Spector and more grace its stage, whilst being home to the annual Sonic Gun Weekender two years in a row.
Swampmeat Family Band's Xmas Party takes place on Friday, December 20th from 8pm, with Swampmeat Family Band DJing after the gig. Tickets are on sale now.
Like this? Try these…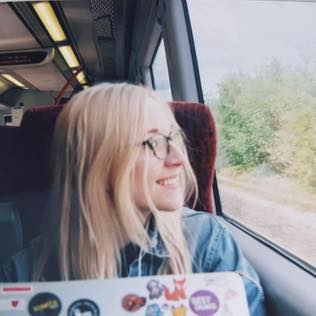 PR, events and social media by day, lover of all things geeky and retro. Can often be found scribbling notes at the back of the gig.