Review: Sunflower Bean end tour on a high at The Castle and Falcon
New York City dreamers Sunflower Bean waved goodbye to an extensive 160 date tour with a climatic performance at Birmingham's Castle and Falcon on December 1st.
[amazon bestseller="sunflower bean"]
Sunflower Bean's sophomore album Twentytwo in Blue is dripping in influences. It's a metamorphosis of shimmering psychedelia and high octane rock and roll, along with hints of American country for good measure – it's a coming of age album that perfectly aligns with their now completed tour.
The firecracker that is Jesse Jo Stark was the initial spark, the US solo artist is a flame of country punk and wheel spinning highway rock with the coolness and edge of Sonic Youth, but flickers of indie folk akin to Wolf Alice. Her rock and roll kicks pin balled around a raring crowd with hits 'I Wish I Was Dead' and 'Fire of Love'. Keys twinkle and spiral into madness as guitar slides create amped up waves, met with sultry lyrics and a hard stare. Jesse Jo Stark is commanding, all eyes are on her as she alters her sound from venomous bites to a sugary sweet melodies. She conquers the crowd with a sultry cover of 'Bette Davis Eyes' before hit single 'Fire of Love' brings those two Jekyll and Hyde musical styles together serendipitously.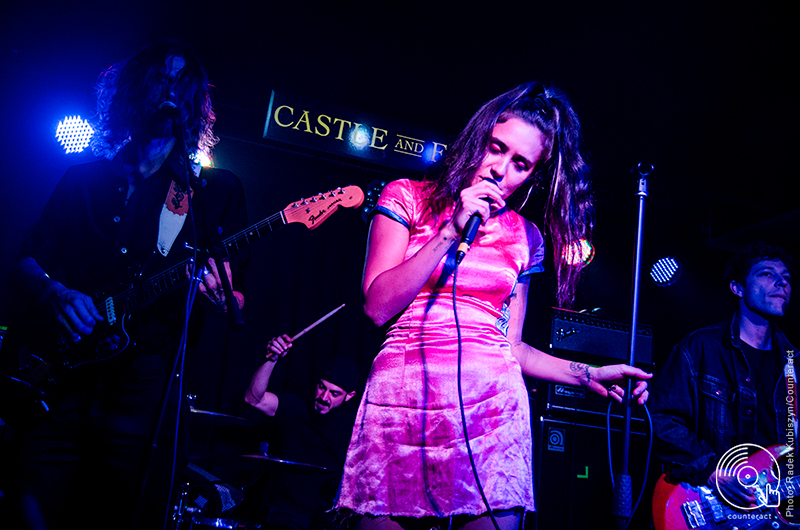 Jesse Jo Stark
The lights dip into a deep red as Miya Folick charms with an ethereal, slow burning introduction. Her repertoire is a concoction of slushy shoegaze, fizzy instrumentals and a strong as hell voice, soaring through Regina Spektor-esque highs. Her lyrics are straight talking, yet playful; 'Stop Talking' is a snap at a friend caught up on a down right rubbish boyfriend, 'Leave The Party' is a power house anthem in self security. 'Freak Out' follows Miya's tongue in cheek wit, whilst 'Give It To Me' is an emotional high, an anthem as brutally honest with both herself and the twenty-something listeners screaming the words in their bedrooms after witnessing such a intoxicatingly good set.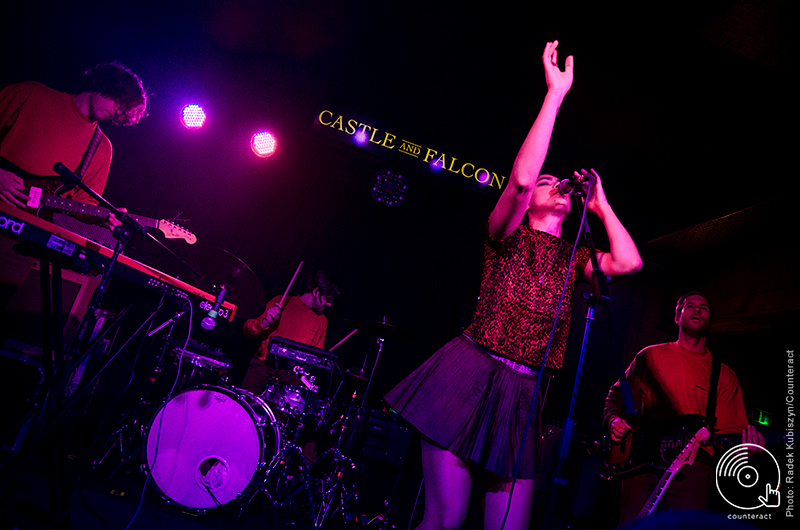 Miya Folick
Sunflower Bean have chosen their supports well, both have this flare of maturity and street smarts. They sing of savage home truths about the world, all without completely working it all out yet. Twentytwo in Blue is a dead ringer for this, making Sunflower Bean's message profound. The trio kick start with the impassioned 'Burn It' before moving into 'Twentytwo' which molds into a bass heavy 60s psych saga. Without a pause they seamlessly float into first album fan favourites '2013' and 'Easier Said' entrancing the whole room. But with a quick snap, all back down to earth.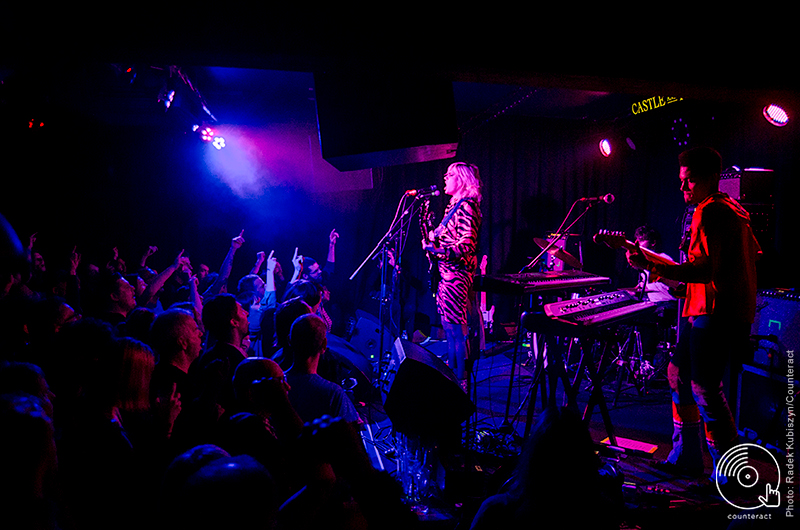 Sunflower Bean
The tenacious 'Crisis Fest' has the whole room in the palm of front woman Julia Cumming's hand. The angsty protest track is filled with indignation, a metaphor as clear as punch in the face: Sunflower Bean are tired of your shit. Their blazing new single 'Come For Me' swiftly follows as the room erupts in applause. "If you like it that much maybe we'll play it again at the encore" announces Julia.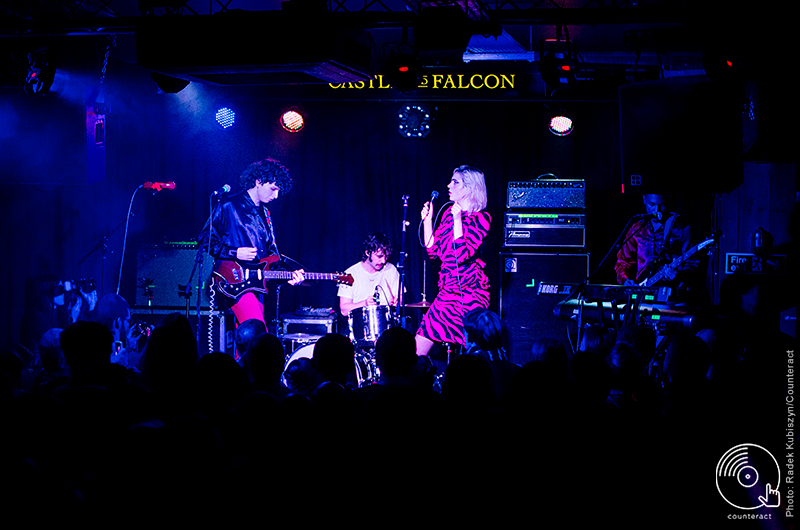 Sunflower Bean
The tenacity of Sunflower Bean is something to be admired, as they gave it their all on their last UK date on tour. 'I Was A Fool' and 'Only a Moment' are bubbling ballads akin to Fleetwood Mac, evident of the group's incandescent furor and immense sound as a collective, who end on stoner rock anthem 'I Was Home' before a much desired encore.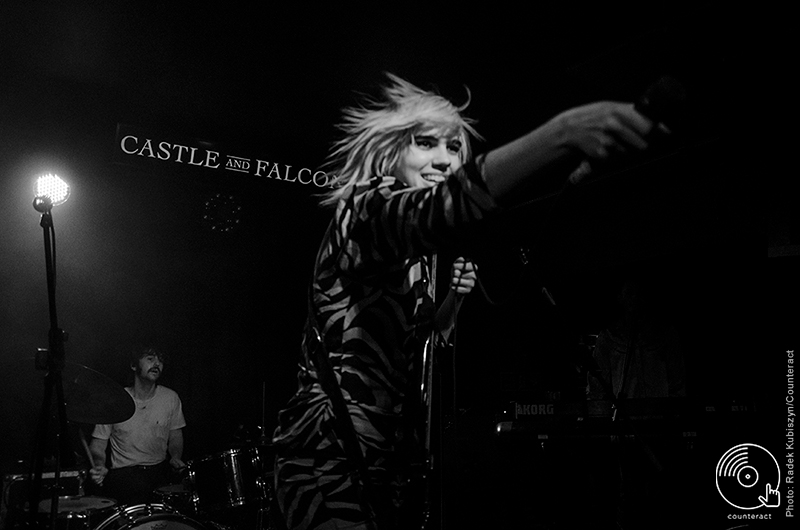 Sunflower Bean
Even after a tour that racked up three figures, Sunflower Bean do not let up. "My body is tired, but you guys make me feel alive," Julia admits. From an album thats both comfortable in its adolescence and confident in its maturity, also comes a group who have taken the punches and thrown a few back. Dreamy, yet punky, Sunflower Bean emit a ray of coming of age sincerity thats bittersweet, but perfectly accomplished.
Photographs by Radek Kubiszyn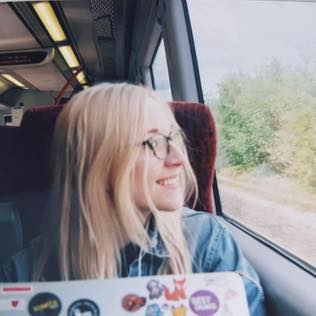 PR, events and social media by day, lover of all things geeky and retro. Can often be found scribbling notes at the back of the gig.