Review: Dark pop rockers Yonaka storm The Castle and Falcon
Yonaka celebrated their darkest, heaviest material to date by kicking off their UK tour with a sell out date at the The Castle and Falcon on Friday, 15th March.
[amazon bestseller="yonaka"]
Fans of Yonaka's dark alt-pop settled right into opener Cassyette, a new glam-rock and 80s-tinged artist with an impressively powerful vocal range. The Essex based singer, model and DJ debuted shimmering rock tracks, a stark difference from her introductory and only single 'Push And Pull'. Expecting retro electro pop and getting ten times more, Cassyette impressed with glam rock inspirations, guitar shreds and a powerful voice harking back to the by-gone era of 80s glam rock.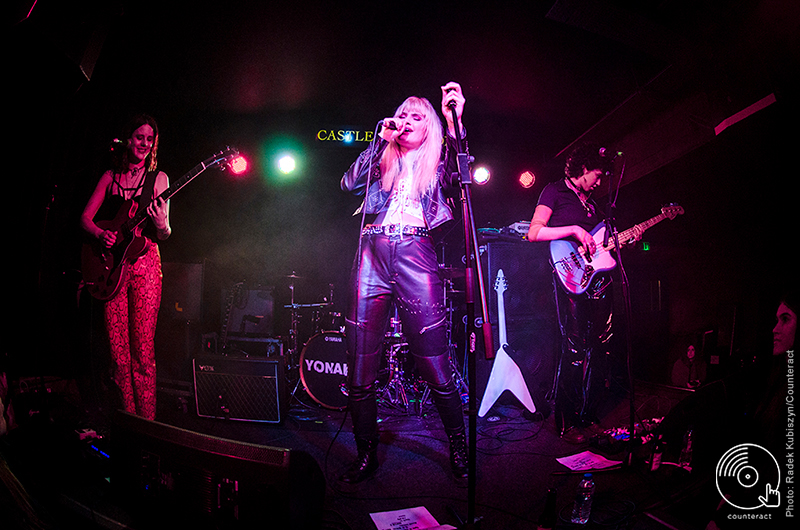 Cassyete
The next support Broken Hands had even more to prove, with the release of new material swinging in a different direction to their earlier efforts. Eye level to the audience, singer Dale Norton exudes rock and roll charisma, playing up to the multiple cameras in the room and menacingly laughing along with tight and heavy guitar hits.
Their newest singles 'Split In Two' and 'Friends House' offer heavier, chunky, Royal Blood-esque guitar melodies that surprised some fans, sparking a debate in a change in direction since the release of their first record. Regardless, Broken Hands' chaotic, frenetic energy has existed since the get go, with the band members bouncing like pinballs off each other, jilting between heavy rock and grungier, garage phrases, sending fans wolf with favourite track 'Meteor'.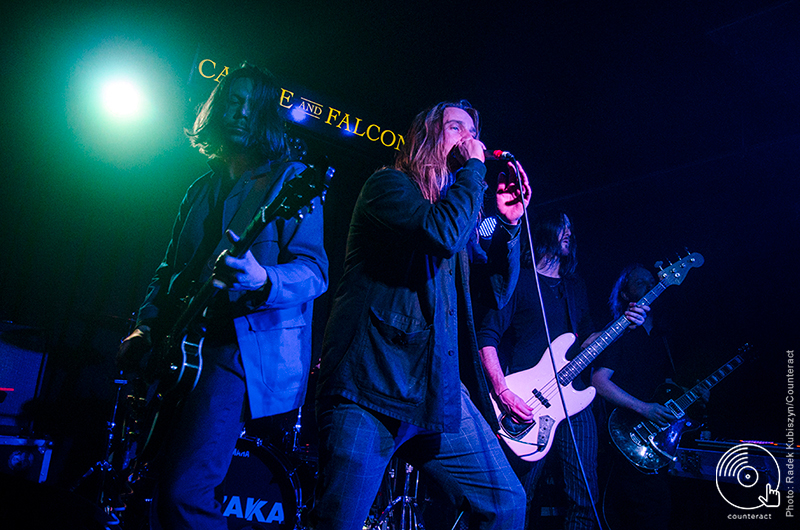 Broken Hands
This show was a half home coming of sorts, especially for singer Dale who has family from Birmingham. Even with the local connections, Broken Hands have proved themselves to Birmingham over the years, evolving their sound with their upcoming second record into a tightly controlled rock implosion.
Opening in a sea of red lights and smoke, the highly anticipated Yonaka emerge with newest single 'Bad Company'. Guitars churn in the background along with staggered drums, a static of electro synth humming behind lyrics of suffocation and settling with your demons, before suddenly erupting into a hellish chorus. There was no better way for Yonaka to introduce their UK tour than this – sneaking up from behind before setting the room ablaze.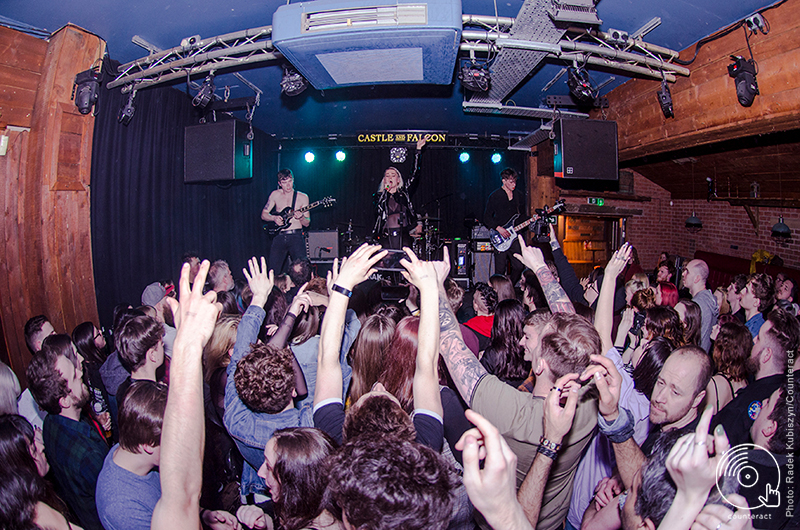 Yonaka
The fire rumbles on with 'Ignorance' and 'Creature' – the latter being the namesake of their latest EP. Explosions of tenacious vocals from singer Theresa Jarvis command every spark and flicker, completely owning the stage on their first ever headline tour. A dark, yet almost neon-80s melody follows with new album track 'Lose Our Heads' before 'Own Worst Enemy' adds fuel to already smouldering blaze created by Yonaka.
'Death By Love' is a breather for the rowdy crowd, and a chance for Theresa to introduce newer tracks 'Punchbag' (which they themselves can only describe as "lary") and 'Don't Wait 'Til Tomorrow'. The latter was, in Theresa's words, "the most important song of all", a chance to reach out to the fans who have stood by Yonaka since their formation in 2015 and for them to know they don't stand alone through life's trials and tribulations.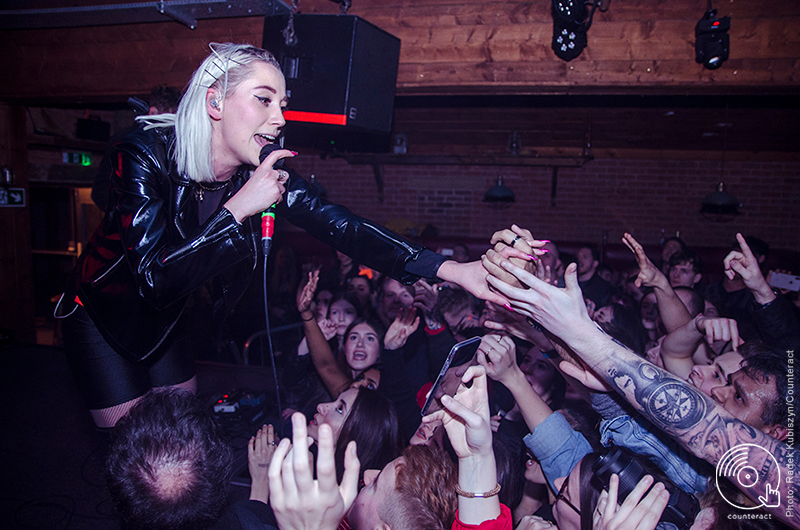 Yonaka
After introducing another new track 'Rockstar', Yonaka kick back into action with the all-powerful and authoritative 'FWTB', kicking down doors and shattering glass ceilings with a frenzy of unyielding drums and Yonaka's signature combo of high notes in vocals and riffs. 'Teach Me To Fight' and the final song 'Fired Up' solidify Yonaka's unrivalled presence. No shit-talking and no frills, but all power and grit that destroys the line between pop and rock.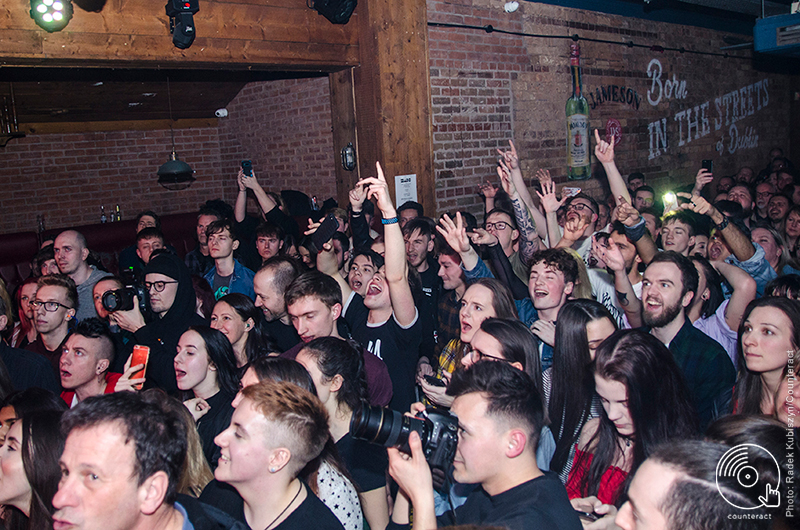 Kicking off their debut album and tour not only with a sold out show, but with a setlist that exploded from start to end, Yonaka have more than proved their worth. You'll never catch this band with their backs to the ropes; they're fighting contenders for bringing rock into a whole new dimension, whilst pushing aside anyone who stands in their way.
Photographs by Radek Kubiszyn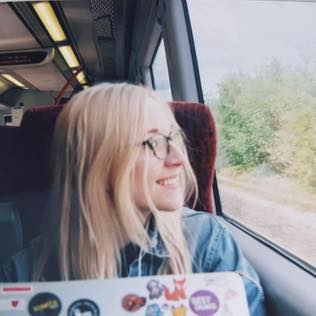 PR, events and social media by day, lover of all things geeky and retro. Can often be found scribbling notes at the back of the gig.