Digbeth soul and retro club The Night Owl announces debut festival
The Night Owl to celebrate 50 years of famous festival Woodstock with Owlstock this August – featuring live music, DJs, record stalls, food and art
Digbeth soul and retro venue The Night Owl will dip its metaphorical toe in festival waters this August in celebration of the 50th anniversary of renowned music festival Woodstock.
The American music festival, which took place in August 1969, had some of the biggest acts in the world play including Janis Joplin, The Who and Jimi Hendrix and is claimed to be the best festival that ever existed (NME). As the festival nears its 50th anniversary, The Night Owl have taken inspiration and have created a day filled with peace, love and music on Saturday August 3rd, aptly naming it Owlstock.
Performing live on the day will be Jimi Hendrix tribute Are You Experienced?, The Doors tribute band Strange Doors, Hammond organ-led soul group The Backbone Slips, folk/acoustic act High Horses (as a trio) and Janis Joplin-esque singer Cate & Co.
Joining them will be DJs Joey Smith (The Exploding Bubble), Richard Bamber (Chicks Dig Jerks) and Tracey Screamcheese (Sensateria).
As well as all of this, Woodstock fans can also expect local artists and craft makers, record traders and vintage fashion throughout the independently run club, as well as street food, themed cocktails, visuals and more. This immersive experience is something The Night Owl is well known for, having hosted themed events based on The Rolling Stones' 'Rock and Roll Circus' concert, an annual 'Stranger Things' Halloween party as well as nights in tribute to late artists David Bowie and Prince.
Owlstock takes place from 3pm on Saturday 3rd August – see below for the full poster. Tickets are on sale now via this link.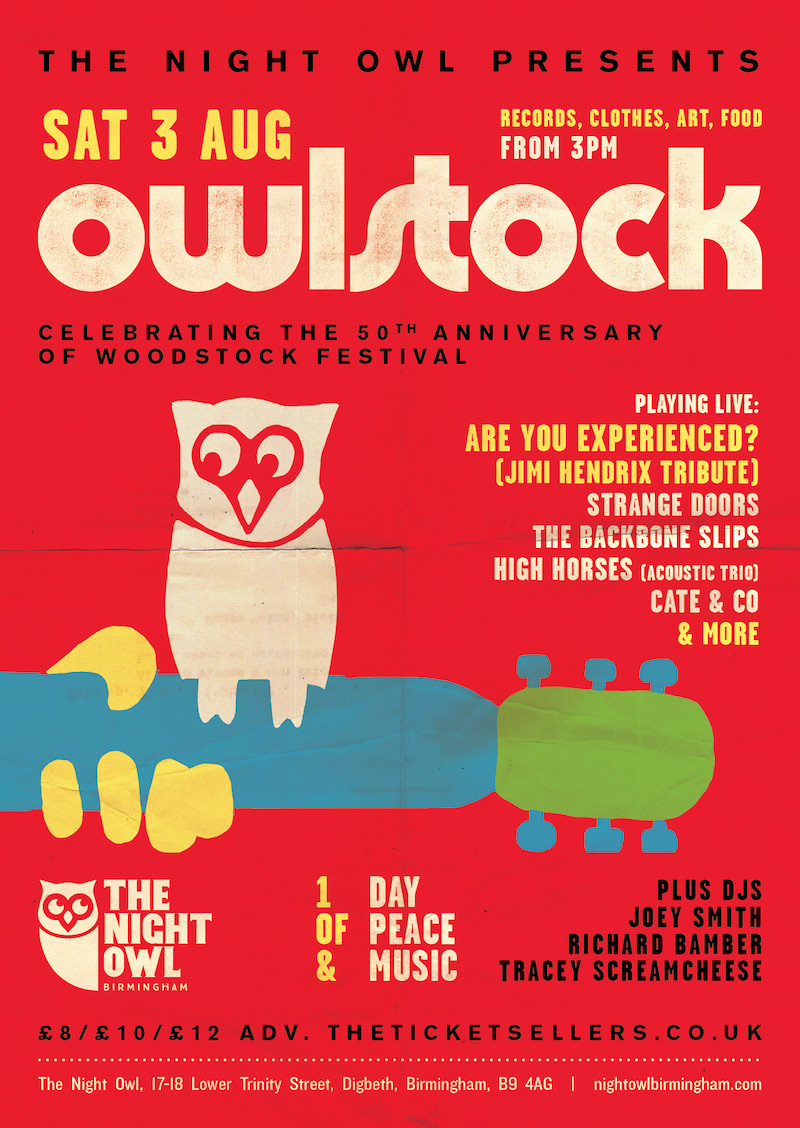 Like this? Try these…
Founding editor of Counteract. Freelance travel and music journalist.