Sourdough pizza chain Franco Manca opens in Birmingham
Pizza chain famous for its sourdough bases and great value opens up its latest branch on Bennett's Hill in Birmingham city centre – all pizzas are just £5 for the first two weeks
Popular Neapolitan pizza restaurant Franco Manca has opened on Bennett's Hill in Birmingham city centre.
Specialising in sourdough pizza, Franco Manca offers a range of pizzas suitable for all dietary requirements, including vegan and gluten free.
The pizzeria, in the home of a former Nationwide bank, offers a small but value-packed menu of pizzas and salads, all of which are prepared to order and cooked on the open stove in the heart of the restaurant.
Stand-out choice on the menu, Alfonso's No.7 (header image) is a light sourdough pizza without a tomato base, featuring their signature spicy lamb sausage, tomatoes from Gragnano, roasted aubergine, mozzarella and wild garlic pesto.
Away from the menu, be sure to keep an eye out for the daily specials on the blackboards. All pizzas are just £5 for the opening two weeks too, so be quick!
The chain's latest pizzeria is their first branch-out into the Midlands and is one of 46 in the UK, including a staggering 36 restaurants in London.
Franco Manca joins a bustling city centre street of bars and restaurants, including next-door neighbours Nocturnal Animals, as well as Buffalo & Rye, Bodega, The Sun on the Hill and the soon-to-open Rudy's Pizza.
Franco Manca Birmingham is open for walk-ups 11:30am-11pm every day, except Sunday, where it closes at 10pm. Larger groups may need to book in advance. For bookings, please call 0121 630 3009.
See below for the main Franco Manca Birmingham menu.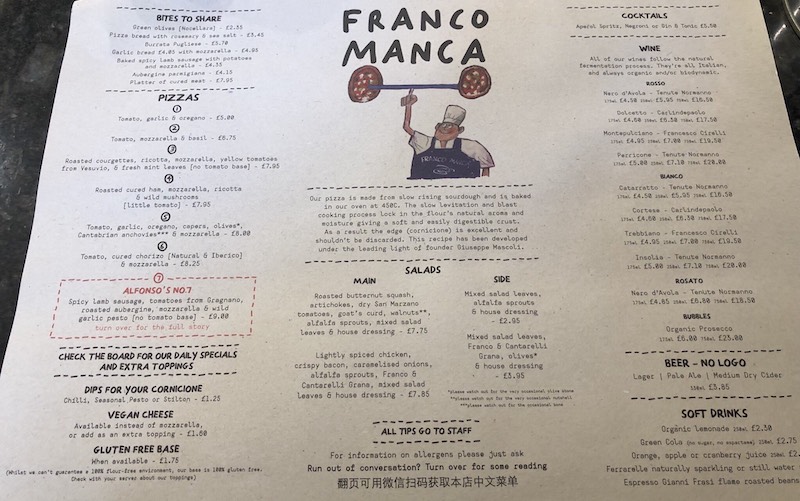 This was a gifted meal. We were invited to try out Franco Manca ahead of its opening, but we were not asked or required to write anything in return.
Like this? Try these…
Founding editor of Counteract. Freelance travel and music journalist.