7 of the best vegetarian restaurants in Birmingham
With plant-based feasting on the rise, long gone are the days of mushroom risotto, penne arrabbiata and a side salad being the only options for the non-meat eaters amongst us. Now we can tuck into everything from hearty pies, 'not' dogs and even vish and chips (nope, not a typo! There really are vegan/veggie fish and chips out there!) thanks to these eateries boasting the best in veggie dining across the city.
The Warehouse Cafe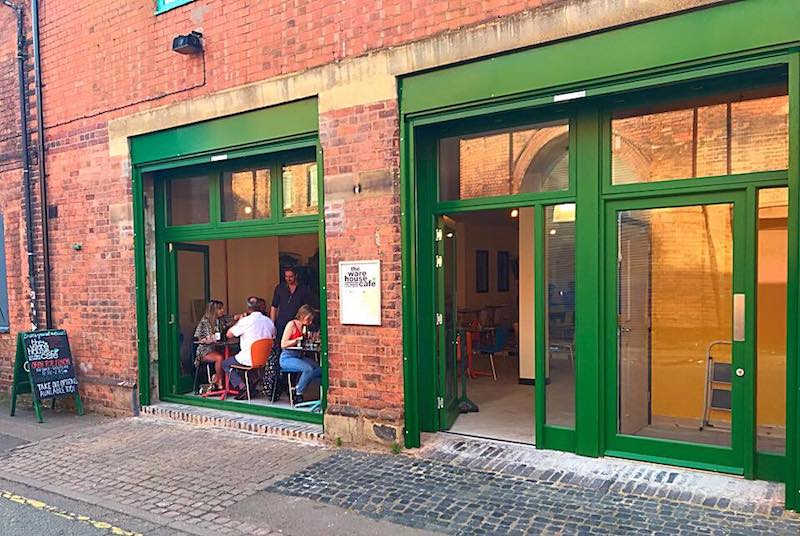 ©The Warehouse Cafe
Loved by vegetarians, vegans and meat eaters alike, The Warehouse Cafe has cemented its reputation as one of the best dedicated veggie restaurants in Birmingham. And you don't need to take our word for it – you don't win the Midlands Food & Hospitality awards two years in a row for nothin'.
With a changing menu depending on what's in season, there's always something new to sample with a guarantee that it tastes good while doing you good, too. Fan favourites include the halloumi fish and chips, Warehouse burger and the vegan Sunday roasts, and to top it all off, it's BYOB (although there is a small corking charge). Make sure you book in advance – we promise you, it's worth the wait.
54-57 Allison St, Digbeth, Birmingham, B5 5TH
Shambhala Village
If you ever fancy eating out but you're not 100% sure what you want, stop trying to decide and head straight to Shambhala Village. Situated on Soho Road in Handsworth, this fully-veggie restaurant caters to even the most fussy of eaters, offering everything from Indian cuisine to Mexican to Indonesian and Italian. You can literally go around the world in about two hours.
Opened every day of the week, with weekday closures between 2:30pm and 5:30pm, there's hardly any excuse to still be sitting at home, is there?
85-87 Soho Rd, Birmingham, B21 9SP
1847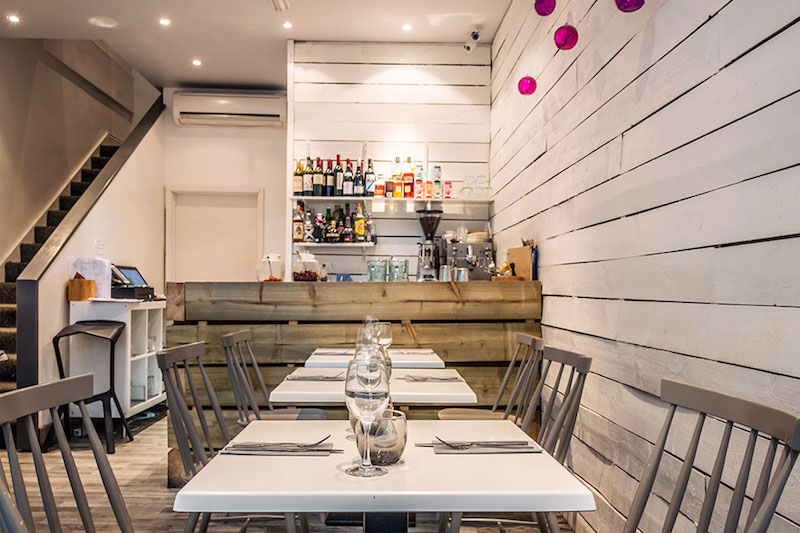 ©1847
If you're feeling a little bit on the fancy side, toddle on down to Great Western Arcade where you'll find the suitably elegant looking 1847. With tasting and a la carte menus to choose from (depending on how truly fancy you're feeling), expect to start smacking your lips at the plant-based plates on offer.
Whilst we don't condone getting your phone out at the dinner table, you may be excused (just this once) if you feel compelled to snap away once your food arrives before tucking in and ruining the perfectly curated aesthetic.
26 Great Western Arcade, Birmingham B2 5HU
Jyoti's
A stalwart of vegetarian cuisine in south Birmingham, Jyoti's, has been going since 1977. Claiming the title as Birmingham's only all-vegetarian Indian restaurant, it's menu boasts 15 starters and 72 delicious dishes, as well as a sweet centre loaded with treats and goodies (if you manage to find any room for afters).
With plenty of options to choose from, we're sure there's something that absolutely everyone will enjoy. Favoured by celebrity chefs including Jamie Oliver, Jyoti's is a firm fixture in the vegetarian scene and really isn't one to be missed.
1045 Stratford Road, Hall Green, Birmingham, B28 8AS
BA-HA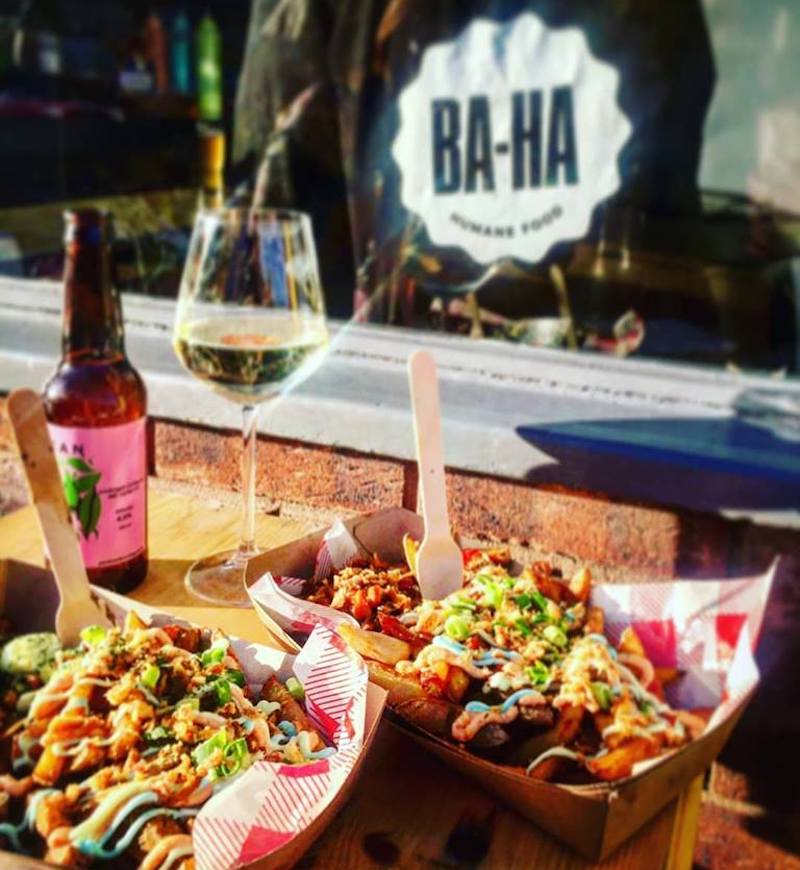 Say hello to BA-HA; the humane food warriors bringing the best of homemade vegan 'junk' food to the forefront of Brum's plant-based offerings. Founded in 2017, BA-HA is quickly making a name for itself by hosting pop-ups across the city with a residency slot at York Road's very own The Juke every Thursday, Friday and Saturday. For lovers of comfort food with an innocent soul, make the effort to visit the vegan duo before they become less of a dirty little secret.
Tuck into chick'n nuggets, loaded mac n'jeez, dirty burgers and rainbow fries – chips cooked and seasoned to perfection topped with all of the colours of the rainbow. Whoever said vegan food was boring? Not BA-HA, and now, neither do we.
16 York Rd, Birmingham, B14 7RZ
The Veggie Chippy
Everyone loves it when family members/partners/housemates declare 'Who's up for fish and chips?' (even better when they go and get them), but sometimes the options for us veggies are a little sad. Not anymore! Enter The Veggie Chippy.
With a menu full of veggie alternatives in the guise of a regular chippy – think pizza, curries, pies as well as vhicken, vish and veef for those who are just after their fake-meat-fix – this out of the ordinary chip shop can be found on New John Street. If you're in the B19 area and fancy a treat or a change, we suggest you give it a try.
228 New John St W, Birmingham, B19 3UA
Not Dogs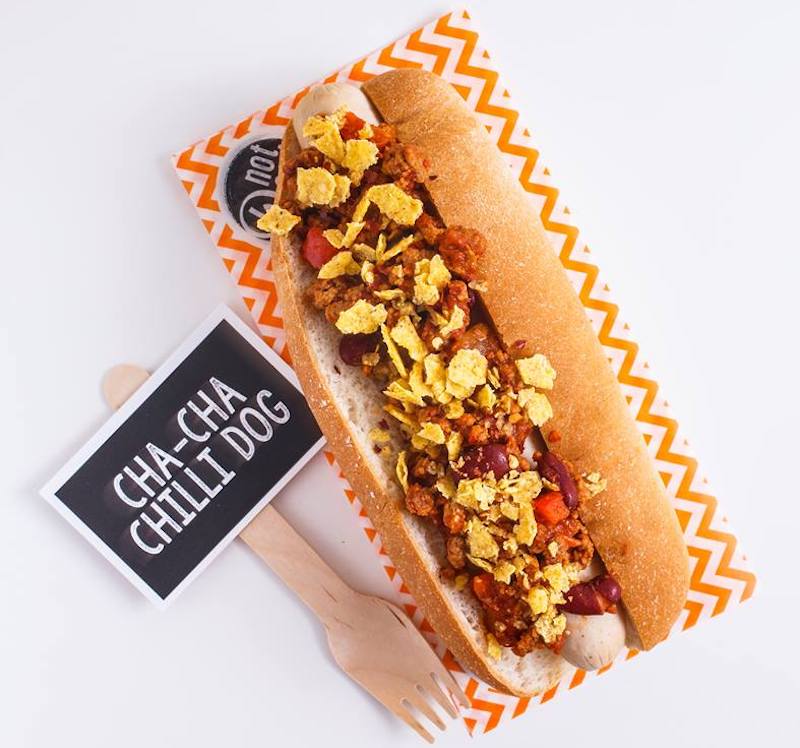 ©Not Dogs
Starting off their meat-free journey by selling vegetarian hot dogs out of a van at various local festivals, Not Dogs have become a novel fixture on Birmingham's LinkStreet, serving the best topped hot dogs in town.
Since opening their fast-casual restaurant in 2016, the duo behind one of Brum's best loved veggie joints has expanded their offering to kit out a full, American-style, all-vegetarian menu, complete with all the usual fast food suspects. If you're keen for something a bit more hearty, pick up one of the Not Pots – tasty bowls stuffed with the best in comfort food, think chilli, tikka masala and hoisin 'duck'.
LinkStreet, Bullring, Birmingham, B5 4BS
Header image ©Not Dogs
Enthusiastic writer with an eclectic taste in music. Will listen to and enjoy (almost) anything.