Review: Hot Snakes and Rattle join forces at the Hare and Hounds
On 10th December, post-hardcore veterans Hot Snakes played the Hare & Hounds for This Is Tmrw and Supersonic. Support came from Nottingham duo Rattle.
Last time they played in Birmingham, Rattle introduced themselves as "the drum band". Tonight, Katharine Eira Brown and Theresa Wrigley take their seats at opposite sides of one amorphous drum kit and simply begin to play. The shifting polyrhythms which emerge are hypnotic, punctuated only by ghostly vocalisations from Brown. A bold choice for the single support slot this evening, Rattle's sound is both primal and otherworldly. As they move through their set, the room fills up, but a reverent hush remains over the crowd.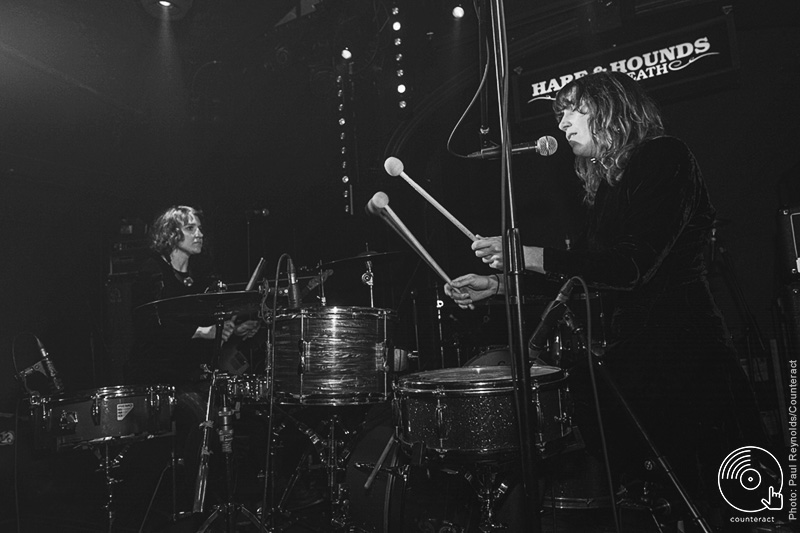 Rattle
"It'll get a lot louder in a moment," smirks Hot Snakes' Rick Froberg, as the band get set up. "Let me just take my amp off standby." They launch straight into "If Credit's What Matters…" and "Automatic Midnight", the two opening tracks from their 2000 debut. Faces light up around the room. Swami John Reis's guitar is a grizzled bolt of turn of the century Californian garage rock, and Froberg's vocals tremble with urgency. Drummer Jason Kourkounis, however, is the driving force of the set. He pounds through the off kilter grooves of "I Hate The Kids" and "Gar Forgets His Insulin" with formidable force, his pigtails flailing. The aforementioned Gar Wood himself is absent, temporarily replaced on bass by Tommy Kitsos, who usually plays Reis and Kourkounis (as well as Wood himself) in The Nightmarchers.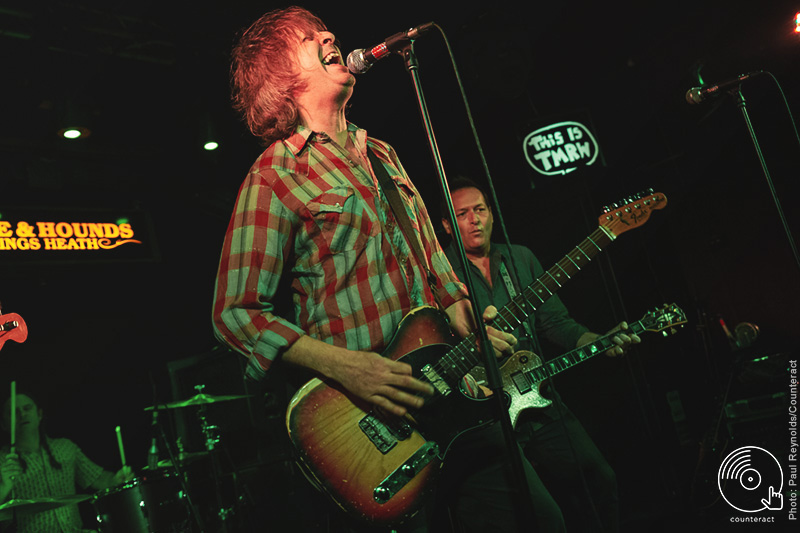 Hot Snakes
Hot Snakes close a frenetic set with the sunshiney jangle of "Plenty For All", but the Hare & Hounds crowd is having none of it – one audience member gleefully shouts "you've left your amps on" when the band leave the stage. Encores can feel disingenuous in an intimate venue like this, but Hot Snakes pull it off with good humour. They oblige with four more numbers, from a blistering rendition of "Braintrust", to a mesmerising version of "Salton City" which sees Rattle join them on stage for an impromptu drum circle with Kourkounis. 'Rattlesnakes' have happened before, and hopefully they will again – it's a highlight of the set.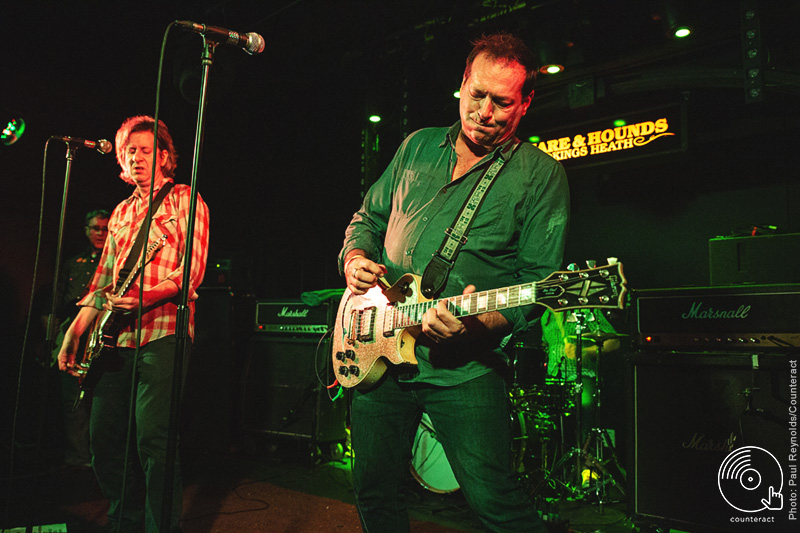 Hot Snakes
Photographs by Paul Reynolds
Like this? Try these…
Visual artist, multi-instrumentalist, and scrounger. Always wearing headphones, probably listening to Ezra Furman, Sleater-Kinney or Goat.