Review: Blanck Mass crushes the Hare & Hounds on new album tour
Deep into November, the first night of the new Blanck Mass album tour took place on Monday 25th November at Birmingham's famous Hare & Hounds venue. Awaiting attendees was an unforgettable night of comedy, carnage, and cacophonous sonic brutality.
Billed as the support act comes two Scottish drag queens, Frans Gender and Violet Grace. From the minute they make their way to the stage, they make a huge impression on the seemingly bewildered crowd. Caked in gaudy cosmetics and impressive footwear, they form an immediately entertaining stage presence. Standing amongst the audience it's easy to get the impression that there is little overlap between the Blanck Mass fanbase and the drag community, but that only serves to make everything more enjoyable.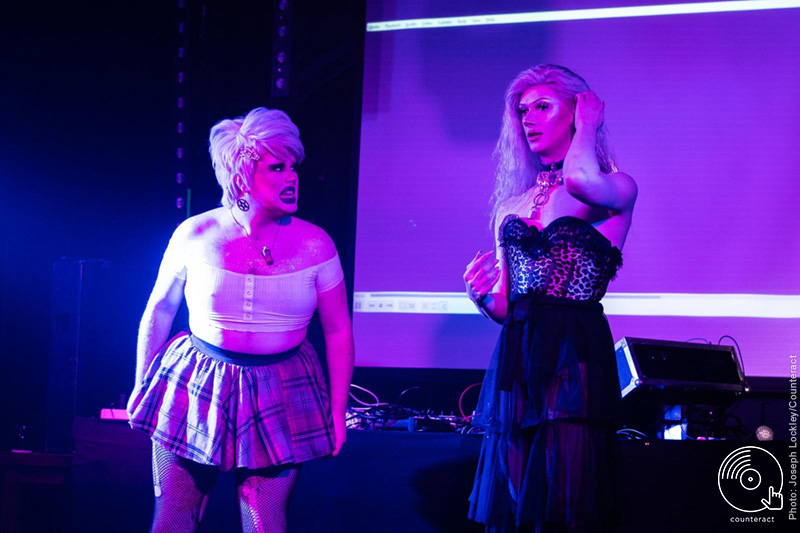 Frans Gender and Violet Grace
As Violet and Frans take turns performing absurd lip-synced medleys constructed from club classics and viral memes, even the most conservative viewer couldn't help but crack a smile. Some particularly memorable moments are made when Violet leaps from the stage onto the floor and lands in a full split, or bends her leg up above her head. Gazes and grins are held throughout the entire performance, even when the show grinds to a halt and everyone laughs as a member of the audience is employed to help them operate their crude Macbook setup. Once the final number is performed, the duo say a few words and hand things over to Blanck Mass with a collective cheer. It's certain that new fans of drag have been forged tonight.
Before long Benjamin John Power, Blanck Mass himself, takes to the stage. The previously bright lights dim to a near pitch black and a projector begins displaying twisted, pulsating visuals. He looks down at his vast equipment setup and begins to conjure what would become a non-stop assault of dense, thundering bass sections encrusted with bright gems of danceable melody. And the crowd responds immediately, filling the floor right to the front and undulating back and forth in time with the music.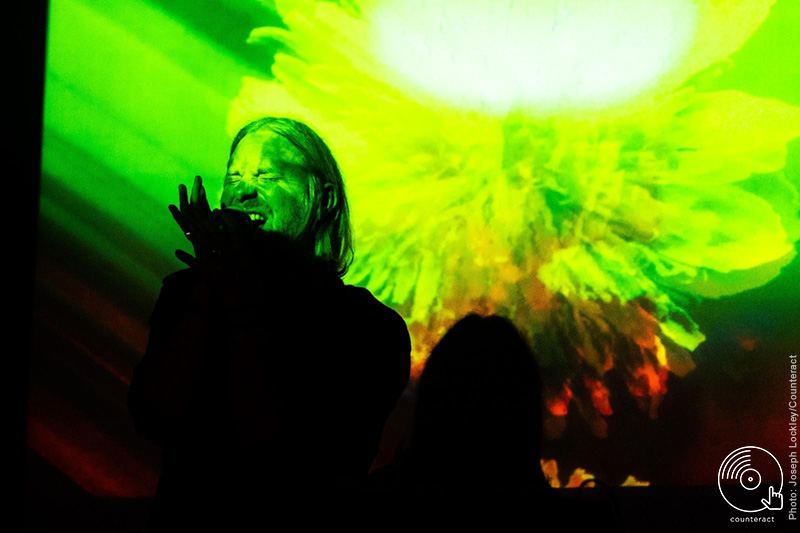 Blanck Mass
Tracks from his new album, Animated Violence Mild, make up the bulk of the set. 'Intro' leads into 'Death Drop' (surely a nod to RuPaul?) which rapidly ramps up the pace and really sets the intensity for the entire night. A few minutes pass before Blanck Mass grabs a microphone and begins screaming his vocal parts into a well of colossal distortion. He rises out of the darkness of the stage into the beam of the projector when delivering these impressive vocal sections, allowing warping visuals to morph his face.
With one intense banger after another, the projected visuals grow even more intense: snakes devouring hares whole, flowers decaying and returning to life, Ronald McDonald and twisted drag queen visages. A grotesque display, yet just another part of the incredible sensory onslaught that has everyone completely transfixed from start to finish.
Photographs by Joseph Lockley
English graduate. Photoshop boy.
Nick Cave fan. Video game competitor.