11 records every Brummie should own
From the pioneering, crashing metal of Black Sabbath to the gritty urban realism of Original Pirate Material and beyond – here are 11 records every Brummie should definitely have in their collection.


Electric Light Orchestra – Out Of The Blue
This sprawling double-album was mostly written in two weeks solitary confinement in the Swiss Alps by Shard End's Jeff Lynne, and recorded in Munich with what sounds like a bigger cast than Ben-Hur. It eventually sold ten million copies, so most Brummies probably own it already, and such is its scale and ambition, it probably needed to sell like that just to cover the recording budget. It is the ultimate realisation of Lynne's vision to carry on where The Beatles left off, containing sparkling pop gems like Turn To Stone, Sweet Talkin' Woman and unofficial Brummie national anthem Mr Blue Sky – the Fab Four would be proud.
Read: Review: Jeff Lynne's ELO impress at interstellar homecoming
Read: A beginner's guide to: Electric Light Orchestra (ELO)
Dexy's Midnight Runners – Searching For The Young Soul Rebels
Following the break up of his punk band The Killjoys, Bearwood genius Kevin Rowland had a re-think. He based the look of his new band on the classic film, On The Waterfront – all he needed now was a suitable soundtrack. Luckily for us, the hard-hitting, horn-driven soul-storm he came up with was a classic in its own right, spawning the smash hit Geno and a whole host of other bangers. In truth, any/all of Dexy's first three albums could have made this list.
The Moody Blues – Days Of Future Passed
The Magnificent Moodys had already topped the charts with their Bessie Banks cover Go Now when technology company Phillips asked them to make a record to highlight the magical effects of the firm's new-fangled stereo sound system. The band obliged with a brilliantly innovative opus, largely built around Birmingham invention the Mellotron, and gave birth to the concept album and Prog Rock into the bargain.
Read: A beginner's guide to: The Moody Blues
Steel Pulse – Handsworth Revolution
Against a backdrop of unashamed racism and brutality from police and public alike, Steel Pulse produced an album of roots reggae as good as any made in Jamaica. Standout single Ku Klux Klan may have name-checked US white supremacists, but it was obvious that the band were referring to the National Front, who were as prevalent as white dog poo on the streets of Britain at the time. This superb record helped Steel Pulse become leading lights in Rock Against Racism and the Anti-Nazi League, movements which inspired ordinary working people, trade unionists, students and political activists to unite and oppose the NF wherever they assembled.
Laura Mvula – The Dreaming Room
Most people would probably pick her debut, the critically-acclaimed, Mercury-nominated Sing To The Moon, for this list, but in time the Kings Heath artist's second album will become even more highly regarded. She graduated from the esteemed Birmingham Conservatoire with a degree in composition, and her training is evident here as she mixes classical, gospel, jazz and soul influences to produce an album that doesn't really sound like anyone but her. With rather endearing pronunciation, Mvula's powerful vocals and pulsating rhythms combine beautifully. She was the first Birmingham-born artist to win a MOBO for best female, setting a trend followed more recently by Lady Leshurr and Stefflon Don, and is surely an inspiration to the host of talented females we are blessed with in this city.
UB40 – Signing Off
The band that embody the multi-cultural nature of Birmingham like no other announced their arrival with this masterpiece, taking both their name and the album's artwork from the unemployment form that was so widely in use in Thatcher's Britain. The boys from Balsall Heath mixed dub, sweet melody, lovers rock and radical politics to create a ubiquitous soundtrack to life in council estates across Birmingham, and soon enough, the world.
Read: UB40 chat humble Birmingham beginnings, politics and their new album
The Beat – I Just Can't Stop It
Back in Handsworth, another cross-cultural mash-up involving Dave Wakeling, punk DJ Ranking Roger, (also somewhat of an expert in Jamaican toasting), and Saxa, who'd played with the likes of Prince Buster and Desmond Dekker, proved that nowhere does melting pots quite like Brummagem. All those elements and more were added to the mix on an album of infectious beats, jangly guitars and a clean, crisp drum and bass combination that sounds as fresh today as on your first listen. You can't help but move your feet to it, but there are plenty of deep, dark truthful thoughts in there to occupy the mind. Perfect pop with poisoned lyrics.
The Streets – Original Pirate Material
Not so much an album, more a historical document on the clubbing generation, Mike Skinner's debut perfectly encapsulates a time and a place in U.K. music and culture. Full of edgy beats and bars, it's influence can still be heard whenever you tune in to an urban radio station. Epic and epochal.
Read: Review: The Streets storm through boisterous Birmingham homecoming
Read: A beginner's guide to: The Streets
Peace – Kindness Is The New Rock And Roll
Following the success of their first two albums, In Love and Happy People, the third long player from the Worcester quartet marks a real progression. Clever lyrics and catchy choruses are still present and correct, but this time they're applied to subject matter that really erm… matters. Abusive relationships, mental health issues, the environment, humanitarian concerns and peace, love and understanding are all examined in a nuanced and wonderfully poetic manner. Not strictly Brummies, but we adopted each other when they came here to make it and in doing so kick-started the vibrant indie scene we have now, so we're claiming them.
Read: Review: Peace smash two-hour Birmingham homecoming
Read: Interview: Harry Koisser reflects on Kindness, Peace and the Madlands
Ocean Colour Scene – Moseley Shoals
The second city has always had a vibrant Mod scene and this was possibly it's finest hour. I always think of them as the unsung heroes of Britpop and on this Moseley-recorded album they present one of that era's outstanding collections. It stayed on the charts for 92 weeks and the lads garnered support from Chris Evans and Paul Weller, while Noel Gallagher hailed them as "the best band in Britain". Maybe not so 'unsung' after all then.
Read: Review: Ocean Colour Scene return home for spirited O2 Academy show
Read: Review: Ocean Colour Scene roll a number at Wolverhampton Racecourse
Black Sabbath – Black Sabbath
The story of how Tony Iommi lost the top of his fingers on his last day at the sheet-metal factory he worked in is probably the Brummiest story ever told. Instead of giving up on his music career, like a cockney probably would, he fashioned a couple of thimbles so he could continue to play guitar and thereby invented Heavy Metal. Practical, creative and revolutionary – just like his hometown. There had never been a record like it, and even if you don't consider yourself a Sabbath fan, listen to the title track and imagine hearing it for the first time after a diet of saccharin sixties pop. Mind, blown.
Read: Tony Iommi and Geezer Butler launch Black Sabbath exhibition in Birmingham
Read: Black Sabbath celebrated at city centre metal bench presentation
[amazon bestseller="black sabbath – black sabbath"]
---
Amazingly, no room at the inn for The Spencer Davis Group, The Move, Joan Armatrading, Duran Duran, GBH, Napalm Death, The Twang, Swim Deep, The Wonder Stuff, Macka B, Broadcast or Stevie Winwood. That's how good we are.
Tips for this chart in the near future – Lady Sanity, Lady Leshurr, Namiwa Jazz, Sugarthief, The Clause, Karkosa, The Cosmics, The Novus. It's going to have to be a top thirty isn't it?
Like this? Try these…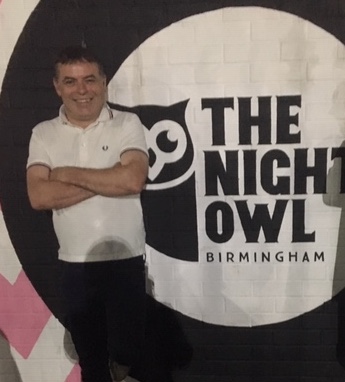 Militant anti-racist and Brummie. Lucky to be born in the most innovative musical city on Earth. If I hadn't been, I'd have moved here by now.