Review: The spirit of Birmingham comes alive at Moseley Folk
In the same year that we're celebrating the 50th year since the birth of heavy metal right here in Birmingham, Moseley Folk and Arts Festival proves Birmingham's unique and unwavering spirit by innovatively uniting the young, the old, the die-hard Woody Gurthrie and the hard-core Black Sabbath fans in a weekend of a magnificent celebration of folk.


Squeezing through the narrow passageway sandwiched between an estate agent and a pub, it is only the reassuring nods of the volunteers and the peculiar ramblings of The Commentators echoing through the speakers that confirms that you're definitely in the right place. The question of 'How can there possibly be a festival through here?' is quickly answered as the eleven acres of beautiful parkland, completed with a picturesque lake, opens up before you.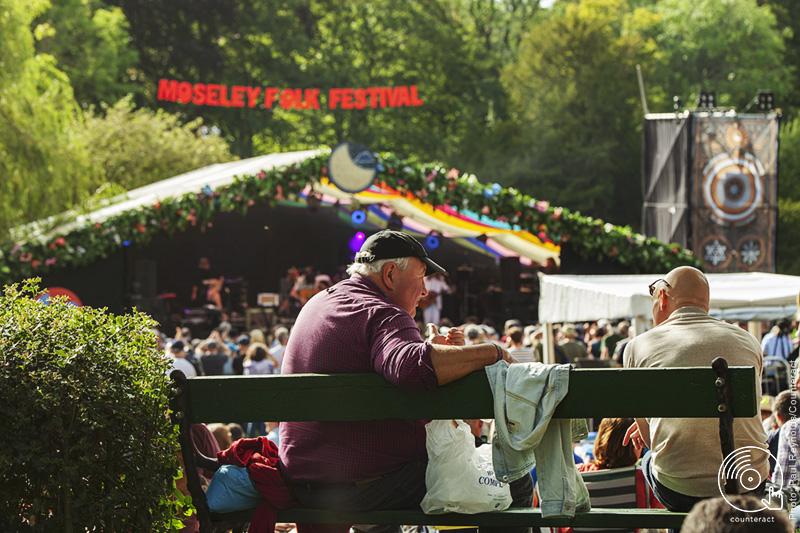 This years' Moseley Folk Festival boasted one of their most exciting line-ups to date. Whilst the term 'folk' festival rightly invites scepticism from a wary audience expecting anything from Woody Guthrie to Metallica – MOFO certainly delivered a delicious selection of acts that, whilst in places teetered on and then completely skewed the definition of folk, ultimately built up to a crescendo which saw Peggy Seeger and Richard Thompson warm up the crowd for Don McLean's epic finale on Sunday evening. But as Louis Armstrong once famously observed: "All music is folk music."
From the moment the clock struck one o'clock on Friday afternoon, the park swiftly began to flood with a proliferation of chequered picnic blankets, tiny camping stools that stood proudly in-front of the sign that declared "no chairs allowed beyond this point", and an unprecedented amount of hummus (it is Moseley, after all). The pizza was served, the Pimms was poured – and the musicians took to the stage.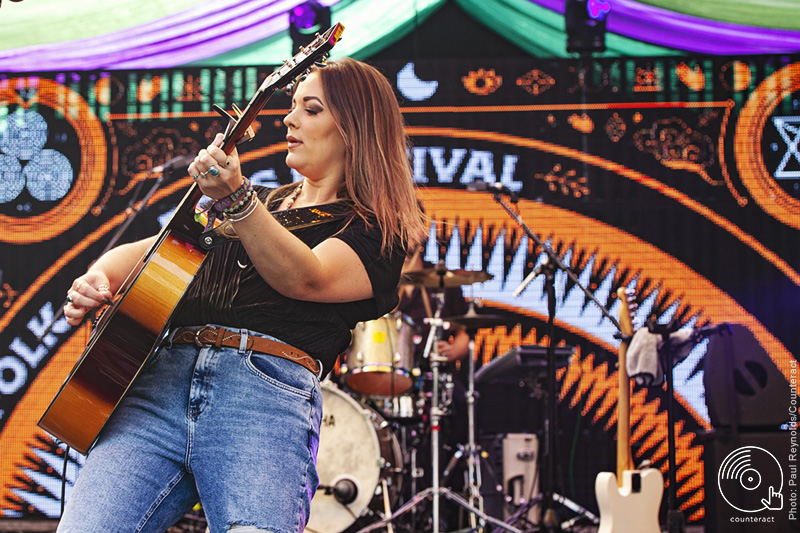 Gasoline & Matches
Friday began with a groundbreaking set from BBC Introducing West Midland's Gasoline & Matches (check out their single 'Fool's Gold' if you haven't already), who will most certainly work their way up the bill. They were followed by a hilarious set from MOFO regulars Dof, whose heavy Midlands accents sent tingles of Birmingham pride down our spines as they amused the crowd with the lyrics to their song about 1970s TV Presenters ("everyone from the 70s was a paedo, everyone from the 70s was a nonce.")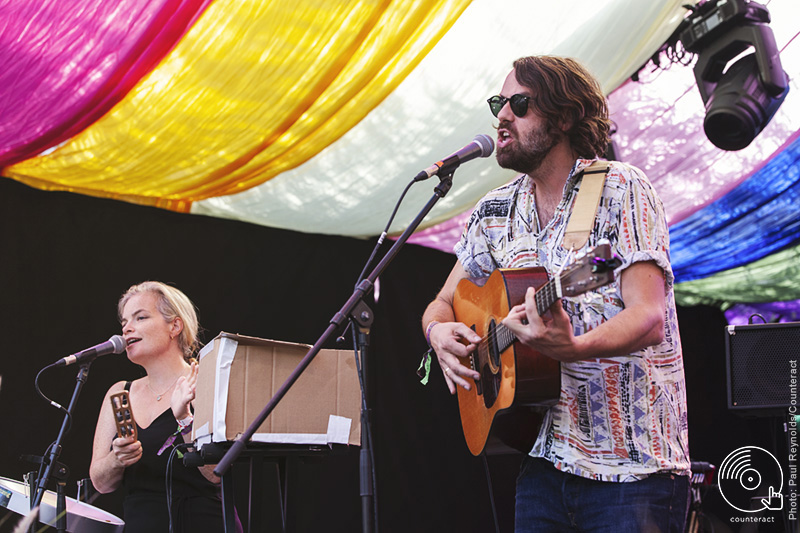 Tunng
Tunng's unique display of "folktronica" – delectably combining Fleetwood Mac, Frank Ocean and Ben Howard – created a mystical ambiance that was punctuated by the sharp, biting vocals of Sarah Hayes of You Tell Me during 'Water Cooler'. But nothing quite opened the festival like Edwyn Collins.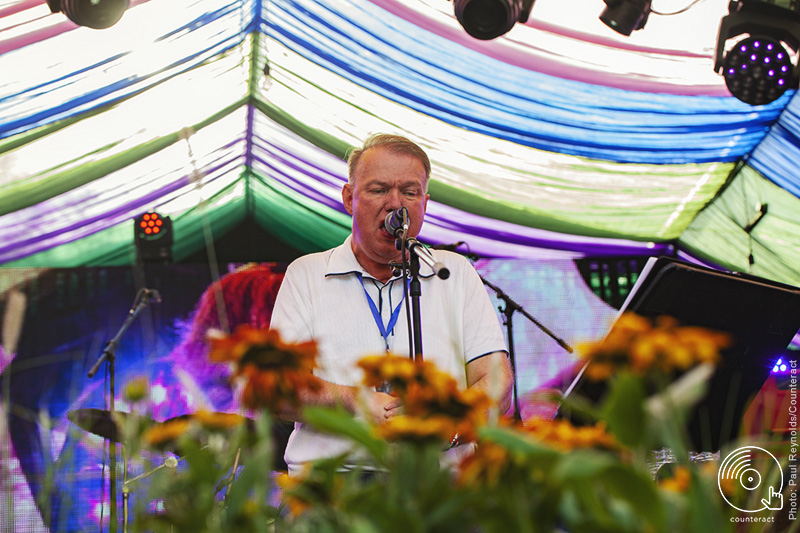 Edwyn Collins
Hugely energetic, warm, funny, and in places quite emotional – he appeared to encapsulate the spirit of MOFO. His sarcastic musings ("I had a stroke, you know. In fact, I had two. Poor, poor me") kept us entertained in between his selection of solo songs and beloved Orange Juice classics. And as he sauntered off-stage after 'A Girl Like You', waving his walking stick in the air to a standing ovation – it was difficult to imagine who could possibly follow.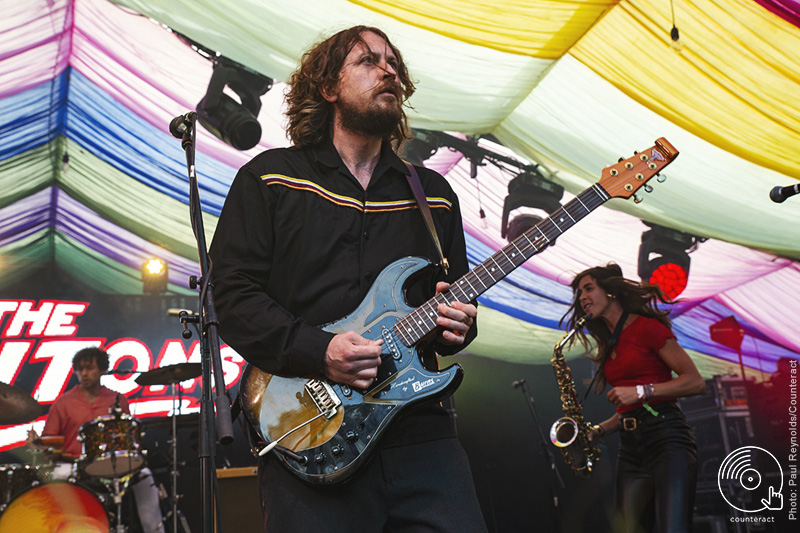 The Zutons
But The Zutons and Public Service Broadcasting certainly gave it an impressive go. Whilst The Zutons successfully made 'Valerie' their own once more, it was clear the crowd were predominately after one thing – which was delivered to them with impossible fervour. 'You Will You Won't' reignited the festival, leaving people bouncing and reeling as J. Willgoose Esq. of PBS delivered an audio and visual sensation that danced around the very definition of music.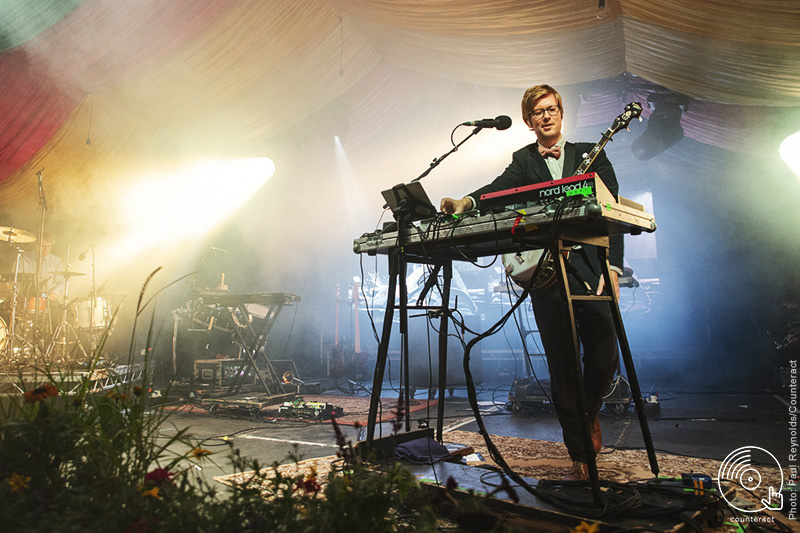 Public Service Broadcasting
Saturday proved to be a nervous battle between rain and shine. But we're in the West Midlands, after all, and whilst some scuttled away to find shelter, most simply threw on their cagoules and stayed loyal to the serene folk that was emanating from the Lunar Stage, as Germa Adan performed a heart-warming tribute to her Haitian routes. Swimming in social consciousness, her crisp and elegant vocals to a song dedicated to a friend who was forced to flee Syria, was both stirring and deeply poignant: "I am not afraid of an army of lions led by sheep; I am not afraid of an army of sheep led by lions".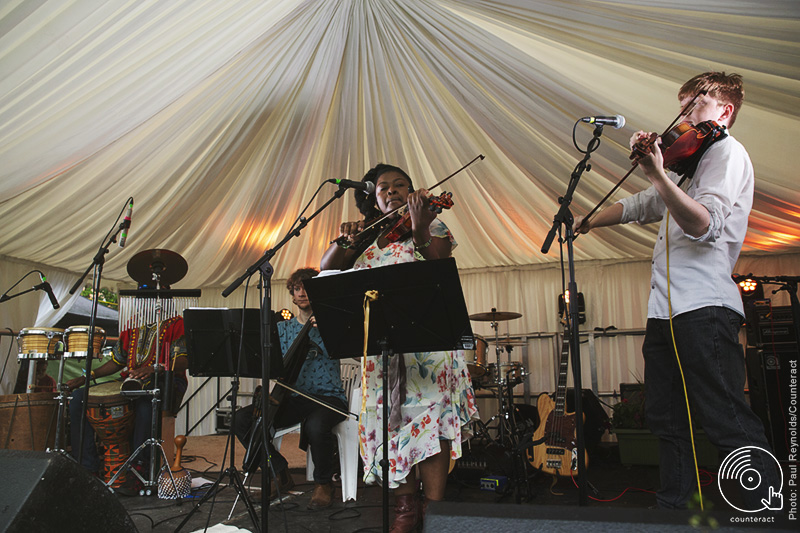 Germa Adan
This powerful and moving energy was sustained during Hannah Read's set, whose soothing country style was reminiscent of Joni Mitchell and Emmylou Harris. Her closing rendition of 'In Tall Buildings' by John Hartford was enough to silence even those on their seventh pint. But Israel Nash ensured that nobody was getting too relaxed; his stage presence stretched across the eleven acres, embodying the very essence of folk whilst reflecting – in that endearing, American, hippy way – "What a day to play music. What a day to come together."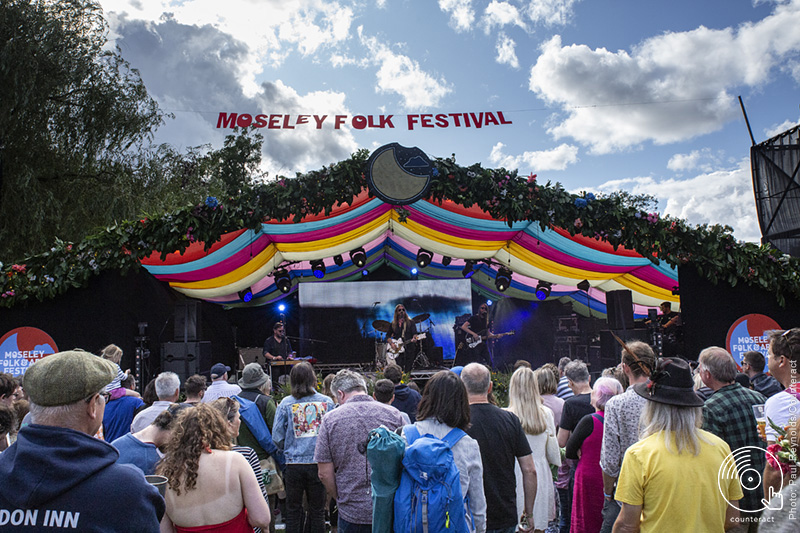 Israel Nash
But the best was yet to come. After many years of trying, MOFO did the seemingly impossible – they secured Jake Bugg. And it's a good job they did. It's often quite easy to forget that Jake Bugg has released four albums – the latter three frequently, and sadly, overlooked and overshadowed by his debut. As he battles through 'Bigger Lover' and 'How Soon The Dawn' over roars of "Play Lightning Bolt!" ("Never heard of it!" he retorts), he returns frequently to much-loved classics such as 'Seen It All' and 'Two Fingers' to appease the crowd. It's not often you see Bugg on stage with his band, now frequently preferring to tour an acoustic set with just his trusted guitar, making it easy to forget how scintillatingly raw and unique his sound and style can be – even Lightning Bolt, which fell fantastically on a delighted audience, who danced and wailed their appreciation.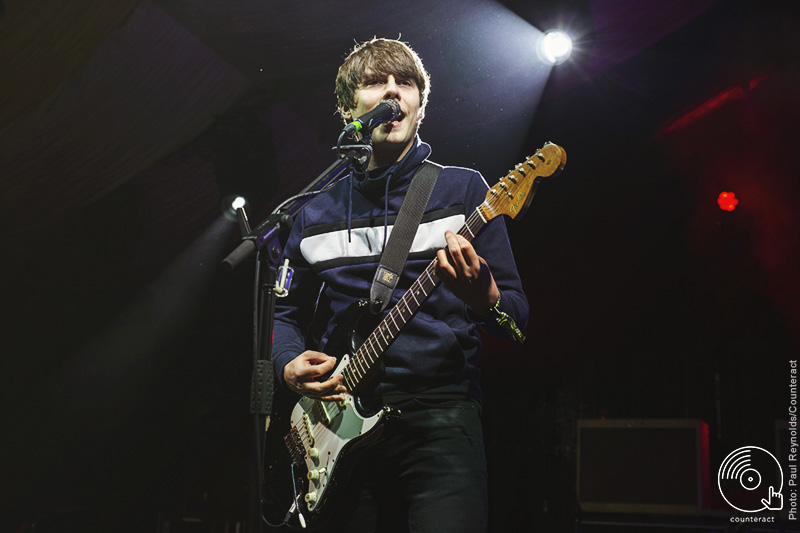 Jake Bugg
The general layout of the festival – with the two main stages adjacent to one another at the base of a gentle slope – meant you could conceivably plonk yourself in the middle of the field from 11.30am right through to the final acts, moving only to brave the portaloos or stumble towards the beer tent, watching as the two main stages played a game of ping pong with legendary folk acts such as County Line Runner, E.B. the Younger and Lucy Rose. And whilst this certainly wasn't a bad deal, stretching your legs and wandering around would prove that there was plenty more to see.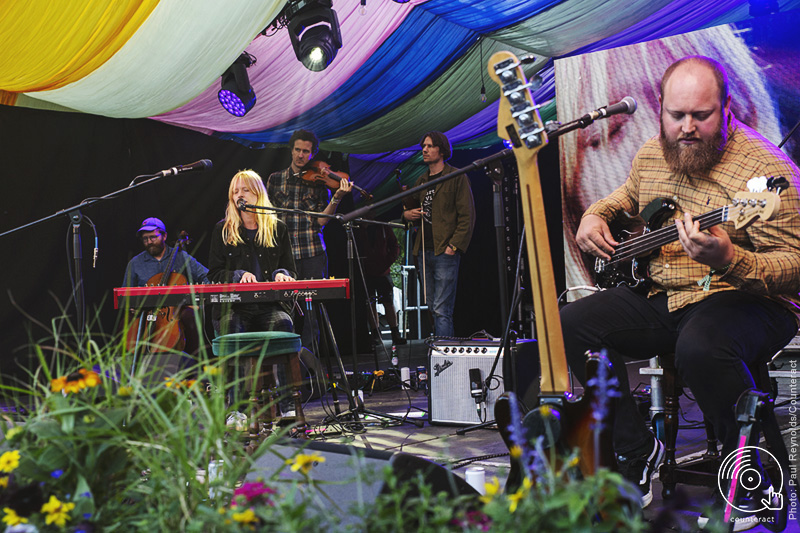 Lucy Rose
The Kitchen Garden Stage, tucked away through 'folk on the slope', was an oasis of calm that saw some incredibly moving acts – from Emily Mae Winters and Simply Dylan owning the stage on Friday (it was impossible not to dance to 'Hurricane' in the glorious sunshine), to Wizz Jones' nostalgic set that echoed the richness of the 1960s folk revival scene on Saturday. Sunday highlights were easily Kathryn Williams' haunting homage to Nick Drake, and Charlie Parr's blues inspired folk.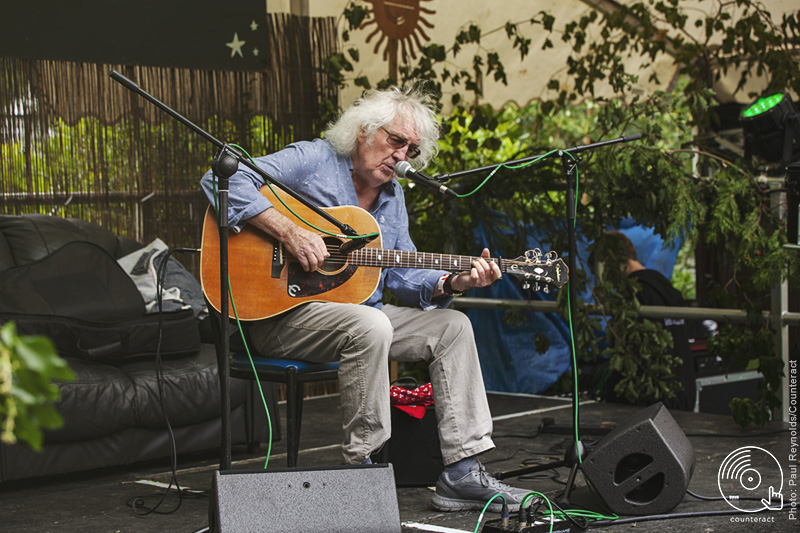 Wizz Jones
And with the brand new inclusion of the Arts this year (MOFARTS?) there was plenty of opportunity to appreciate non-musical entertainment – such as Arts & Crafts, Comedy and Cabaret, and Q&A's. Often utilised as a pleasant refuge from the rain, the Speakers Corner saw a diverse range of guests – from Stephen Morris of Joy Division and New Order, to local Birmingham author Catherine O'Flynn's reading from her latest children's book 'Lori & Max'. With so much going on, and a constant flow of folk music pouring from a tap, it was easy to get overwhelmed with such a luscious selection of things to do and people to see.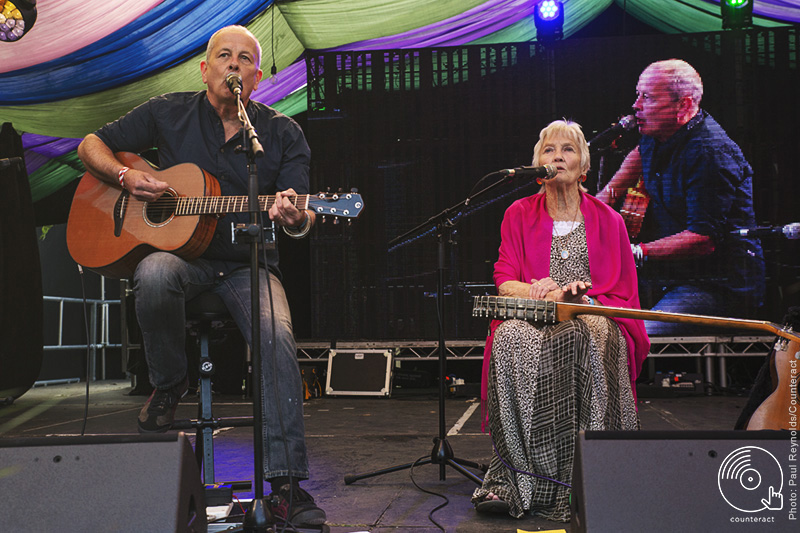 Peggy Seeger
But the entire festival seemed to be unknowingly building up to what happened on the very last day. All music may very well be folk music – but Sunday, without a doubt, was folk music. From Peggy Seeger's emotionally fraught set with her son – which featured two consecutive songs about alligators – to straw falling out of our ears courtesy of the Celidh Liberation Front & Haydown, the crescendo of the day led satisfyingly to song-writing legend Richard Thompson and Midlands' own Boat To Row reminding us precisely why we're here – and why we love folk.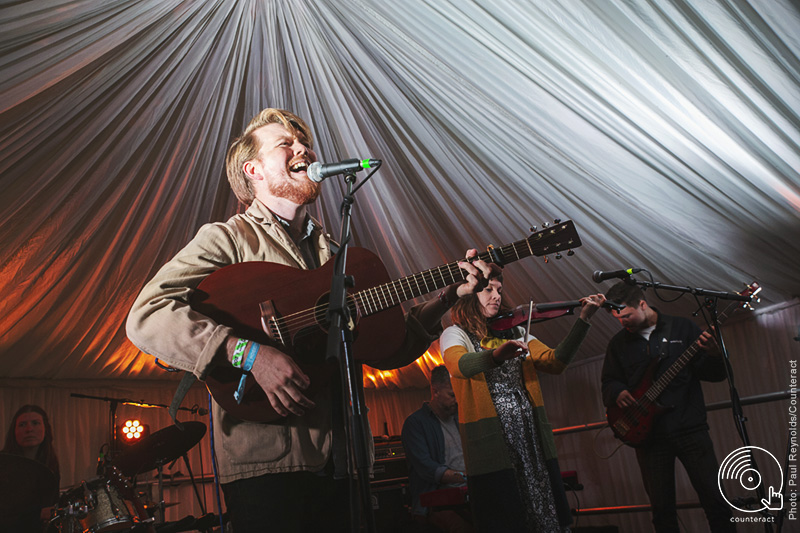 Boat To Row
But nothing could prepare us for what was to come in the last eight minutes. After a series of name drops, a sensational rendition of 'Crossroads', 'Homeless Brother' and 'Vincent', during which you couldn't hear a pin drop, Don McLean broke abruptly into 'American Pie' – and the audience exploded. Arm in arm with strangers, bellowing the lyrics like we'd written them ourselves, thousands of people came together to celebrate one of the most iconic songs in musical history.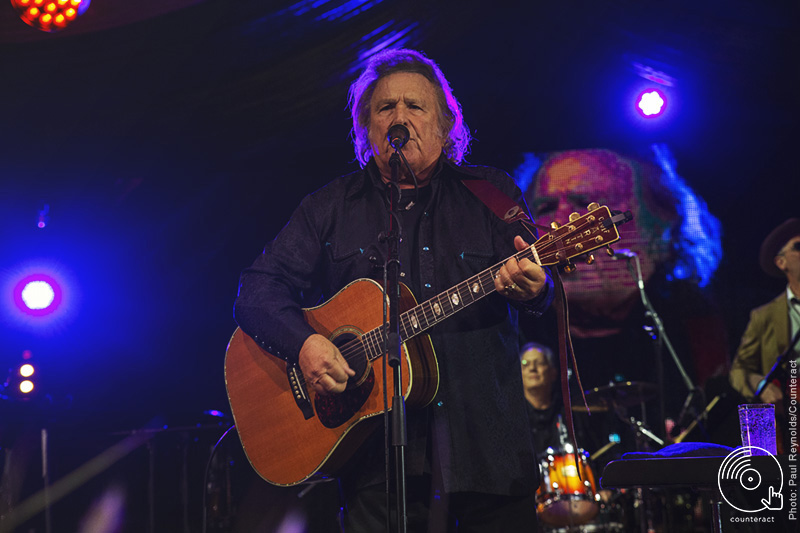 Don McLean
And in this cosy little festival in Moseley, where Birmingham author Catherine O'Flynn describes her obsession with Birmingham's constant battle between ambition and insecurity; a member of the audience parades around the folk festival in his Black Sabbath denim jacket, and the Earlsdon Morris Dancers dance proudly on in the pouring rain – the spirit of Birmingham came alive. And as you lay back in the beating sunshine listening to the soft melodic strums of a banjo, you couldn't help but muse: Birmingham's not bad. Not bad at all.
Photographs by Paul Reynolds
Like this? Try these…
Passionate about TV, music and Birmingham.