Review: Sunday at Mostly Jazz sees Sister Sledge steal the show
The final day of Mostly Jazz, Funk & Soul 2018 swings around on Sunday 8th July
Funk legend Fred Wesley and Acid Jazz vibraphonist Roy Ayers deliver standout sets
Queens of Disco Sister Sledge top the weekend with classics 'Lost in Music' and 'We Are Family'
Sunday is by far the hottest at Moseley Park; the sweltering heat pushing patrons into limited patches of shade. Nonetheless the energy hasn't faltered, and despite a slight hangover which seems to have affected most of the crowd, many are up and dancing by mid-morning. Riding the wave of England's entrance into the semi-finals of the World Cup, cheers of "Football's coming home!" are thankfully confined to the bar tent.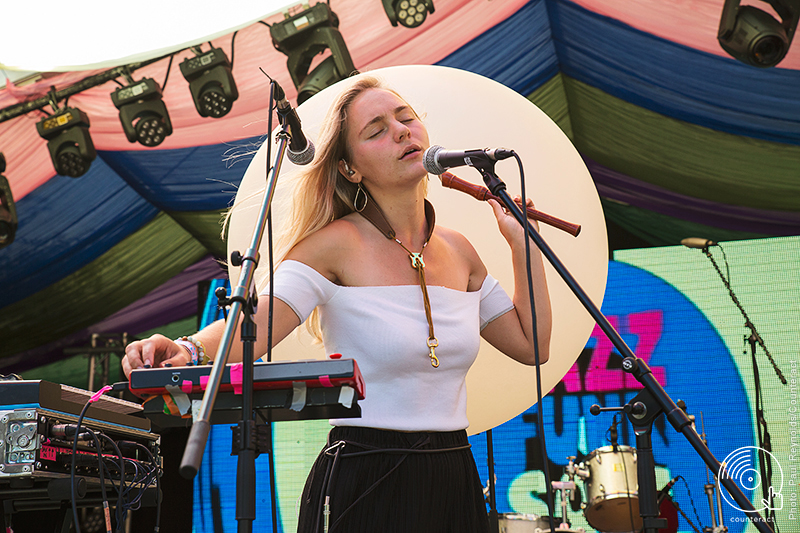 Laura Misch
Taking to the main stage is Laura Misch. The saxophone wielding sister of Tom Misch (who shot to fame via Spotify in 2016) Laura carries forward her brother's low-slung hip-hop, adding further moodiness and introspection. Listening to her textured tracks, it's hard to believe she's a one woman show. Utilising sax, microphone, keyboard and loop pedals, Laura explores the space between analogue and electronically manipulated sound. Interludes of stripped back jazz compliment dreamy lyricisms. 'Lagoon', her recently released single, treads the line perfectly between down-tempo and upbeat. An unexpected choice for Mostly, Misch's mechanical creations are full of soul.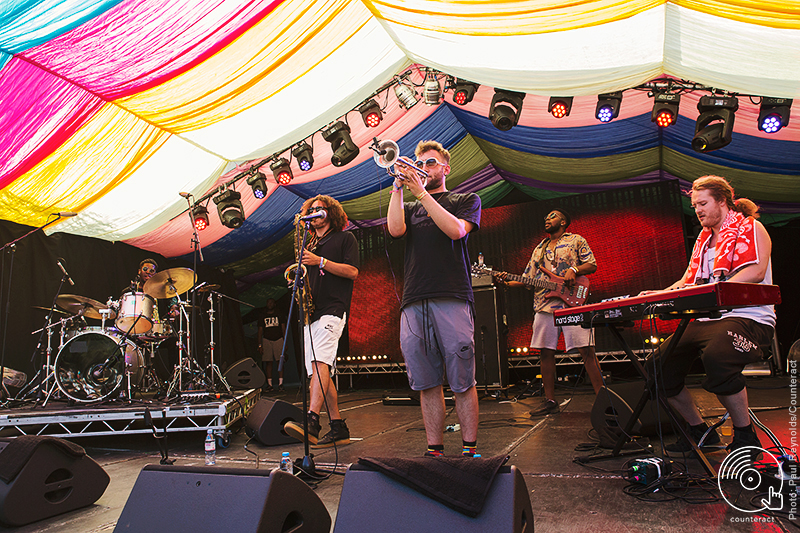 Ezra Collective
Next up, Ezra Collective. The five-piece from London offer a welcome injection of afrobeat madness, characterised by shuffling rhythms over furious brass work. Inspired by the likes of Herbie Hancock and Fela Kuti, but through the prism of contemporary rhythm, the group have been heralded as the new face of jazz.  As individuals they come off as wondrously maniacal. "Sometimes life is really hard! But here we are in a beautiful place, having a beautiful time!", declares trombonist Dylan Jones.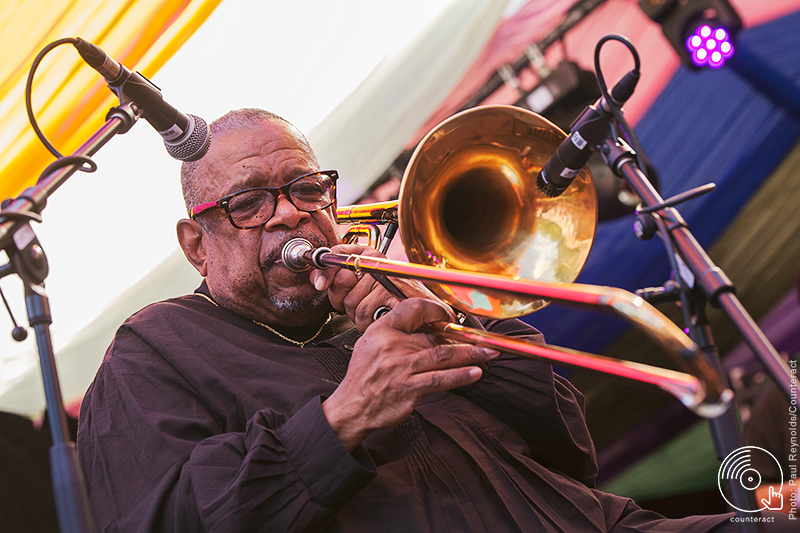 Fred Wesley + The New JBs
Returning to Mostly for the second time, and a favourite of the weekend: Fred Wesley + The New JBs. A companion of the King of Funk James Brown, Maceo Parker's foil and the leader of Parliament Funkadelic's Horny Horns, Wesley is the unsung star of the 70s. Having celebrated his 75th birthday only a few days earlier, he delivers a powerful performance which oozes cool. Leading the crowd in a rendition of 'Bop to the Boogie', he lands 'House Party' with a delicious slap bass accompaniment from Dwayne Dolphin.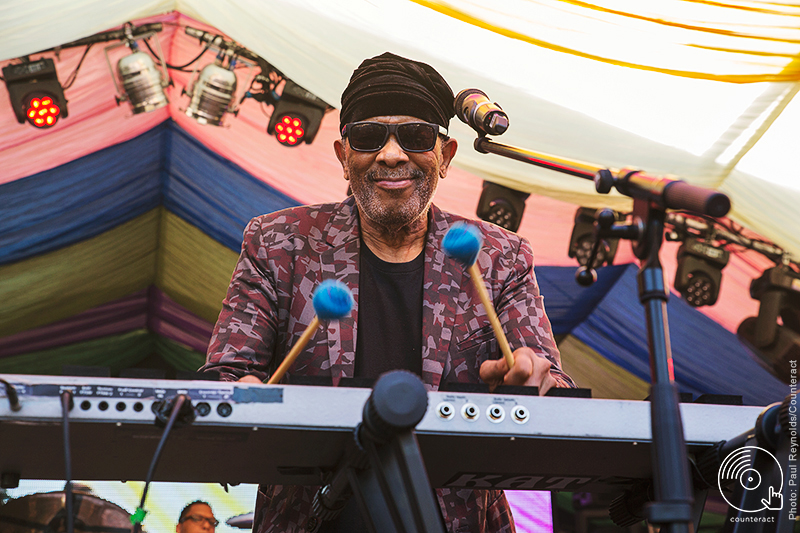 Roy Ayers
One more ageing artist still at the top of his game, Roy Ayers weaves in the fabled riff from 'Everyone Loves the Sunshine' between songs. Already predicted to go down a storm in the glorious weather, the track is finally dropped to an ecstatic audience. The repeated: "Just bees and things and flowers" – surely one of the best lines in funk history – encapsulates the hazy vibe of the afternoon.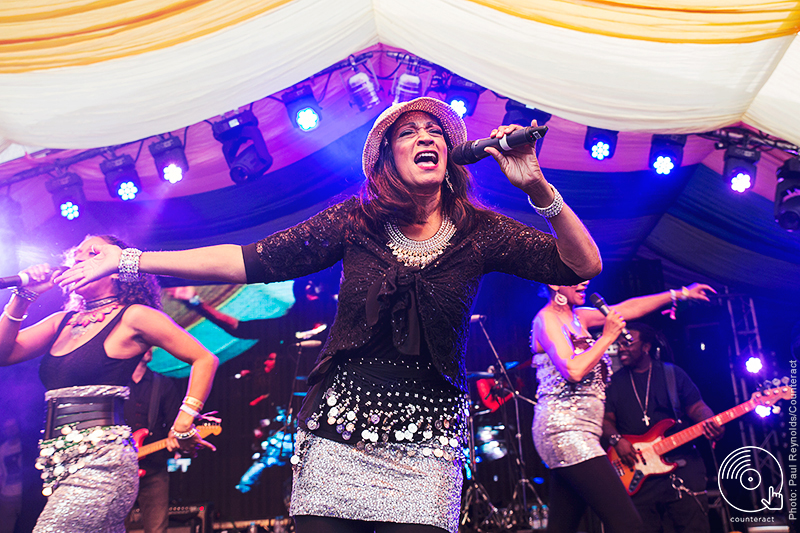 Sister Sledge
Undeniably the stealers of the show, Sister Sledge arrive. Since losing Joni Sledge in 2017, the group have been touring with remaining members Debbie, Kim, Kathy and Thaddeus (Joni's son). In the opening bars they make a tribute to their late sister, "We would like to dedicate this performance and this message to her… Just think, it's so much easier to love. Do an act of kindness and reach out to someone who needs it". The Queens of disco are endearingly modest as they thank the performers of Mostly, "There are so many great artists; we are so privileged to be here!"
[amazon_link asins='B003YMUTQG,B000025NFV,B002HU9W8C' template='ProductCarousel' store='counteract03b-21′ marketplace='UK' link_id='243e5055-8ab4-11e8-9d05-574821387526′]
Launching into their liquid harmonies, we are reminded of why these women dominated the charts for so many years. There is nothing quite like their voices, which rise and fall in solidarity. Taunting the crowd with the trance inducing chords of 'Lost in Music', before changing tempo and delivering 'He's the Greatest Dancer', the sisters perform a shimmering choreographed dance. In matching sequined outfits, they are every bit the disco divas they were circa 1971.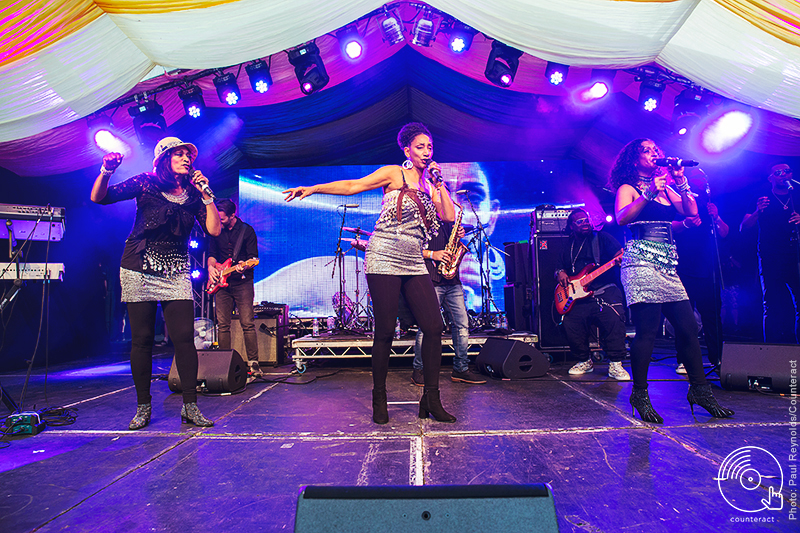 Sister Sledge
Drummer Ira King, wearing an incredible gold Egyptian headdress, provides a stoic beat for Nat King Cole's 'Nature Boy'. It's a unique cover which harks towards Bowie's version, although Debbie's powerful voice imbues it with further tragic eeriness. Another surprise arrives through an acapella 'Amazing Grace'; the tonality is breath-taking and leaves the crowd in revered silence.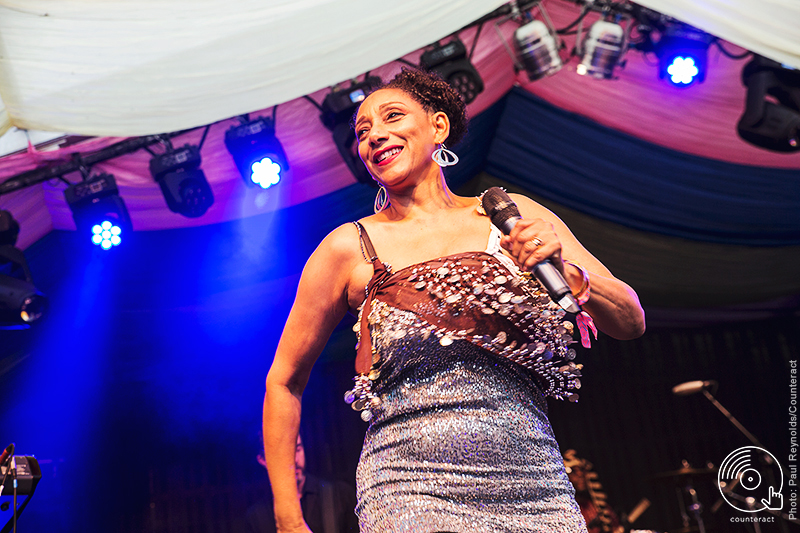 Sister Sledge
Closing with 'We Are Family', the entirety of the backstage crew is invited to boogie on stage. It's the perfect finale for a festival which prides itself on community and collaborative spirit. Mostly is a must for any devotee to the groove, be that through big-name artists or local talent. As the weekend concludes, it's hard to grasp the enormity musical royalty that have performed. Between them the three headliners have hits which reach double figures. It's been a once in a lifetime experience not easily forgotten.
Read: Review: Mostly Jazz, Funk & Soul: Friday offered reggae and hip-hop royalty
Read: Review: Saturday at Mostly Jazz, Funk & Soul is all about Candi Staton
Photographs by Paul Reynolds