Stardom: the Aston rapper making the stars align
The Unstoppable Rise Of Birmingham Rap, Mike Skinner's self-explanatory online documentary, showed that with the likes of Jaykae, Mist and Lady Leshurr on the firm, the second city is ready, willing and able to take on the world – and win.
---
That's perfect if you're a local music fan and gig-goer, with a diary packed full of headline hometown shows and a phone memory of selfies from chance meetings in the Bullring. Probably not so great when you're an up-and-coming MC, trying to stand out from the crowd and grinding hard to follow in their illustrious footsteps. One such talent is Stardom, brought up in the mean streets of Aston, now making rapid progress towards the top of the rap food-chain.
His SBTV Better Places video on the subject of Aston and Lozells flagged him up as one to watch, and soon afterwards invites from the likes of Tim Westwood, Charlie Sloth and Kenny Allstar at Radio 1XTRA began to flood his inbox. Debut album Grams and Dreams was a searing commentary on inner-city street life – hard-hitting, gritty, and above all, authentic – a body of work that heralded the arrival of a major talent. Now the budget has grown and the bling has followed on visuals for Shoebox Money and certified club banger Gucci, and with new single La Vida Loca and an EP to follow, Stardom looks set to join the ranks of rap royalty as the views and streams accelerate faster than the cars in his videos. We caught up with the new sensation of Road Rap to check on his progress.
When and how did you start rapping?
I started making music when I was about 13. My big brother used to do it so I kind of followed his lead and started myself. I've always been around it.
Who was your inspiration on a general and local level and why them in particular?
A group called B6 Slash LOZ who were from my area and had been doing it for a while. I always looked up to them and they definitely inspired me to get where I am today.
Grams and Dreams is a great album, you must be really proud of it?
Thank you! Yeah, I think it is my best work to date as a whole. I have a lot more coming and a lot of material ready so I keep improving.
The new single La Vida Loca is a really catchy club track. Can we expect more like this in the future?
Yeah, I have a couple of catchy similar vibe tunes ready to go. The club is where music is heard most so I want to make sure I'm filling up the clubs across the UK with my music. Everyone can enjoy and catch a vibe to it.
---
The collaborations you've done in the past, especially on Grams and Dreams, are brilliant. Do you have any more interesting collabs coming up?
I have a couple of big names coming up. I don't want to let the cat out of the bag just yet so stay tuned, but my next release will include a feature with an artist I rate highly.
You rap on the intro (to Grams and Dreams): "I'm too Road, they won't play me on the radio". Would you consider toning down the harsh reality of that record to get air play, or would that be too much of a compromise and/or damage your credibility?
I think in the sense of toning it down, I have done a bit, but I think you can still get your point across in different ways, without people feeling intimidated or thinking it's too 'gangsta'. But no, that won't damage my credibility.
Your last track, Aarh Yeah had very cinematic visuals. Is this something you'd like to develop further?
Yes, I have something I'm working on right now that I will probably drop in the next couple of months. It's the same kind of vibe as that, a mini film. I like to be creative and I think it's important as an artist to show all sides of your creativity.
Will you be taking the new record, La Vida Loca, out on the road? We noticed you've done a few performances abroad?
Yes, hopefully we can get some shows and get it out there! I've done some great shows this summer across Europe and it was received really well so I want to keep that momentum in the UK and show the fans how I work live.
Is there anybody out there in Brum that you rate and want to mention?
Brum is firing right now. I rate Reeks, A1 and Blakka – if you don't know these guys, get to know. And of course Jaykae.
https://www.instagram.com/p/BmJc9McnpCu/
Somebody a lot more clever than us at Counteract could probably make a deep and meaningful point about post-millennial music consumption and how an artist with YouTube views and Spotify streams measured in the millions can still be described as 'under the radar'. But Stardom is putting in the hard yards and hard bars to change that, and our money is on him to succeed.
Like this? Try these…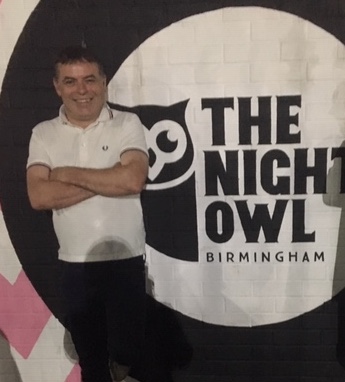 Militant anti-racist and Brummie. Lucky to be born in the most innovative musical city on Earth. If I hadn't been, I'd have moved here by now.