A beginner's guide to: UB40
From a bedsit in Balsall Heath to chart-topping domination in the 80s, Birmingham's UB40 brought pop reggae to the masses.
History
The true origins of Birmingham's multi-cultural pop-reggae band UB40 can be traced back to a fight lead vocalist Ali Campbell found himself in the middle of on his 17th birthday. The teenage Campbell – son of folk-singer Ian Campbell, the leading light of the 1960s UK folk revival – was hit by a glass to the left side of his face, and had to have 90 stitches, receiving a hefty compensation package for his injuries. Rather than spend it on fast living or squirreling it away for a rainy day, he decided to buy new instruments to kit out his fledgling band mates – bassist Earl Falconer and drummer James Brown – who all attended Moseley School of Art in Balsall Heath with him.
In mid-1978, the group began rehearsing popular charting reggae songs along with a few original compositions. They were soon joined by friends Yomi Babayemi and Norman Hassan on percussion, electrical apprentice Brian Travers on sax (who also attended MSOA) and keyboardist Jimmy Lynn. Campbell also invited his brother Robin, an apprentice toolmaker, to join, who after some initial reluctance bought himself a guitar and enlisted in December that same year. The eight piece then decided to make it an official band and sought inspiration for a suitable name. A friend gave them the suggestion of "UB40", named after the DHSS Unemployment Benefit Form 40, which resonated with them as they were all unemployed at the time. It also fitted their socialist views informing much of their musical output, their multi-cultural line-up reflecting the working-class community that they were brought up in.
Their first gig took place on 9 February 1979 at the Hare & Hounds pub in Kings Heath, Birmingham for a friend's birthday party. They managed another one before the line-up changed, with Babyemi and Lynn leaving and Mickey Virtue taking Lynn's place. A month later, percussionist and vocalist Terrence Wilson, aka Astro became the newest member to join the band, completing their classic line-up. The singer had previously been working for Duke Alloy's Sound System, attending reggae dances around Birmingham. The band got their first big break when they caught the attention of The Pretender's Chrissie Hind whilst gigging in a pub in London. She offered them a support slot for The Pretenders upcoming tour. In 1980, they released their debut single 'King'/'Food for Thought' on a local independent label, Graduate Records. It reached #4 on the UK charts and was the first single to reach the UK Top Ten without the backing of a major record label.
Debut album "Signing Off" was released on 29 August that year, with the unemployment form that they took their name from adorning the cover. The album charted in the UK on 2 October and spent 71 weeks there. It was chock full of songs espousing their left-wing political views, with social commentary on everything from British Imperialism ('Burden of Shame') and inequality ('Little by Little') to taking a swing at the Prime Minister at the time, Margaret Thatcher, in 'Madame Medusa'. When their contract with Graduate Records expired at the end of the year, they formed their own record company – DEP International – with all eight members owning an equal share. The following year they released their second album "Present Arms" with the single 'One in Ten' – which referenced the amount of people claiming unemployment benefit in the West Midlands at the time – reaching #7 in the charts.
Four months later, "Present Arms In Dub" was released and became the first ever dub album to enter the UK Top 40. Dub music was the preserve of grassroots reggae fans who bought their records as imports from Jamaica. So for a band that hailed from the back streets of Birmingham to produce a commercially successful record of such a niche sound was unprecedented. "UB44" was their next album released in 1982, which reached #4 in the UK charts, but none of the singles from it reached the Top 20. They opened their own recording studio "The Abattoir" and set to work creating a covers album that paid homage to the reggae artists that had inspired them in the Birmingham blues clubs of their youth.
Though they seemed to be tuning in to the zeitgeist at home and garnering a following of like-minded fans, their popularity didn't stretch over the pond to the US. This changed the following year, when they released their covers album, "Labour of Love" which hit the top spot in the UK and #8 in the Billboard 200 in the US. One of the covers on the album was Neil Diamond's "Red Red Wine", which stayed on the charts for over 100 weeks and remains today as one of their most defining songs. The album went on to sell 10 million copies worldwide. In 1984 they released their fifth album, "Geffrey Morgan" with the single 'If It Happens Again' reaching #9 in the UK. Compared to previous albums, this one didn't fare so well. A re-working of much of the songs on this and "Labour of Love" formed the basis for their sixth album release "Baggaridim" which featured a host of leading UK reggae MCs. Someone else who appeared on this album was Chrissie Hynde, whose cover of Sonny & Cher's 'I Got You Babe' hit the top spot in the UK and scored them their biggest hit Stateside, nudging its way into the Top 30 in 1985.  The B side to this, 'Don't Break My Heart', hit #3 soon afterwards.
In 1986, the band broke new ground by bringing their reggae vibes to Russia, becoming the first Western group to tour in the Soviet Union. Their historic concert in Moscow was recorded and released as their second live album, "UB40 CCCP". In August that year, 'Rat In The Kitchen' became UB40's sixth Top 10 album in the UK. The title track became the first hit off the album. Another track, 'Sing Our Own Song' had been written in support of black artists in South Africa during apartheid. In November the following year, "The Best Of UB40 – Volume One" entered the charts where it would stay for the next two years, peaking at #3. One of the surprise songs from the album was a Jackson Five cover, 'Maybe Tomorrow' which featured a collaboration with hip-hop pioneer Afrika Bambaataa. Tragedy struck that same year, with the death of engineer Ray "Pablo" Falconer, brother of the band's bassist Earl Falconer, in a car crash.
1988 became a watershed year for the band as they finally managed to hit the top spot in the US. Following another UK Top 10 hit with Chrissie Hynde, 'Breakfast In Bed', their cover of 'Red Red Wine' that had originally appeared on their 1983 "Labour of Love" covers album topped the Billboard Hot 100 chart in October. The band was part of the line-up for the Free Nelson Mandela Concert at Wembley Stadium in London in June that year, which was beamed around the world to a television audience of millions. Because of this exposure, the US stood up and noticed and gave them their first ever US #1. This also led to another helping of "Labour of Love". Recorded between their extensive worldwide tour, the album produced Top 10 hits in the US including 'Kingston Town' and 'Homely Girl' which were also hits back home in the UK.
Another collaboration kick-started the nineties and gave them their next Top 10 UK hit. 'I'll Be Your Baby Tonight', featured a duet with Robert Palmer. In July 1993 they released their tenth studio album "Promises and Lies" which became their biggest selling album, selling in excess of 9 million copies worldwide. It also spawned their most successful worldwide single and third UK #1, '(I Can't Help) Falling In Love With You', which became a staple on US radio due to its inclusion on the soundtrack to the 1993 Sharon Stone film "Sliver".
They took a break from the rigors of touring the following year, after playing to record crowds around the world including concerts in South Africa to an audience of over 250,000 people. During this hiatus, some of the band members took the opportunity to explore solo projects – Robin and Ali sang with Pato Banton on his UK #1 hit 'Baby Come Back', whilst Earl dabbled in dance music producing successful house and drum and bass tracks. Ali Campbell also released his debut solo album "Big Love", recorded in Jamaica. During their time in Jamaica they encountered various reggae legends who they collaborated with to produce two albums. The first, "UB40 Present The Dancehall Album," was released in 1998 and featured acts such as Beenie Man, Mad Cobra and Lady Saw. The second, "UB40 Present The Fathers Of Reggae", released in 2002 was later described by Robin as the highlight of their career, as it featured so many of the artists that had influenced and inspired the band. Artists such as Toots Hibbert, John Holt, Alton Ellis and the Mighty Diamonds all sang UB40's own material.
---
Before these collaborations, the band managed to step into the glitzy Hollywood limelight in 1996, by featuring in "Speed 2" starring Keanu Reeves and Sandra Bullock, where they performed 'Tell Me Is It True' in the film, which became a top 20 hit and the lead single from their next studio album, "Guns In The Ghetto", released the following year. It peaked at #9 in the UK album charts but sales suffered because of the band's unwillingness to tour. They did close off the 90's though successfully, releasing their twelfth studio album, "Labour of Love III" in 1998, which reached #8 in the UK album charts and playing to an estimated television audience in India of 1 billion the following year.
The noughties began with a best of album – "The Very Best Of UB40 1980-2000″ – which heralded yet another UK top 10 success. A world tour followed featuring landmark concerts in South Africa and a peace concert in the Sri Lankan capital Colombo. Their 2002 concert in Switzerland was later released as "Live In Montreux" in 2007. They achieved international acclaim by picking up the Ivor Novello award for International Achievement in 2003 and released another top 10 album, the "Platinum Collection" a triple box set consisting of all the "Labour Of Love" releases.
By now, UB40 had been established favourites with the British audience for well over two decades. It was therefore fitting that they should provide, along with the multicultural choir, United Colours of Sound, the official anthem for the England rugby team's triumphant 2003 World Cup campaign in Australia. 'Swing Low', taken from their fourteenth album "Homegrown" released in November that year, was the group's 49th UK chart single. With 51 chart successes under their belts, only Status Quo and Queen could lay claim to more hits.
Two years later, on the 25th anniversary of their recording debut, the band released "Who You Fighting For?" Acclaimed not only as a return to form, but also as an artistic triumph, the album was distinguished by UB40's decision to record once more as "a live" band – i.e., playing all together in the studio. It also drew on the winning formula used in their earlier albums, with songs that conveyed a deliberate message by questioning authority (including Britain and America's decision to invade Iraq) born out of working-class values. There was also room for lighter moments with love songs such as 'One Woman Man', 'Kiss And Say Goodbye' and a winning cover of Matumbi's 'After Tonight'. The album achieved a Grammy nomination.
Their next album, "TwentyFourSeven," was released on 4th May 2008 initially as a free insert in The Mail On Sunday and then as a full version a month later. Though it sold 3 million copies of the newspaper, there was a backlash and many large retailers refused to stock the full version, with the album failing to reach the top 75 in the charts, which was a first for the successful band. It was also the last album to feature the classic line-up, with Ali Campbell announcing at the start of the year that he was leaving to pursue a solo career and Mickey Virtue following suit soon after. Campbell later admitted that the real reasons for his departure were due to "management and business disputes". It was reported by some Birmingham newspapers on 13 March, that Maxi Priest would be the new lead singer of UB40 and he had recorded a cover of Bob Marley's 'I Shot the Sheriff' with the band, based on information from an "unnamed source close to the band." Priest had joined UB40 on their arena tour in 2007, culminating in sell-out shows at the NEC Birmingham in December. But it was Ali's brother Duncan who took his place, with a voice virtually indistinguishable from his brother's. Duncan had originally been invited to join the band at their inception, but declined.
---
Their next release "Love Songs", a compilation of hits from the "Labour of Love" series and which featured Ali Campbell on lead vocals, fared much better and hit #3 in the UK album charts. The band went on a US tour including a first date at the famed Hollywood Bowl. The following year, the first album with Duncan Campbell on lead vocals was released – "Labour of Love IV" which peaked at #24 in the UK album charts but only stayed for a mere two weeks. In 2010, following a coast-to-coast US tour, the band announced a host of UK theatre dates performing their seminal debut album "Signing Off" in full, with a 30th Anniversary Special Addition re-mastered album released to coincide.
The band hit financial straits in 2011, with the five founding members – Travers, Wilson, Hassan and Brown and former member Ali Campbell – being declared bankrupt in October that year due to debts accrued by their own record label DEP International. In September 2013, their aptly titled eighteenth studio album "Getting Over The Storm" was released to rave reviews featuring covers of country music songs by the likes of Willie Nelson, George Jones and Randy Travis. It was the last album to feature Astro who announced in a statement in November he was leaving, describing the band as a "rudderless ship" and expressing concern over the country-oriented direction the band were heading in. He joined forces with former band mates Ali Campbell and Mickey Virtue as "UB40 featuring Ali Campbell, Astro and Mickey Virtue", announcing in January 2014 that they were back in the studio recording new music and releasing their debut album "Silhouette" in October that year. In 2015 they released "The Hits of UB40 Live" and hit the Top 20 in 2016 with their follow-up "Unplugged" which reached #17. In March 2018 they released "A Real Labour of Love" following in the vein of the original UB40's "Labour of Love" series. The album hit #2 in the UK charts and topped the US Billboard Reggae Albums chart. At the end of 2018, Virtue decided to leave after 40 years in the music industry. Campbell and Astro continue to tour today, performing to the masses. UB40 released their nineteenth album "For The Many" in March 2019 and are currently touring without saxophonist and original member Brian Travers who was diagnosed with a brain tumour a few weeks before the tour started.
Read: UB40 chat humble Birmingham beginnings, politics and their new album
UB40 remain as one of the most commercially successful reggae acts of all time and regularly return to Birmingham for huge homecomings off the back of successful UK tours.
Fun Fact
Their debut album "Signing Off" released in 1980 was recorded entirely from Robin Campbell's bedsit in Birmingham. The room was so small that drummer Norman Hassan had to shift into the garden to allow enough room for him to record his percussion parts. This context was captured for posterity on the album as if you listen very carefully on some of the tracks you can hear the birds chirruping in the background. Pastoral reggae anyone?
Figures
Studio Albums – 18
Singles – 52
Highest chart position – #1 (Red Red Wine – 1983 / I Got You Babe Ft Chrissie Hynde – 1985 / (I Can't Help) Falling In Love With You – 1993)
Best Tracks
King/Food for Thought | The double A side was the group's breakthrough debut single release back when it all started in 1980. It reached #4 in the UK Charts and fared well in the Antipodes by hitting the top spot in September that year in New Zealand. Released on a local independent label – Graduate Records – it became the first single to reach the top 10 without a major label backing. As an opening gambit it expressed the band's working-class socialist views, with 'King' written about the great human rights activist Martin Luther King and 'Food for Thought', described as a "Christmas" song by Robin Campbell, explored the hypocrisy of gorging on festive fare and praising the Lord whilst people in the world were dropping dead of starvation. Not one for the Christmas Party playlist perhaps but the start of a 40 year glittering career for the boys from Balsall Heath.
---
One In Ten | Released in 1981 off their second album "Present Arms", the track reached #7 in the UK charts. Continuing to espouse their working-class roots, the title refers to the number 9.6, being the percentage of the local workforce claiming unemployment benefit in the West Midlands that summer. "I am the one in ten. A number on a list. I am the one in ten. Even though I don't exist". A vocal sample was taken from the song and used by techno boys 808 State in 1992 for their track 'One In Ten'. Techno reggae anyone?
---
Red Red Wine | The band's most successful track and the one that broke the US for them, was a cover of a Neil Diamond penned song that appeared on his 1967 album "Just For You". Two versions of the song were covered in 1969 and it was the reggae version by Tony Tribe which hit #46 that UB40 covered for their 1983 "Labour of Love" album which took the #1 spot. Vocalist Ali Campbell admitted that the band didn't know that Neil Diamond was the original song-writer, believing that Tony Tribe was the originator. Even when they saw the song writing credits they took "N. Diamond" to be a Jamaican! The track charted at #34 in the US and it wasn't until a few years later in 1988 when, following a standout performance at the Free Nelson Mandela Concert at Wembley Stadium beamed to a TV audience of millions, a slightly longer version of the song was re-issued, featuring a rap by Astro which went to the top of the US charts. The video for the track was shot in a local Birmingham pub and featured Ali Campbell imbibing on beer and not red wine!
---
I Got You Babe Ft Chrissie Hynde | Originally a #1 hit for Sonny & Cher back in 1965, UB40 collaborated with The Pretender's Chrissie Hynde in 1985 and took the track back to #1 in the UK . It was all thanks to Hynde that the band got their breakthrough as she asked them to support The Pretenders upcoming tour in 1980 after seeing them gig in a London pub. The track appeared on their sixth album "Baggaridim" which featured a host of leading reggae MCs or "toasters" as they were known as in reggae circles. The band successfully collaborated with Hynde again a few years later for 'Breakfast In Bed' which appeared on their self-titled eighth album and reached #6 in the UK charts.
---
(I Can't Help) Falling In Love With You | This was a classic which was originally sung by the King Of Rock and Roll himself, Elvis Presley, in 1961 and which featured in the film Blue Hawaii and album of the same name. It was also covered by Bob Dylan for his album "Dylan" in 1973. UB40's cover appeared on their tenth album "Promises and Lies" released in 1993 and became the band's third UK #1 It featured in the soundtrack for the Sharon Stone film "Sliver" and became a staple of US radio stations, helping to bolster its chart position to #1, where it remained for seven weeks. The track almost didn't make the album cut, but thanks to guitarist Robin Campbell it was a last minute inclusion:
"Most of the band were against including the track on the album because, they thought it wasn't representative of the album, but I persuaded them that it would be pointless not to, as it was likely to be a smash hit"
---
Notable Performances
1 – Hare and Hounds, Kings Heath, Birmingham, February 9th 1979
The gig that started it all off. Geordie, Suzy Varty, was living in the West Midlands at the time and going out with UB40's drummer, Yomi Babayemi . She put on a 30th birthday bash at Kings Heath's Hare and Hounds pub with five bands on the bill including local punks Au Pairs. Due to her connection to the band she also invited UB40 to play putting them as top billing. The band played their entire repertoire of 10 songs and it gave them the confidence and realisation that they actually could succeed in the music business. Varty also put them in touch with their future manager Simon Woods thereby kick-starting their commercial career. On 4th October 2011 a plaque was erected at the pub to commemorate this first performance by the PRS for Music and the band returned there exactly seven years later to play a free secret gig to 250 lucky super fans partying like it was 1979.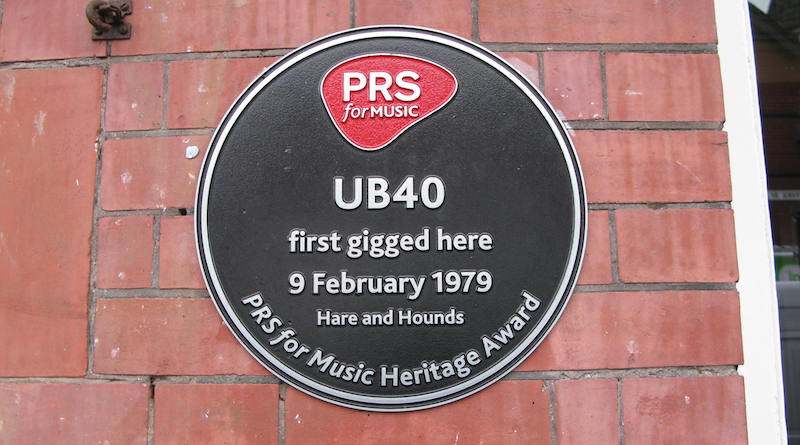 2 – Iubileini Sports Arena, Leningrad, USSR, October 6th 1986
In October 1986, UB40 jetted in from the sunny climes of Los Angeles to a grey and cold pre-glasnost era Russia on National Cabbage Day, which had the Volga River awash with floating cabbages and people jumping in fully clothed to retrieve as many of the brassica as they could. Playing six nights at the 8,500 seater Iubileini Sports Arena in Leningrad followed by another six in the capital Moscow at the 12,000 seater Luzhniki Arena, they were the first Westerners to play in the Soviet Union. Their socialist views came into direct conflict with the nation's iron-fisted censorship, but it didn't hinder the spreading of their Jamaica via Birmingham reggae vibes to an audience who had little or no knowledge of the genre passed Bob Marley. On the opening date in Leningrad, Ali Campbell tried to get the crowd up on their feet by telling them "We'd love to see you dancing". Across the tannoy system the Russian MC's voice beamed out the translation, informing the crowd that "The Band likes movement". Despite the obvious contrast in ideologies and that the entire band caught the flu; the tour was branded a success and was released a few years later in 1987 as their second live album "UB40 – CCP".
3 – Free Nelson Mandela Concert, Wembley Stadium, London, 11th June 1988
Also known as the Nelson Mandela 70th Birthday Tribute, Freedomfest and Mandela Day, this was a free anti-apartheid music concert staged to honour the upcoming 70th birthday on 18th June of the imprisoned ANC (African National Congress) leader Nelson Mandela. Broadcast to 67 countries with an overall TV audience of 600 million, the concert featured a huge variety of artists and performers, including Sting, Joan Armatrading, Bee Gees, Whitney Houston, Stevie Wonder and UB40. The band performed a stellar five-song set which included their collaborations with Chrissie Hynde ('I Got You Babe' and 'Breakfast In Bed'), the anti-apartheid song 'Sing Your Own Song' and their 1983 chart-topper 'Red Red Wine'. This exposure led to US radio DJ Guy Zapoleon at KZZP-FM in Phoenix, Arizona including the song on his "Would've Been, Should've Been" feature. The overwhelmingly positive reaction convinced the record company to re-issue the track (with the inclusion of a rap section by Astro) and within weeks the song had climbed to the top of the charts. UB40 had finally broken the US.
Like this? Try these…