Review: Jeff Lynne's ELO impress at interstellar homecoming
Jeff Lynne's ELO brought a career-spanning set of singles to Arena Birmingham on Wednesday 10 October – the first of three homecoming shows.


Tonight's show is opened by Northampton singer-songwriter Billy Lockett, who can't quite believe that he's gone from playing "a burger shop in Birmingham" to a 15,000 capacity arena. In an appreciative forty-minute set, a particularly poignant moment arrives on 'Empty House' – a track which is dedicated to his late father who was a massive ELO fan. Joined on guitar by Joe Dolman, a talented Leamington singer-songwriter in his own right, Lockett and his band provided a perfect pocket of pop before the space prog-rock of Jeff Lynne's ELO.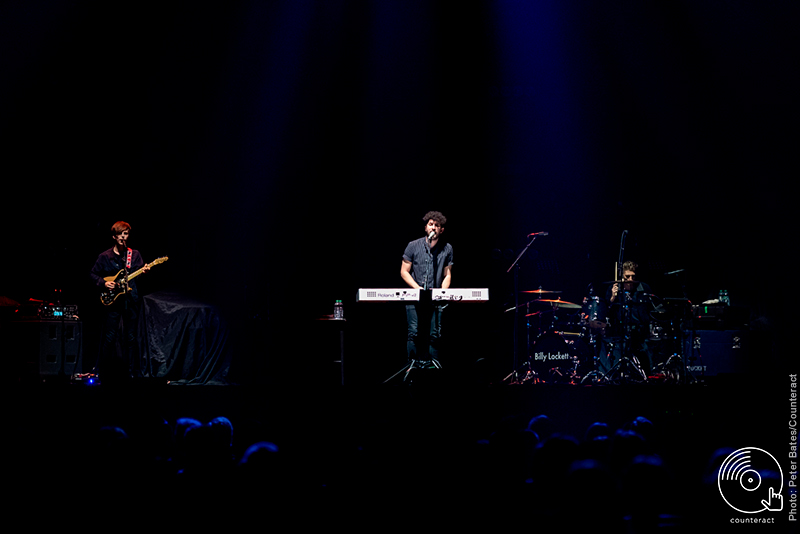 Billy Lockett
"Hello Brummagem, it's nice to be back home," proclaims Jeff Lynne, in one of few words spoken by the laid-back local legend this evening.
Lynne, who cuts his usual distinctive shy figure throughout the night, is backed by an army of incredibly talented musicians including two fellow Brummies on keys and drums respectively. Jeff Lynne's ELO was revived in its current moniker in 2014, and it feels every bit as fundamental as Electric Light Orchestra were in their pomp.
In a 90-minute performance, which is arguably rather short for such an illustrious back catalogue, set opener 'Standin' in the Rain' from 1977's Out of the Blue sneaks its way into a setlist consisting otherwise of singles. Those singles do follow in quick procession; the smooth, pitch perfect falsetto of 'Evil Woman' continuing on 'All Over the World', the title track of Electric Light Orchestra's 2005 greatest hits compilation.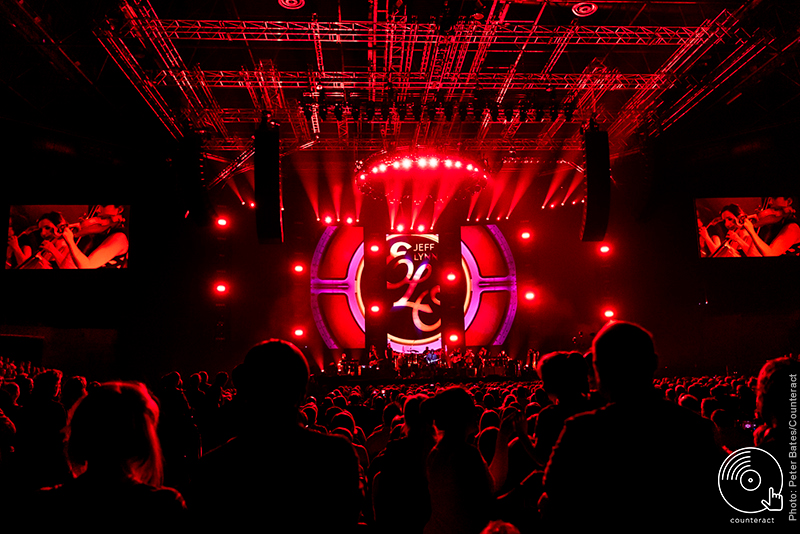 Jeff Lynne's ELO
Electric Light Orchestra are famed for their combination of 60s-esque pop, futuristic prog rock and classical string arrangements, and while this reincarnation is missing the likes of Bev Bevan from its lineup, Jeff Lynne's band more than show their worth with various moments in the spotlight. Their versatility is most notable switching from the operatic opening and rockabilly of 'Rockaria!' through to the funk bassline of 'Last Train to London' and the psych-rock, Beatles-tinged '10538 Overture' one after the other.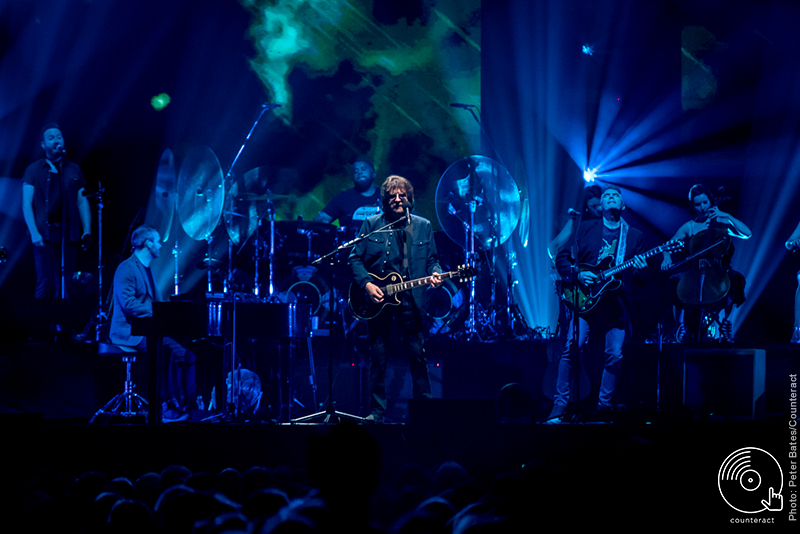 Jeff Lynne's ELO
Mid-way through the set, Lynne gives a modest nod to his "other band" The Travelling Wilburys – known as a supergroup to you and me – with a cover of 'Handle With Care', while another of Lynne's musical projects, The Move, also get a slice of the limelight with the riff-heavy 'Do Ya'.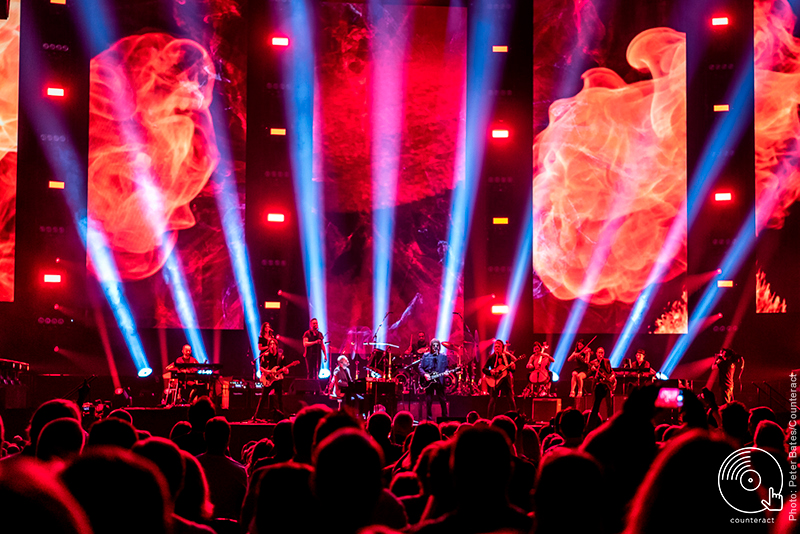 Jeff Lynne's ELO
As Lynne and co. power through a hit-heavy set at a near capacity Arena Birmingham, pauses in the set are seen as opportunities for Brummies to proclaim their love for their idol, with one keen fan even drawing a smile from Lynne by shouting "get on with it ya bugger!". Brummie humour, you've got to love it.
Towards the end of the set, the entire arena are on their feet for the pounding 'Don't Bring Me Down' and intergalactic 'Turn to Stone', preceding what was the only way Lynne could close a set in his hometown. As Electric Light Orchestra's iconic UFO floats in the galaxy of screens above, city anthem 'Mr Blue Sky' reverberates around the venue and ensures that the night ends on a high. Returning for a one-track encore of Chuck Berry's 'Roll Over Beethoven', Jeff Lynne's ELO bow out in style – trademark Lynne thumbs up and all – safe in the knowledge that the legacy of Electric Light Orchestra is stronger than ever before.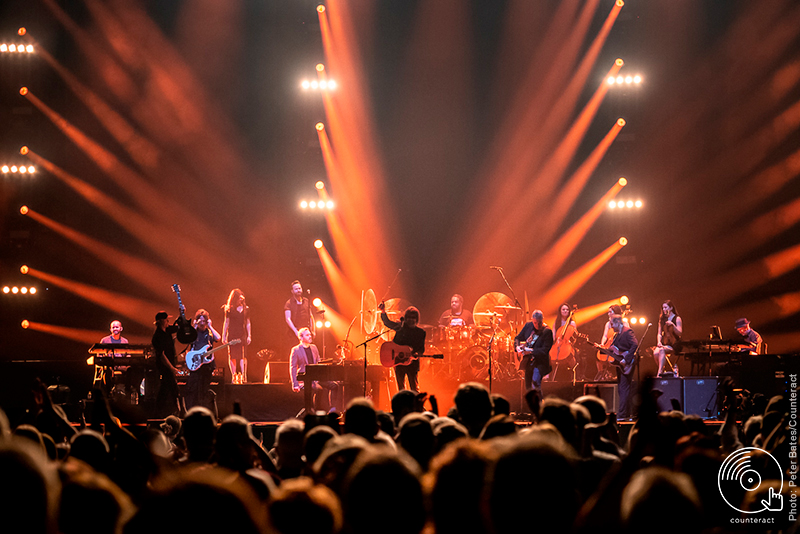 Jeff Lynne's ELO
Jeff Lynne's ELO play two more nights at Arena Birmingham (October 12, 13). Limited tickets remain.
Photographs by Peter Bates
Setlist:
Standin' in the Rain
Evil Woman
All Over the World
Showdown
Do Ya (The Move cover)
When I Was a Boy
Livin' Thing
Handle With Care (Travelling Wilburys cover)
Rockaria!
Last Train to London
10538 Overture
Shine a Little Love
Wild West Hero
Sweet Talkin' Woman
Telephone Line
Don't Bring Me Down
Turn to Stone
Mr Blue Sky
Encore:
Roll Over Beethoven (Chuck Berry cover)
Founding editor of Counteract. Freelance travel and music journalist.