10 of the best female urban musicians in the West Midlands right now
Black female musical success is a long-standing Birmingham tradition of course, and many people of a certain age can reel off the household names. Joan Armatrading, Ruby Turner, Jaki Graham, Beverley Knight and Jamelia have all peppered the charts on both sides of the Atlantic over the years.
Current flag-bearers for the second city are MOBOs best female 2016 Lady Leshurr and 2013 winner Laura Mvula, the queens of Kingshurst and Kings Heath respectively. Here, in strictly alphabetical order, is our top ten of Brummie (and surrounding areas) females hoping to follow in those formidable footsteps to success.
Affie Jam
Put Aside is an exquisitely delicate and fragile track that puts one in mind of late, great fellow-West Midlander Nick Drake. Keep your eyes and ears open for another painfully beautiful and emotionally resonant tune she is currently working on with LOKUI, a snippet of which can be found on soundcloud. I've a feeling a lot more will be written about Affie as she becomes more prolific.
Call Me Unique
Call Me Unique's name says it all – her music simply defies categorisation. She raps, scats, sings beautifully and plays guitar in accompaniment to profound and eloquent auto-biographical lyrics. Her first EP Urban Gypsy is a deeply moving collection of finely-crafted songs, Urban Gypsy 2 is imminent and that will be followed by her debut album This Way Up. She's been on an artist development programme but I just think it's greedy when someone this talented wants to get better.
Elektric
Elektric is one of the mainstays of the Birmingham scene, always collaborative and supportive of fellow Brummie artists whilst releasing excellent work in her own name. When I first heard the utterly charming and witty It's Such A Shame I spent the rest of the day engineering a fall-out with my wife just so I could play it to her and we could make up. (It worked by the way, you should try it)! Her new jam Melody Warrior is about to be released in the next couple of days and having heard a teaser it can't come soon enough for me.
Jorja Smith
There's a heart-warming video on YouTube of Jorja Smith aged about twelve-years-old, singing at school in Walsall, struggling to drown out some boisterous fellow pupils in the background. To be honest there's barely a hint of the huge talent that has now won her a place in the NME's 100 to watch and fourth place in Radio One's Sound of 2017 list, but that talent couldn't be more apparent now.
Kezia Soul
Seeing Kezia Soul's triumphant gig at the Glee Club in 2013 prompted me to describe her voice as the best to come out of Brum since Stevie Winwood in his sixties hey-day. She's been a bit quiet since then but hopefully it's merely the calm before the storm. Thanks to the miracle of Soundcloud, here's a tune from a show that has taken on almost legendary status among those who were lucky enough to be there:
Lady Sanity
If you like your hip-hop infused with a bit of jazz (think Soweto Kinch) then Lady Sanity (pictured) is for you. I first saw her featured on Midlands Today and immediately rushed off to Soundcloud where I found a wealth of consistently great material. It may be January in Birmingham at the moment but in the words of Swim Deep, she changes the weather, and every time I put on Sanity's Summer in September EP I'm transported to that New York heatwave that caused all the trouble in Do The Right Thing.
Mahalia
Adopted Brummie Mahalia first tipped us off about how good she was with the gorgeous Let The World See The Light when she was thirteen (yes one three) years-old. Now at the ripe old age of eighteen she's been writing for Rudimental and over the last few months has been uploading new tunes at regular intervals in the #DiaryOfMe series. Before we knew it there were ten of them and we had an absolute belter of a debut album to treasure. With her lovely voice, catchy melodies and relatable lyrics, not to mention a natty line in Digbeth-based videos, I'm convinced that huge commercial success awaits.
Namiwa Jazz
I've rated Namiwa Jazz highly since her My Garden of Eden EP came out a while back, but her recent live outings (one at the Sunflower Lounge in particular) have taken her to another level. She's a natural performer with a great band and the live setting transforms her studio work from solid to spellbinding. Her songs take you on a journey that's not always comfortable but end up in a joyous place nonetheless. The arrangements also compliment the stories with a real dramatic element. I retweeted one clip with the caption "Nina Simone had a daughter and let NWA adopt her". This is a different video and apologies for its length but you'll thank me later. It's a bit frustrating for me to write about because I feel I lack the descriptive powers to convey just how good she is, so please watch. Warning – it's intense and it's Not Safe For Work:
Sic'Nis
What does it matter what I think of Sic'Nis when the Wu-Tang Clan rate her so highly they took her on a recent European tour? Her 2kSic-teen EP is a fantastic record that I went to quite a bit of trouble to get hold of on CD. I'd only had it for a few days when I committed the schoolboy error of putting it on in my wife's car, whereupon she commandeered it for her own personal use and I haven't been able to prise it from her iron grip since. Don't tell her, but I've still got this absolute banger on CD single and it's not on the EP:
TrueMendous
You may have been lucky enough to see TrueMendous busking in the city centre but she's moved on to bigger and better things now. On her mixtapes The Autistic Librarian and Hello she deals intelligently and articulately with deep and sometimes disturbing subjects – it's not what you'd term easy listening but what I love about her is the scale of ambition in her music and her desire to make her words count for something. I get the impression that although she'd welcome commercial success she's not prepared to compromise her art for it. She shares that attitude with the rest of my Brummie female top ten so I don't think you'll be seeing any of them on next year's X-Factor!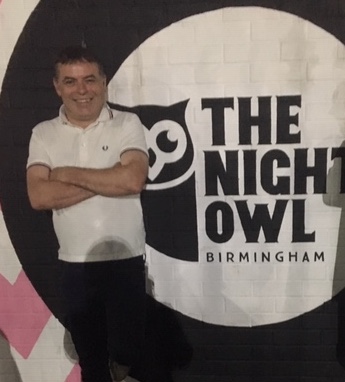 Militant anti-racist and Brummie. Lucky to be born in the most innovative musical city on Earth. If I hadn't been, I'd have moved here by now.