The rise of Lady Leshurr – from Kingshurst Youth Club to the MOBOs and beyond
Are you sitting comfortably? Bluetooth speaker connected? Then I'll begin.
After seeing her perform TLC's No Scrubs alongside my daughter at an Archbishop Grimshaw school concert (I can't recall which one was supposed to be Lisa 'Left-Eye' Lopez), I've followed the trials, triumphs and tribulations of Melesha Katrina O'Garro quite closely.
Years of hard knocks, hard graft and hard bars took her out of the Kingshurst Youth Club where she first learned to handle a mic and into London, sleeping on mates' floors and settees, and making some low-budget videos in which her talent, while evident, didn't quite find the right setting. One event, (at the Royal Albert Hall with Relley C, who went on to progress well in the X-Factor and has just collaborated with Lady Sanity), comes across as some kind of Liberal Democrat 'down wiv da kidz' project, with barely a hint of the magic yet to emerge.
---
Still, it seemed to get her noticed, and she got a small part in Birmingham gangster film One Day. Although all expense was seemingly spared on her hair, make-up and wardrobe, her bars were sleek, smart and beautifully delivered.
---
Finally, her huge talent blossomed and fully announced itself with a self-assured and polished performance at the Royal Albert Hall for the BBC Urban Classic Prom. The hair and make-up were on fleek this time and that, combined with an awareness of her own skill, seemed to have boosted her confidence. She strode onto the stage like a boss, jumped around like she owned the place and even had the cajones to conduct the conductor. The first song was Blazin', the tune that got her equal billing on the 'B-sides' Best of Birmingham music project alongside the likes of Sabbath, Dexy's and UB40. The second was a cover of Chris Brown's Look At Me Now, significant because on the recorded version, her rap was so fast and dexterous people thought it was created by studio sleight of hand. She couldn't possibly be that good live they said, but this proved that she was.
---
Her rise ever since has been meteoric – win after win after win, courtesy of a series of releases overflowing with clever and witty wordplay, each one an improvement on the last. There were the hilarious Queen's Speeches, the wonderful Lukatar, with an intro from Jeremy Kyle, and my personal favourites, the Unleashed series. Unleashed 1 is the Bohemian Rhapsody of Grime. Unleashed 2 contains some of the hardest bars she's ever spat, and the third channels her inner Kendrick Lamar. There were also numerous brilliant freestyles & mixtapes, not to mention Grime on a Samsung advert – coldest, sickest! Inevitably, YouTube views rocketed into the millions, which she celebrated with this joint.
---
Festivals and packed out live shows soon followed, and her really big break came with this gushing review from Yours Truly (wink).
An appearance at Glastonbury was next. I suspect that many of the crowd didn't know who she was at first, but she seduced them with self-deprecation – "just pretend I'm Adele" – and said '0121' a lot, much to this Brummie's delight. Then she slayed them with ridiculous flows, powerful punchlines and easy charm. By the end of her half-hour set, the prolonged applause signalled the audience's realisation that they'd seen something special. When she won Best Female at the MOBOs it was no surprise (although my then five year-old daughter and I still yelped with excitement as her name was announced). Since then she has appeared on Later with Jools Holland, has virtually her own show on ITV2 (Don't Hate The Playaz, Thursdays 9pm) and was a permanent fixture on Channel 4's Big Narstie Show.
I was convinced she was destined for greatness until last Sunday night, when I was sitting on my settee, not even looking at the telly and trying my level best not to listen to it. Suddenly and without warning, halfway through an Olly Murs 'song', it all went horribly wrong. It's too late for me but please, save yourselves. Scroll through to 1 minute 35 seconds.
---
I'm kidding of course. It's all about exposure and there are few shows better than the X-Factor for that. She's still on the up, she still reps 0121 like no-one else does, and like no-one else ever has. I'll leave you with her doing exactly that.
---
By Stephen Pennell, B37.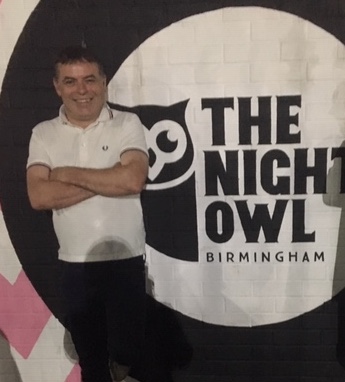 Militant anti-racist and Brummie. Lucky to be born in the most innovative musical city on Earth. If I hadn't been, I'd have moved here by now.