Halloween 2019: The 10 best events in Birmingham
We interrupt your usual gig fix to bring you the spookiest, scariest, rowdiest and down right strangest events in Birmingham this Halloween. Dress up or dress down, day dweller or all night partier, there's something for everyone.
The Nightmare Before Brexit Halloween Party
What: Because what's scarier than Brexit?
When: 25th October
Where: The Old Crown
Tickets: Free
Birmingham's Oldest pub is bringing the true horror this Halloween: Brexit. However, unlike the parliament chaos this political party won't cost you a pretty penny. Featuring DJs, cocktails, fancy dress, party games and more for free, blue passport not necessary.
https://www.instagram.com/p/B3ICPnIAtic/
---
Cave Girl + Homeowner
Who: Birmingham's psych glam stars are back with their debut EP
When: 25th October
Where: Minerva Works
Tickets: £6
After a brief break to fix the tassels on their shirts and fasten their red leather boots, Birmingham's gender-challenging and genre-spanning glam gurus Cave Girl are back celebrating the release of their fresh out the oven EP, with support from the mysterious new project Homeowner.
---
Le Freak: Superfreak
What: The freakiest night on the disco calendar
When: 25th October
Where: The Night Owl
Tickets: £5
Disco? Check. Mirror ball? Check. Thriller dance off… check! The last Friday of the month is always Le Freak, and the award winning disco, funk. soul and boogie club night in Digbeth is getting its freak on for a Halloween special. Expect floor filling 70s and 80s bangers with prizes for the best moves. Flares optional.
https://www.instagram.com/p/B34_5b0jPCK/
---
Swampmeat Family Band
What: Swampmeat Family Band's first Swampo-ween bash
When: 25th October
Where: Mockingbird Cinema and Kitchen
Tickets: Free
Swampmeat Family Band are Birmingham's own Frankenstein's monster. Known for their mash of trashy country punk and slick Americana infused rock and roll, the family are throwing their first free Halloween bash, complete with a secret midnight screening of a cult Halloween classic.
---
Castle and Falcon Halloween Party
What: Intimate independent venue get spooky
When: 25th October
Where: The Castle and Falcon
Tickets: £5
Intimate and independent venue The Castle and Falcon is hosting a Halloween club night for of cheap thrills and Halloween haunts. Drinks deals available all night long and DJs playing indie, old school, chart hits and more all the way until 4am.
https://www.instagram.com/p/B2mQtw-jnik/
---
Dead Man's Tea Party
What: Chilled out vibes for a feel good Halloween
When: 26th October
Where: The Prince of Wales
Tickets: Free
For those wanting a more refined Halloween, The Prince of Wales have plenty in store at their Dad Man's Tea Party. Featuring deals on freaky food and even freakier drinks, plus a boozy tea party with Dead Man's Fingers rum. Dress up or dress down for the most relaxed tea party vibes around.
---
Halloween all nighter
What: An all night dance party at a Birmingham staple
When: 31st October
Where: Snobs
Tickets: £9
Ah… Snobs. Love it or hate it, its part of Birmingham's history as one of the party staples. Now they're taking on Halloween with a hospital of horror theme, and keeping the party going all the way until 6am! There's even a Hospital of Horror theme. See you on the light up dance floor…
https://www.instagram.com/p/B3pllR2laHk/
---
Fruit Tones + Leather Party + Mr Strange
Who: Killer Wave return with a Halloween garage special
When: 31st October
Where: The Night Owl
Tickets: Free
Promoters Killer Wave are bringing a devilishly good load of psych and garage for a free Halloween shindig, fronted by the "tropically hot" garage outfit Fruit Tones. Combine that with Leather Party, Mr Strange and DJs playing indie, garage and psych all night, and that's a terrifyingly good Halloween party.
---
You Can Sit With Us! The Mean Girls Themed Halloween Party
Who: The baddest girls in town are back…
When: 1st November
Where: Button Factory
Tickets: Free
A Halloween party that is like, so fetch. Disco divas Bad Girls are taking over JQ's The Button Factory and throwing an unmissable all American house party. 2-4-1 cocktails, a burn book of positivity and disco, funk, pop and more from DJs Molly and Lauren fill the night, plus a Spring Fling King and Queen contest.
https://www.instagram.com/p/B3t9xY6jQo5/
---
Dia De Los Muertos Party
What: Mexican bar turns into a late night Halloween hangout
When: 1st November
Where: Bodega
Tickets: Free
In Mexico, Dia De Los Muertos celebrates the dead, hoping they rise for one night and reach back to the living. This will e one of the liveliest parties on the block, as Bodega open their downstairs bar for a day of the dead fiesta. DJs Duffy and Ollie soundtrack the night followed by cocktails, best dressed contests and tequila tasting boards. Ariba!
Header image by Jonathan Morgan/Snobs Nightclub
Like this? Try these…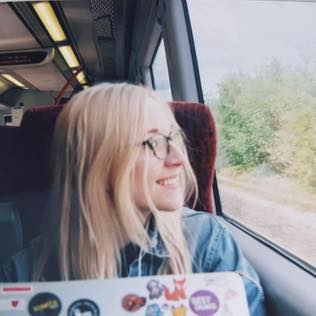 PR, events and social media by day, lover of all things geeky and retro. Can often be found scribbling notes at the back of the gig.