Review: Table Scraps are top-notch at SXSW fundraiser
On February 28th, Table Scraps were joined by The Cosmics for a fundraising gig at the Hare & Hounds. All proceeds help fund the trio's trip to play SXSW in Texas this summer.
[amazon bestseller="table scraps"]
The Hare and Hounds is buzzing downstairs and upstairs when The Cosmics take the stage. The excitable garage-punks have become a staple on Birmingham's live scene, and it's easy to see why. Their high energy set is the perfect warm up for the evening, the Boyle brothers' grungey energy offset by Erin Grace's fuzzed out bass, beehive and banshee vocals.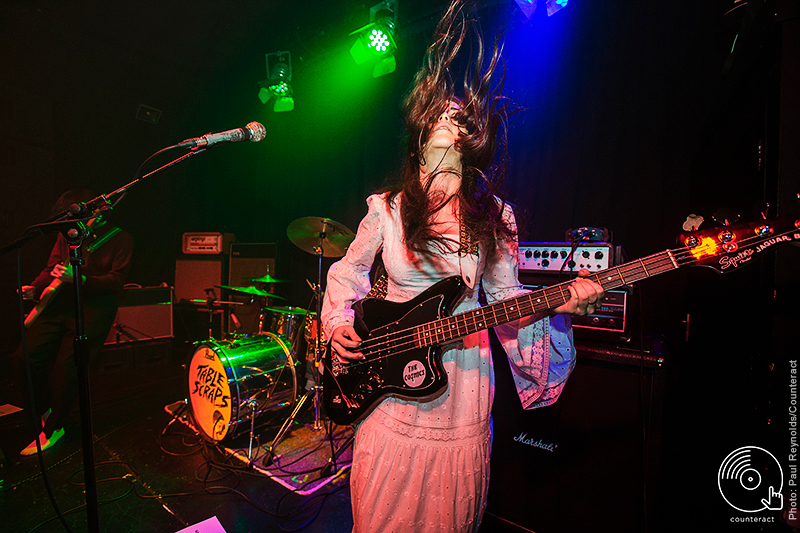 The Cosmics
A highlight of their set is the electrifying 'Trust is Blind'. Grace proudly tells the audience that the video for the 2018 single was shot on that very stage by Table Scraps Tim Mobbs and Poppy Twist, under the guise of BVU Ltd. With an EP in the pipeline, 2019 is set to be a big year for The Cosmics.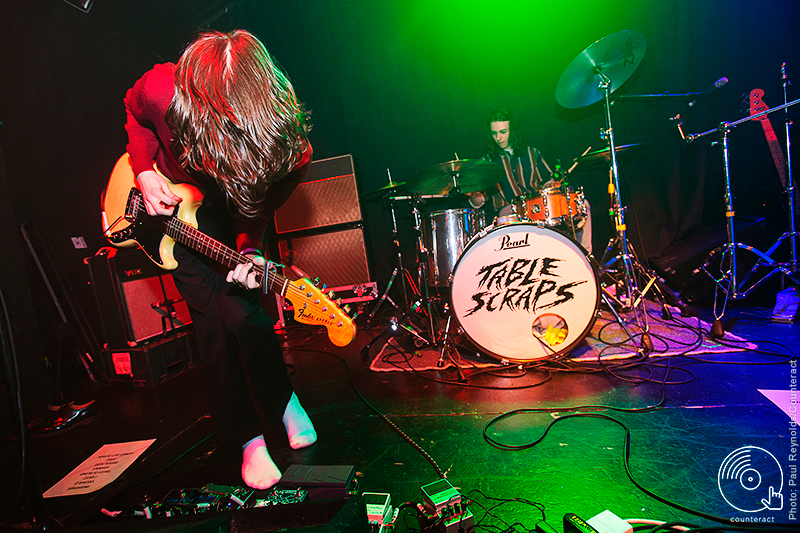 The Cosmics
After a brief interval with Black Mekon manning the decks, Table Scraps kick off their set. Bassist Mobbs and guitarist Scott Vincent Abbott are clad in matching Cherry Pickles t-shirts, a nod to their garage-rock brethren who are also shipping out to SXSW this summer.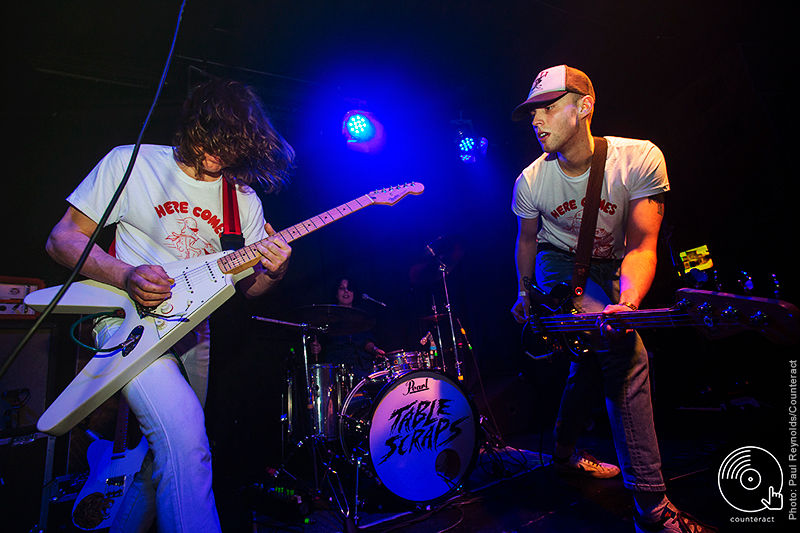 Table Scraps
The set is an unrelenting stream of distorted earworms. Tracks from 2018's Autonomy make up the bulk of it. 'Sick of Me' and 'I'm A Failure' prompt mass sing-a-longs from the sweaty room, while live favourite 'My Obsession' is as thunderous as ever. The whole show feels like a victory lap for Scraps, as they bounce seamlessly from song to song. Abbott's latest creation, the "flying strat", seems to be working a treat. Cherry Pickles' Priscila Magalhães Bezerra Baker attempts multiple stage dives. Twist flings one of her sticks across the stage at one point, but no one is phased.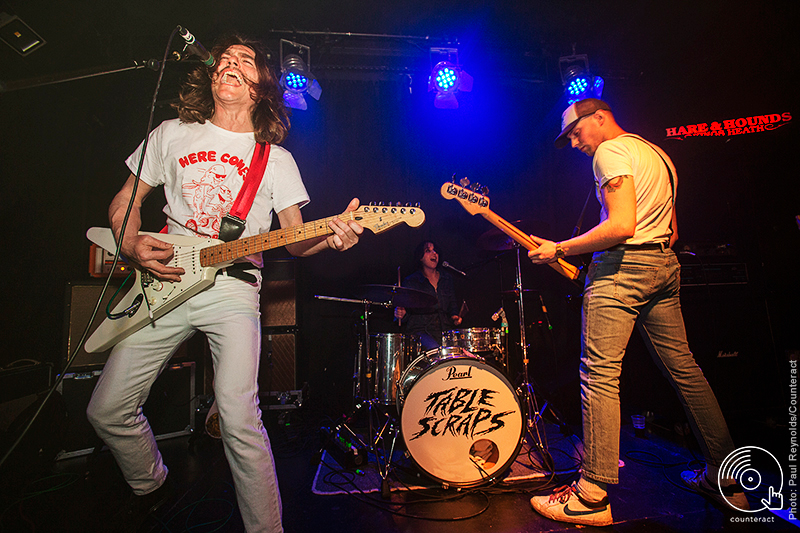 Table Scraps
The evening draws to a close with fan-favourite 'Motorcycle (Straight To Hell)', which dissolves into a twisted version of Black Sabbath's 'Paranoid' as is the local custom. As the house lights come up, Black Mekon fade in 'America Fuck Yeah!' from Team America with a wry smile.
Photographs by Paul Reynolds
Visual artist, multi-instrumentalist, and scrounger. Always wearing headphones, probably listening to Ezra Furman, Sleater-Kinney or Goat.