Interview: Table Scraps talk Birmingham, touring and their new album Autonomy
Birmingham three-piece Table Scraps are possibly the best band to come out of the city since the mighty Black Sabbath, and are heralded as garage-punk heroes. 2017 has seen them playing shows up and down the country and their new single 'Sick of Me' has had radio play by the likes of Steve Lamacq and Tom Robinson. Their new album 'Autonomy' is due out early 2018 and they seem like a band on the verge of exploding. 
---
We sat down with the band for a quick chat about all things 'Scraps, and they instantly revealed what makes them tick and how a they have emerged from the Birmingham music scene to gain increasing popularity across the UK. "We generally lose ourselves in our own weird world. We're interested in all sorts: loud music, horror movies, turning our houses into rock n' roll museums, the list goes on.
"Brum has its strengths and its weaknesses, but we'd instantly become 80% less productive overnight if all three of us were slogging away at normal jobs just to get by in a tiny flat in Zone 5. However, there's no point putting all your eggs in one basket and becoming the Undisputed Champions of Birmingham – getting out and playing other cities like Bristol, Leeds, Brighton and, of course, London were instrumental to the progress we've made this year and made playing at home feel more special. You do need the feedback of people in other towns to get better and, to an extent, you do need to target the people who can make things happen for you."
Table Scraps' previous material has had a raw angry energy, they explain that some things don't change: "It's also, as before, all been recorded live and produced by ourselves in our little room in Digbeth.
"While we're now a trio as opposed to a duo, and our recording techniques have become (slightly) more refined, it's louder and packed with more resentment, self-loathing and bile. 'I'm A Failure' is the one where we knew it was all coming together. There are brushes with glam, straight ahead punk and two-chord fuzz dirges so something for all the family."
The past 12 months have been jam-packed for Table Scraps with gigs up and down the country and abroad – and there's no sign of them slowing down just yet: "There's been plenty of highlights this year alone – it felt very special to pack out The Hare (& Hounds) on a night we'd cobbled together with Black Mekon for our split-single launch in April. Stage invasions at total freak outs in Paris and London, touring with Black Lips for a few nights was as wild as it sounds.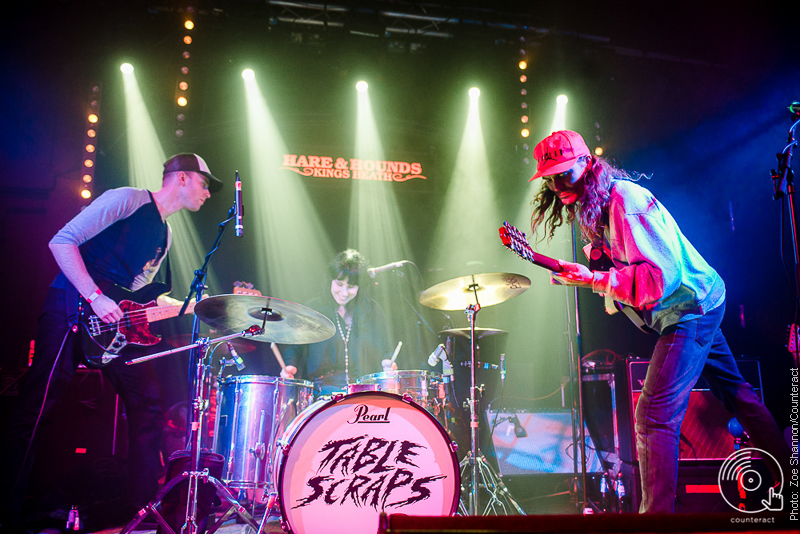 Table Scraps supporting Black Lips, November 2017
"We were invited to headline The Wurlitzer Ballroom in Madrid last December and it was nuts. The whole city is a Garage Rock Utopia where bars are themed around pinball machines, leather jackets thrive and we were treated like a "big deal" by everyone.
"The show was chaos and we ended up running around bars signing records, holding court from DJ booths in huge rock clubs, etc. It got very blurry really quickly. Tim looked like a reanimated corpse the next day and it's the only time we've ever seen him not want to eat."
On Birmingham's music scene and the troubles encountered by venues such as The Flapper and The Rainbow, Table Scraps are very vocal: "New little scenes seem to burst up from nowhere which is great. You don't need to worry about Brum too much – the wheel just keeps on spinning. Bands like False Grails, Cave Girl and The Cosmics are worthy newbies!
"Dismantling and disregarding the impact of culture is always very worrying and, beyond our bias as artists, really short-sighted. While we're probably more nostalgic about The Flapper, thanks to its "rock" leanings, you've got to look at the bigger picture as well: The Rainbow is practically the heart of Digbeth's, if not Birmingham's, cultural offering and has done an amazing job at attracting discerning music fans to the city.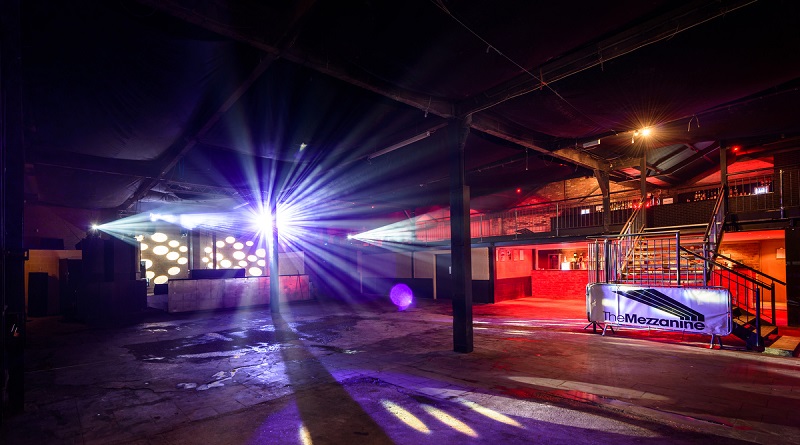 The Rainbow Warehouse
"We need to have grown up conversations about drug use that don't penalise venues who are already under immense pressure. Come to think of it, doesn't it feel like all the "luxury apartments" that Brum already has to offer are nowhere near full anyway? Who are these developments for?"
With the new album 'Autonomy' dropping early 2018, it looks like another busy year ahead for Table Scraps: "The album is the big one for us – it's out on February 23rd and we'll be touring all over to celebrate. Obviously, the big one for us is The Hare & Hounds on March 2nd. We're bringing up two amazing bands from Bristol – a city that has been incredibly good to us – Yo No Se and Captain Süün, as well as our hometown favourites The Hungry Ghosts. They've gone from strength to strength every time we've seen them so we're thrilled that they'll be joining the fun. It's going to be one of those unmissable, emotional, pull out all the stops kinda nights. Black Mekon are going to be DJing too, so it's got it all."
Tickets now on sale for the album launch party on March 2nd here.
Check out the new video for 'Sick of Me' single (out now) from the forthcoming album 'Autonomy' (out March 2018).
Music/Arts/Leisure/Brum
www.mazzysnape.com