Review: Black Lips reign supreme at the Hare & Hounds
Black Lips cemented their status as garage-rock icons to a packed room at the Hare & Hounds on Monday 20th November
Support came from local heroes Table Scraps and Saul Adamczewski of Insecure Men/Fat White Family
Products from Amazon.co.uk
‹
›
Table Scraps kick off at 8pm sharp and hammer out a high energy set of hits and soon-to-be hits. The drone of 'Bad Feeling' echoes through the main room of the Hare & Hounds as more and more people arrive. They launch into the blistering riff of 'Electricity' and drummer Poppy Twist narrowly avoids being hit in the head with Tim Mobbs' bass. Newer tracks go down a treat too. 'My Obsession' originally released last year as part of Black Mekon's 45 Consortium, is all primal drums and stone age chanting. It's easy to see what compelled Idles frontman Joe Talbot to give it a spin on Radio 6 recently.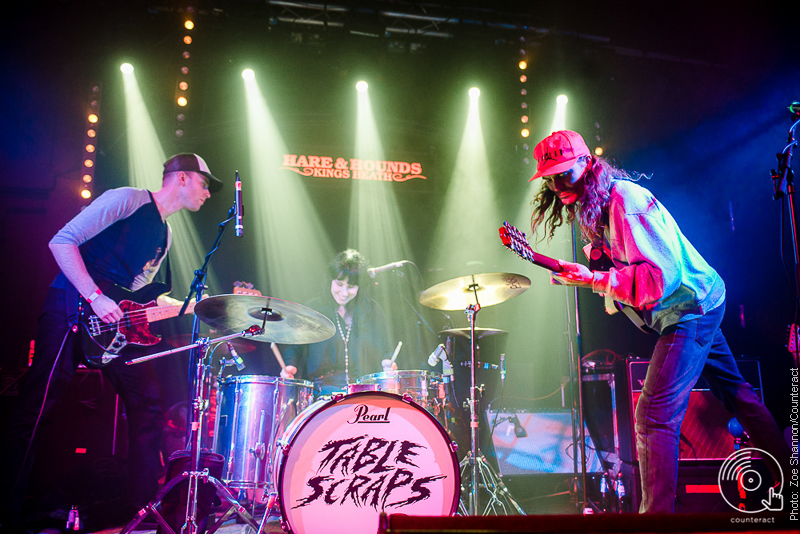 Table Scraps
Table Scraps go straight from this into their brand new single, 'Sick Of Me', a snotty punk tune with a disgustingly catchy chorus. They close the set with the ever popular 'I Bought A Vampire Motorcycle', inspired by the Birmingham b-movie of the same name. Scott Abbot's guitar squeals through multiple boutique fuzz pedals. Mobbs slings his bass over the front of the stage and it makes an unnerving thud as it slides down the monitor.
Saul Adamczewski of Fat White Family fame performs next under the moniker Insecure Men. After Table Scraps, who are if anything a little too on the nose to support Black Lips, Adamczewski seems like a strange booking. He delivers warm songs on acoustic guitar, leaning away from the microphone slightly to perform his own backing vocals.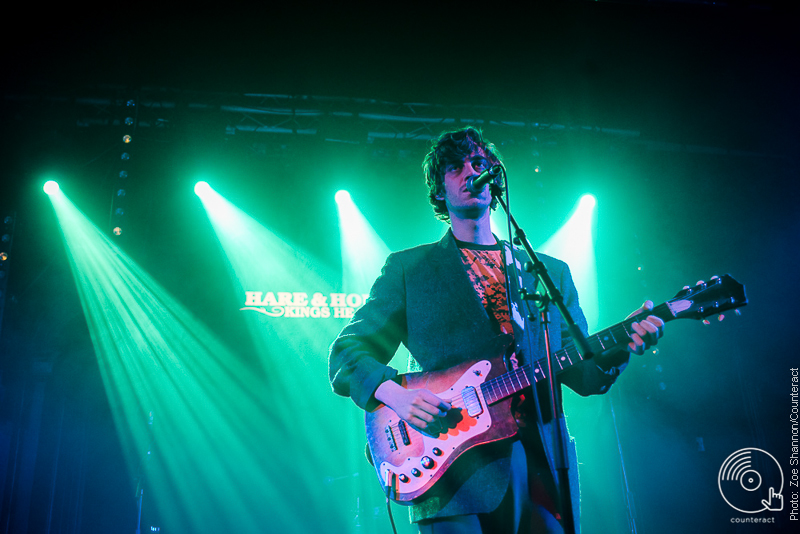 Insecure Men
"This song is about me and Cliff Richard having an affair."
His deadpan delivery is more stand up than anything else. The room is silent except for laughs in all the right places. For example as he sings, "Cliff Richard sure looks pretty / he runs his fingers through my hair." He closes the set with the wistful, 'Goodbye Goebbels'. He tells the now enraptured crowd not to worry, "this is the last song and then you get Black Lips."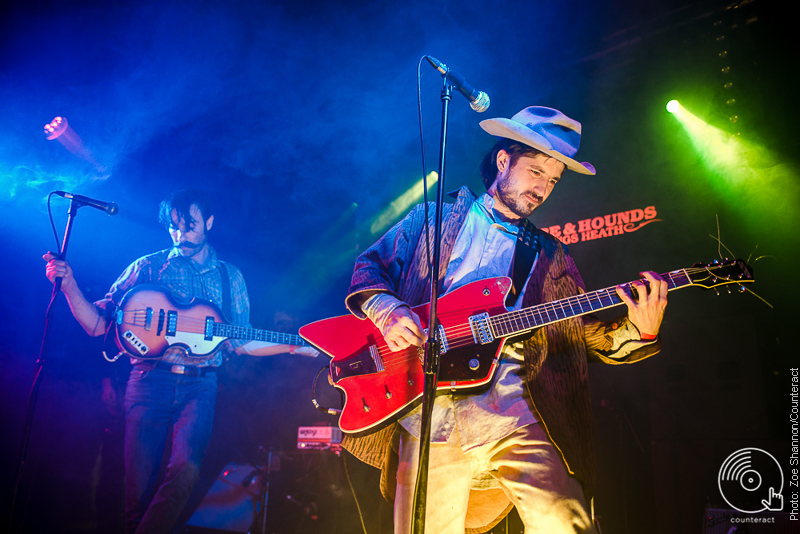 Black Lips
Black Lips storm onto the stage accompanied by fanfare and get stuck into 'Sea of Blasphemy' from 2005's 'Let It Bloom'. The crowd erupts. Two members of the tour crew fling rolls of toilet roll towards the stage, white streams of paper unfurling above the heads of the audience. During the chaos of 'Family Tree', balloons emblazoned with the Black Lips logo are blown up and batted around the room. 'Can't Hold On' sees guitarist Alexander Cole's yowling vocal perfectly matched by the shrill guitar line. Cole leans in to the mic after it finishes: "That's on our new record, 'Their Satanic Majesties Request'".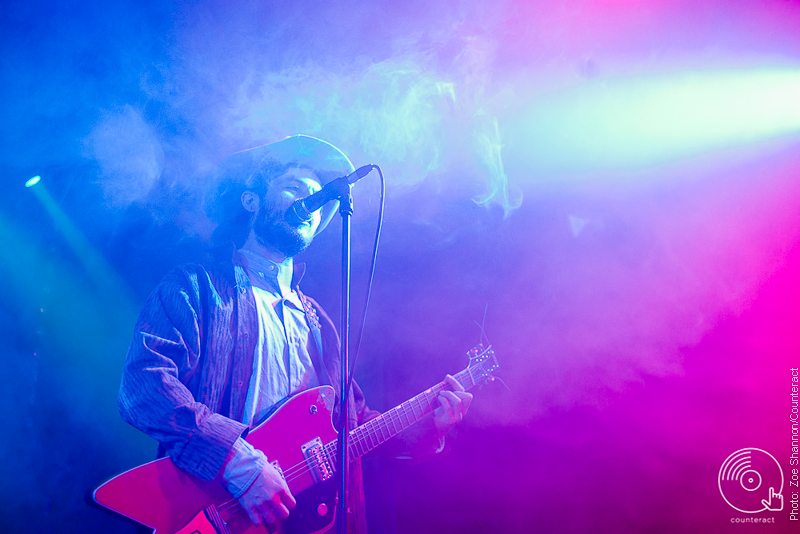 Black Lips
It is in fact on their new record, which is actually called 'Satan's Graffiti or God's Art?' and is out on Vice Records. Wildcat noises herald the start of 'Bone Marrow' complete with jangly guitars and doo-wappy vocals. Bassist Jared Swilley proudly announces to the crowd, 'We're like roaches. We're like herpes. There's no cure for us." It's clear that no one is looking for one. To the delight of the crowd, the band launch into 'O Katrina!'. Balloons are grabbed and tossed back into the air. It seems almost everyone, band and crowd alike, has beer-soddened toilet paper clinging to the soles of their shoes. The set mutates into an impromptu version of 'Iron Man'.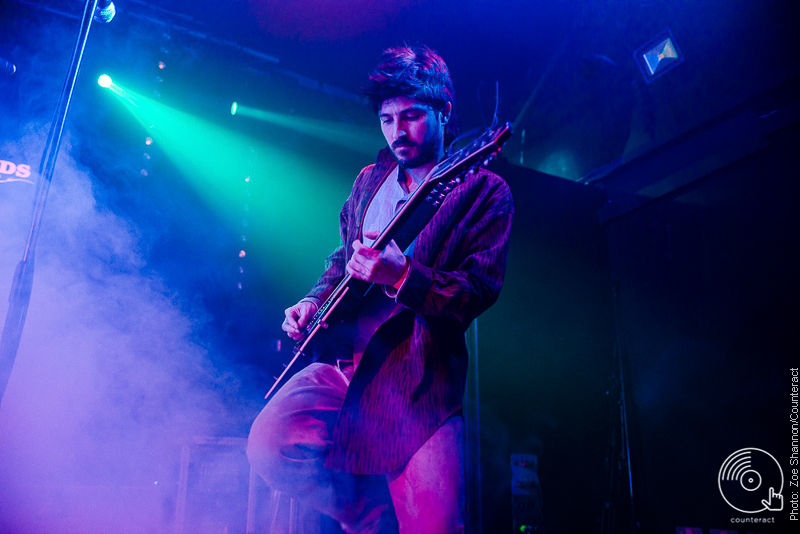 Black Lips
Closing the set with 'Raw Meat', the Black Lips disappear from the stage and the crowd begins to file out the single door to the stage. The lights remain low. Set lists are retrieved from the stage by eager fans. Once the room has cleared a little, the Black Lips reappear, announcing a 'secret set for the guys who stayed'. Arguably that's what an encore is, but no one's about to argue. A woozy cover of Jaques Dutronc's 'Hippie Hippie Hoorah' is followed by the Almighty Defenders' stormy ballad, 'Bow Down and Die'. Cole leaves the audience with these words to ponder:
"Love your mom, love your dad, and if you don't have a mom or a dad, remember we're all lookin' at the same side of the moon and sleepin' on the same pillow. Goodnight, Birmingham."
Photographs by Zoe Shannon
While you're here...
Thank you for visiting Counteract. This article may contains affiliate links which help contribute towards the website's running costs. If you were planning on buying tickets, accommodation or music, please purchase through any of the links or banners on our website as we receive a small amount of commission on all sales driven. Without this, we're unable to keep publishing content. Thank you in advance.
Bassist, illustrator and graphic designer. Always wearing headphones, probably listening to Ezra Furman, Sleater-Kinney or Goat.