Review: The Legitimate Peaky Blinders Festival crashes down on Digbeth
Across the weekend of September 14-15, The Legitimate Peaky Blinders Festival wowed crowds with an experience like no other, transforming the industrial streets of Digbeth into a 1920s immersive experience
Unless you've been living under a rock, you'll know that the Peaky Blinders has taken not just Birmingham, and not just the UK – but the world by storm. There are themed bars, spirits, ales, craft beers, festivals, quizzes, clothes… the list goes on. Up until now, none of them have been officially endorsed by Peaky Blinders creator Steven Knight himself, and some of them have even been heavily criticised. Step forward: The Legitimate Peaky Blinders Festival.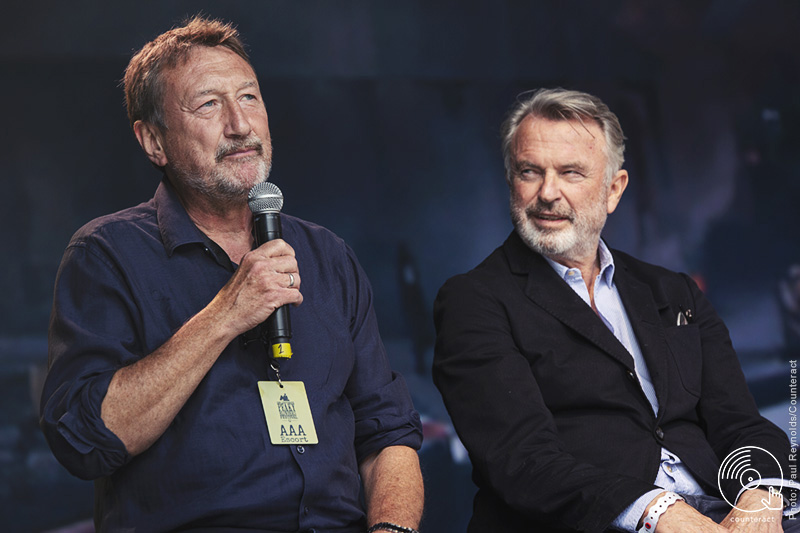 L-R: Steven Knight (Peaky Blinders creator), Sam Neill (Inspector Campbell)
Knight, so keen to distance himself from the unofficial events that have spawned over the last few years, pulled out all the stops to make sure that this was an event to remember in the heart of where the Peaky Blinders once caused havoc – Digbeth. Big music names like Liam Gallagher and Primal Scream joined cast members like Paul Anderson (Arthur Shelby), Finn Cole (Michael Gray), Kate Phillips (Linda Shelby) and Harry Kirton (Finn Shelby) across the two days, while Dank Parish (professional actors, donned in Peaky get-ups) took to the streets for impromptu street performances outside the pubs and venues that the first 'Blinders once activity once took place.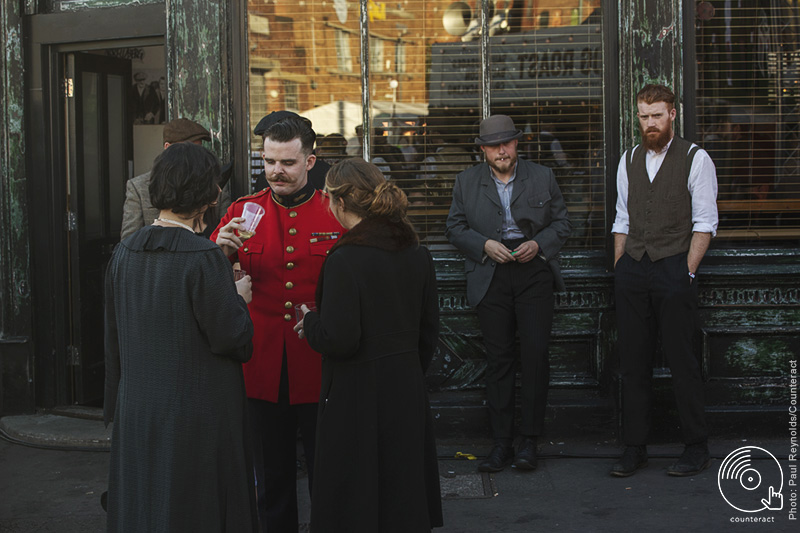 Street actors
Set across three major outdoor stages and various indoor venues, Saturday saw everything from local talent on offer, including fuzzy garage rock trio The Cosmics who blew the cobwebs off the BBC Introducing stage, to global superstar Liam Gallagher whose secret-but-not-so-secret set in a Digbeth car park was a major milestone in Digbeth's recent personal achievements. Liam Gallagher in Digbeth, who'd have thought it.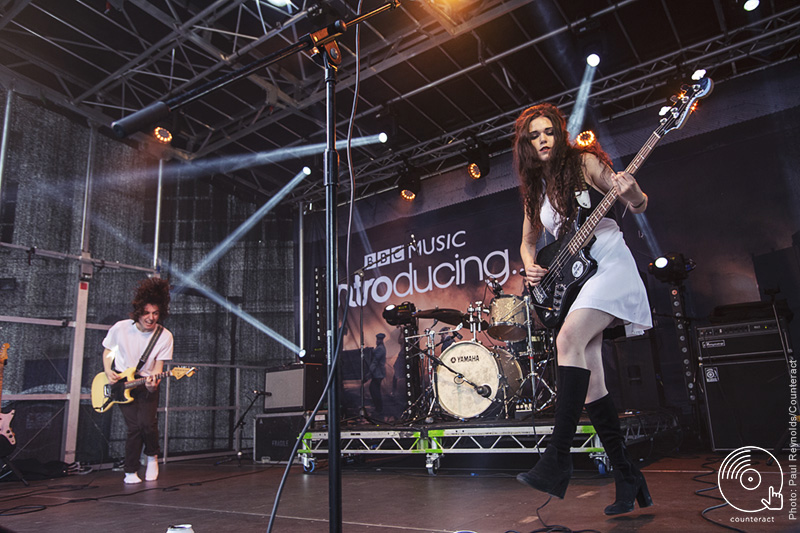 The Cosmics
Such was the secret so poorly kept that the queue for the main stage snaked across the site and into the BBC Introducing stage crowd meaning that hundreds of unsuspecting Gallagher fans were being treated to the polished sounds of The Clause, one of Birmingham's brightest exports. If you don't know them already, you probably will soon.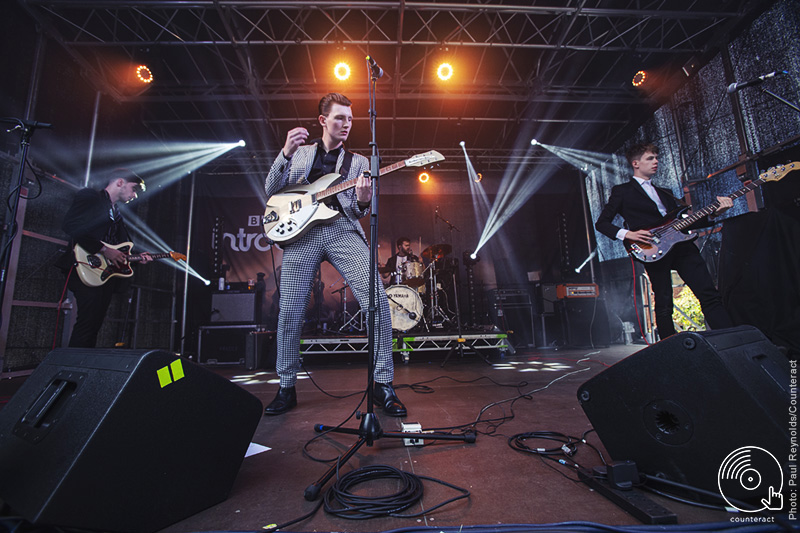 The Clause
Having composed the score for the latest series of Peaky Blinders, it was a shoe-in that Anna Calvi would put on a show. The London singer-songwriter was joined on stage by special guests Jehnny Beth from Savages and Richard Hawley, with the highlight for many being a cover of Nick Cave's Red Right Hand, the theme to Peaky Blinders.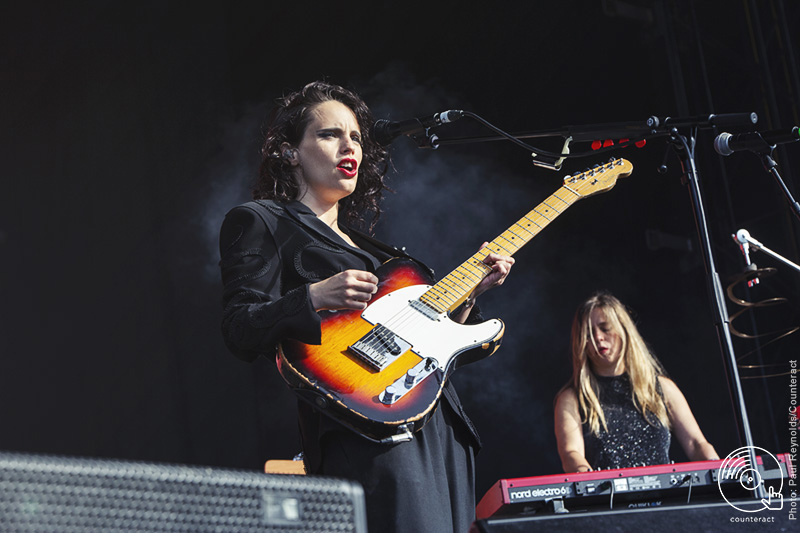 Anna Calvi
As the sun blared down on Digbeth, Liam Gallagher strolled out on stage with his usual Manc swagger, demanding his band restart as they "don't do tinpot," before kicking into Rock 'n' Roll Star and Morning Glory. Performing tracks from the Oasis back catalogue and his two solo albums, Gallagher was truly in the Peaky spirit, wearing a flat cap while his family watched on from the side. The biggest crowd of the weekend by far witnessed an iconic set from a legendary artist who ended on what else but Champagne Supernova, a few hours before Gallagher was pictured partying the night away in the crowd at Primal Scream and with his family at The Ruin – we like your style.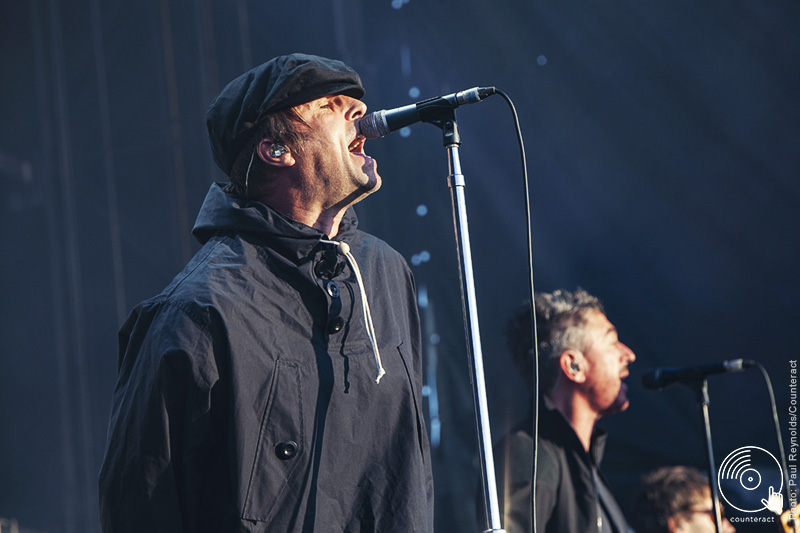 Liam Gallagher
While plenty of people roamed the streets looking for a Peaky haircut or seeking further immersive experiences, all that was left was for Scot rock legends Primal Scream to close day one – and what a way to close the night. Though the crowd had quite clearly dwindled (you can thank Liam Gallagher not headlining for that) the quintet treated Peaky Blinders fans to hits like Movin' On Up, Loaded and Rocks, leaving those in attendances witnessing maximum rock 'n' roll, indeed.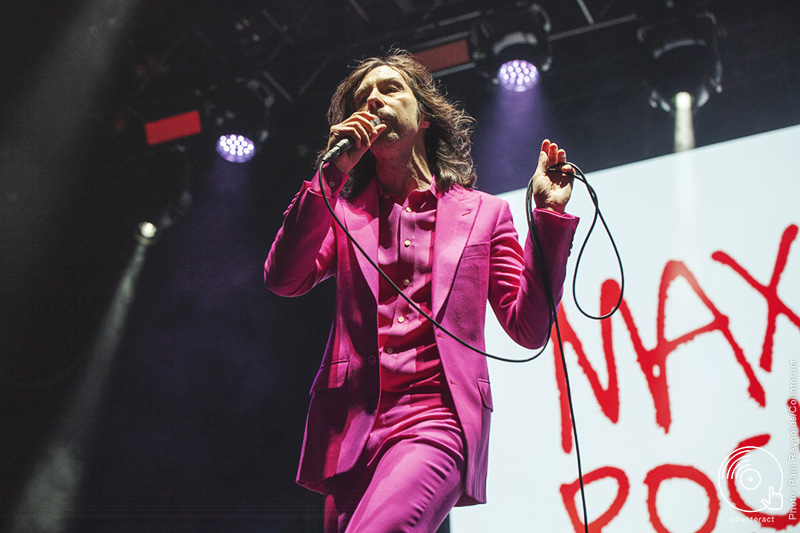 Primal Scream
Whether it was the hangovers or a lack of Liam Gallagher, day two was certainly a more relaxed affair… for punters at least! Theatre company Dank Parish certainly stepped it up a notch with impromptu bare knuckle fist fights, an invigorating women's protest and choreographed boxing matches on the streets and venues of Digbeth on a day where Peaky fans seemed to do more exploring than drinking. Tommy Shelby would be disgusted…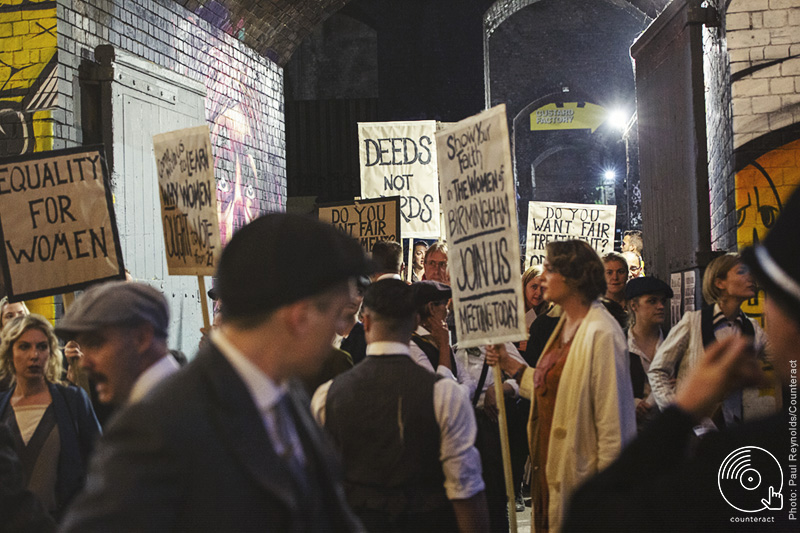 Women's protest by Dank Parish
What Sunday lacked in its comparable attendance was certainly made up for with its offerings. Showcasing a line-up of music well in turn with the storylines the criminally good BBC series projects, Sunday was noticeably heavier in its display with music from the likes of Frank Carter & The Rattlesnakes perfectly complimenting the aforementioned bare knuckle fist fights. One of the fist fights even took place during a planned interruption in cast member Packy Lee's (Johnny Dogs) DJ set, with Laurie from Slaves even getting involved.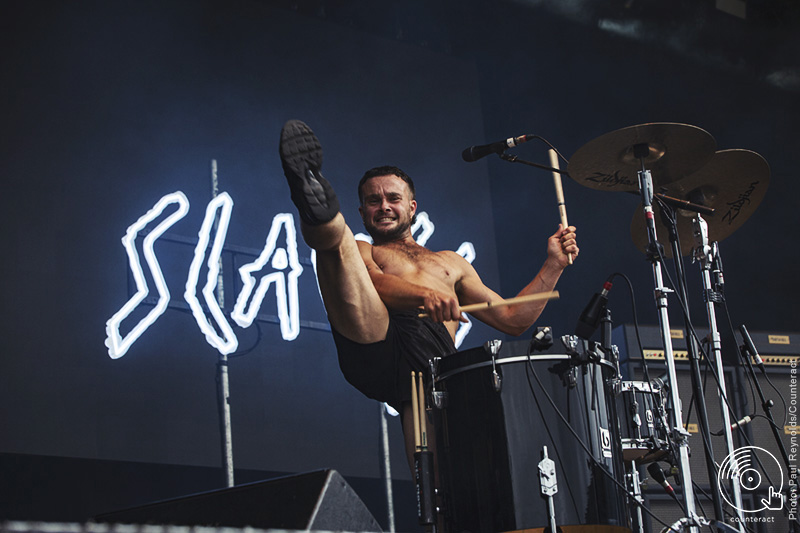 Slaves
Slaves, who entered backed by The Vengaboys' We Like To Party, turned up the heat in typical Slaves fashion. Their hour-long set had it all from fan favourites to crowd participation, with Laurie strolling into the audience to tell a few stories. The likes of Where's Your Car Debbie? and Cheer Up London brought some mild angst in time for Sunday night's headliners, who went full-throttle angst.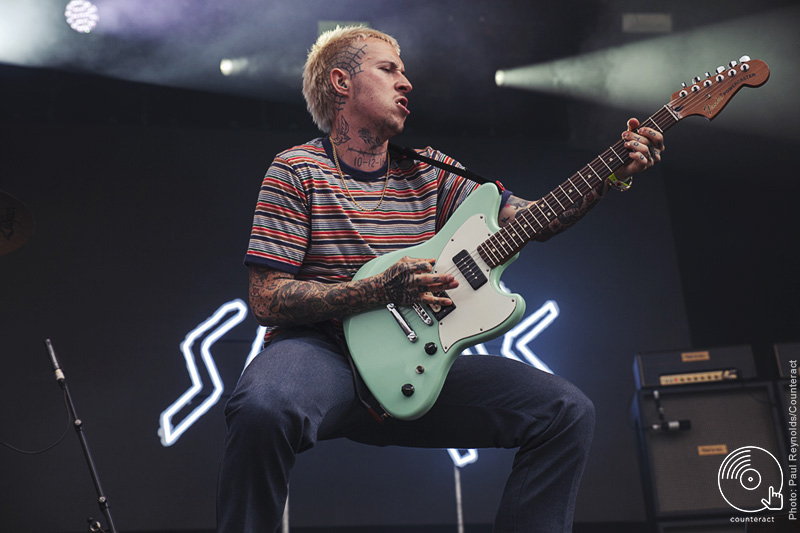 Slaves
And what better way to bow out of The Legitimate Peaky Blinders Festival's debut event with a crashing closing set from Frank Carter & The Rattlesnakes? This lot don't do things by halves. If you've ever seen a Frank Carter show – whether in this current guise or with his previous band Gallows – you'll know that it's an explosive experience.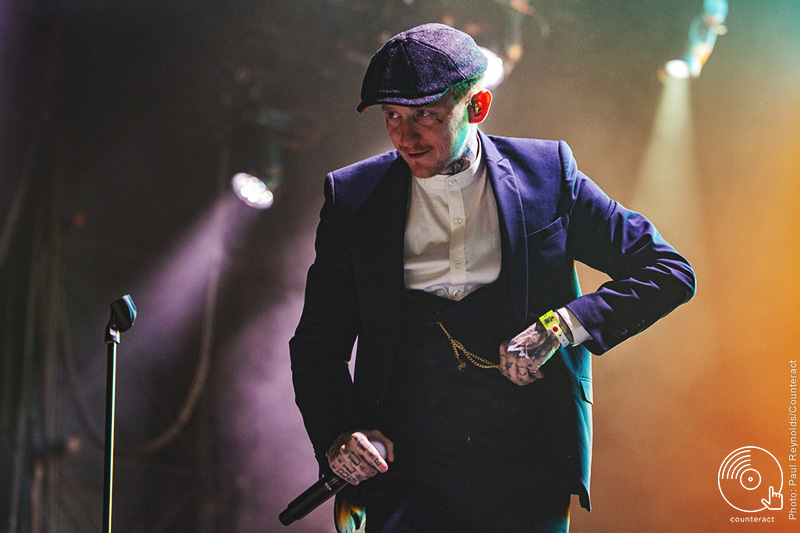 Frank Carter & The Rattlesnakes
Encouraging inclusivity and fan participation, Frank Carter and his Rattlesnakes blasted through a set which featured crowdsurfing, circle pits, moshing and in-your-face showmanship from a man that encourages the crowd to scream his own lyrics "I fucking hate you and I wish you would die," back at him. If there was ever a British band that encapsulates the spirit of the Peaky Blinders, it's this lot.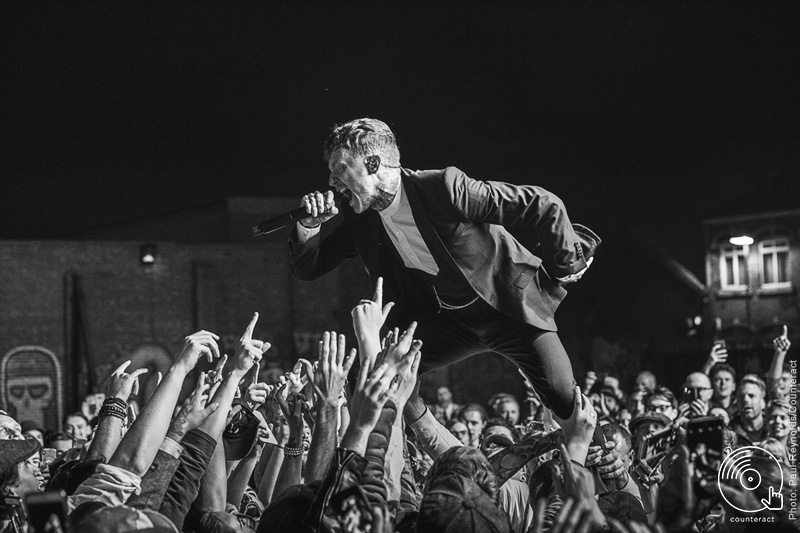 Frank Carter & The Rattlesnakes
Those who have seen this band before were loving it. Those who had not were visibly confused. Out of their comfort zone? Probably. But it's the Peaky fucking Blinders, what else did you expect?
Photographs by Paul Reynolds
Like this? Try these…
Founding editor of Counteract. Freelance travel and music journalist.