Review: Primal Scream take Birmingham's O2 Institute on a nostalgia trip
Primal Scream play to a worshipping Sunday evening crowd at Birmingham's O2 Academy
The Glaswegian band's Birmingham calling point is part of their 2016 album tour marking the release of eleventh album Chaosmosis
Tour support came from Japanese hailing, London based noise rock band Bo Ningen
Certainly a Sunday shake-up for the contents of Birmingham's O2 Institute. A unique fusion of swishing tresses, theatrical flair, revolving guitars and mesmeric tones fell before the expanding crowds. London based outfit Bo Ningen executed a thrilling set, not for the faint-hearted. Haunting by sight, heavy by sound the Japanese four-piece sandwiched classic heavy rock with a ferocious seventies tang. Eerie climbs fell rapidly into extreme tempo-changes, Japanese lyrics reverberated throughout impeccably timed rips and tears, the ritualistic atmosphere enveloped the crowd.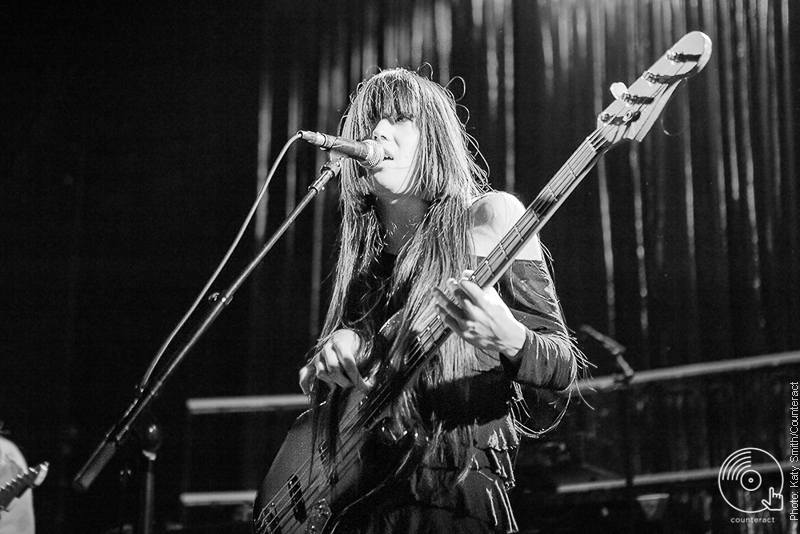 Bo Ningen
Trippy and intoxicating, Bo Ningen's elixir poured out. Structured in their openings before flowing freely into crashing instrumentals, they thrash around the stage, loosely clothed in lengthy cloth, the mysterious quartet raise pulses as they free-fall through layers of clattering beats, eruptions of melodic lava and chilling, vociferous vocals. Resemblant of a ceremonial event, the band, fronted by Taigen Kawabe, lead the audience by the hand on a gripping, powerful and intense sensory journey. Seeing is generally believing, however the works of this foursome are not crafted to be psyched out, but consumed with caution ahead of the acid-like side-effects. An unmissable experience and unquestionable talent.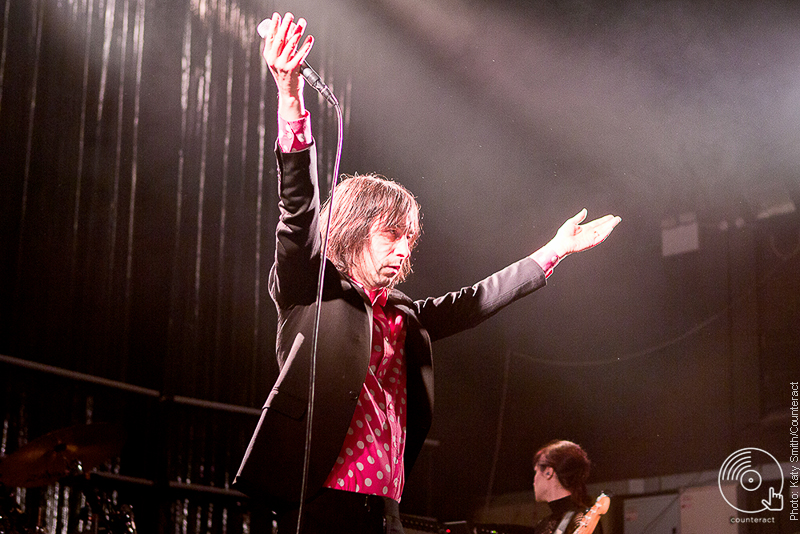 Primal Scream
Following the intensity of the hand-picked support, it all feels a little too comfortable again. Firmly seated in the heavens of the ornate converted Methodist Chapel and static in stance on ground level, the crowd anticipated the entrance of legendary Glasgow band Primal Scream. Silver shimmer cloth created a back-drop for the nostalgia, coloured lights illuminated the anticipation; Bobby Gillespie strutted on stage. A warm welcome from the Sunday-best garbed audience preluded the burst into their awaited set and an eruption of energy filled the room for the Screamadelica favourite 'Movin On Up'.
The show marking the release of eleventh album Chaosmosis; released in March of 2016. Originally toured early this year, the latter part of the run was put on hold due to injury sustained by iconic frontman Gillespie. Touching on present day tracks the band proffered a flawless live performance of some of their greats, not doing so would have been criminal. The first taste of their new flavours came early with 'Where the Light Gets In' a duet with US singer Sky Ferreira; fizzy, bubbly electro-pop with deep meaning. Demonstrating their renowned versatility 'Feeling Like A Demon Again' followed, which was well received by the buoyant gathering, hook-filled and jangly touching on eighties robotic hums. Chaosmosis is a real work of art with Gillespie's unrivalled signature all over it.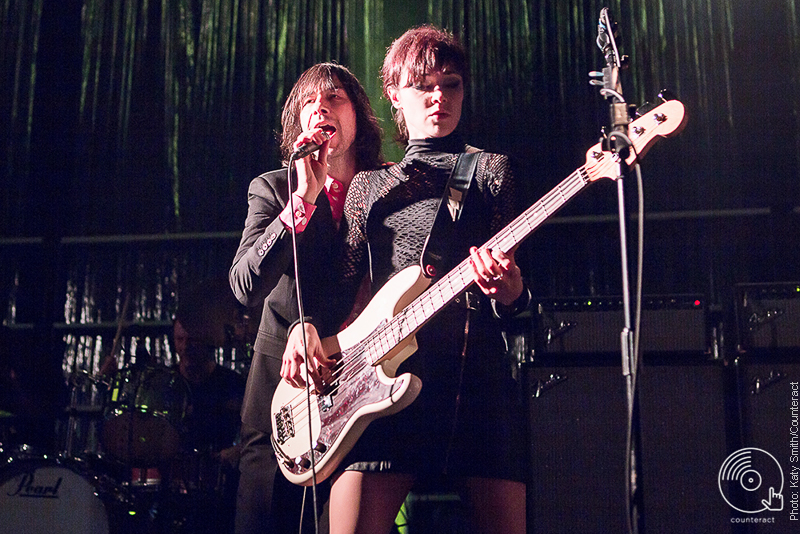 Primal Scream
Gillespie, once drummer of influential East Kilbride band; The Jesus and Mary Chain, exuded iconic status with little need to lose composure and let loose as the crowds worshipped his every note. Explaining his desire to dedicate '(I'm Gonna) Cry Myself Blind' the Sunday gathering were very much hungry to hear a continuation of Primal Scream's artistic outpourings. Neon lights sliced through the back-drop in tropical hues, quickly altering to monochrome flashes as the 90's blinder 'Higher Than the Sun' met the congregation. Psychedelic effects irradiated the reverie-struck masses, visibly reminiscing, basking under the cosmic, trance tones of the much-loved track.
Sporting a loud polka-dot number, the ever stylish Gillespie carried fans through '100% or Nothing', of Chaosmosis and on a further nostalgia trip, dropping them deep into 'Loaded'. Britpop swag coupled with a mass sing-a-long wiped away any sign of Sunday evening blues. Eighth in this stretch of their Chaosmosis tour, Primal Scream rocked Birmingham.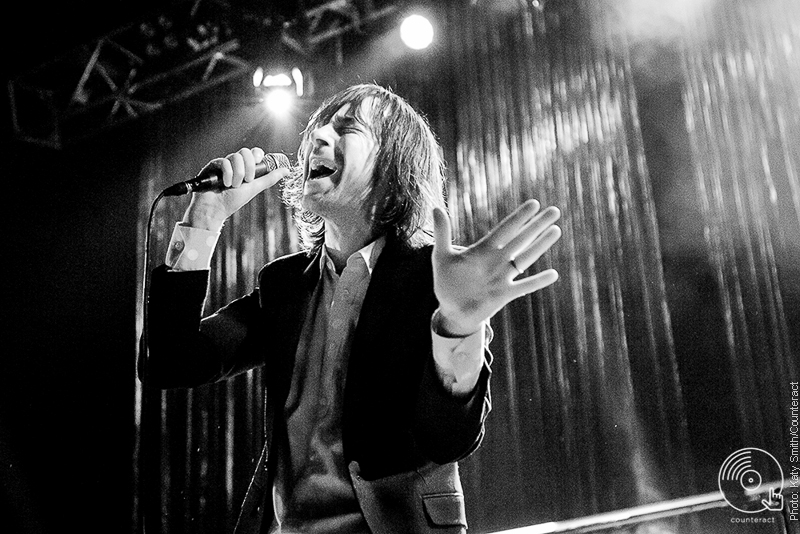 Primal Scream
In attempt to share in the cities culture Gillespie's suggestion to rename Riot City Blues opener 'Country Girl' to "Black Country Girl" was met with response only from a handful of individuals. Second line into the track, Gillespie uttered his realisation that this perhaps didn't represent the locality and reminded that "This is not a slick show, it's rock n roll". 'Country Girl' took hold once again and prompted a synchronised bounce as control was lost, just for a little while. A brief thank you and goodbye cued groans of disappointment and a stubborn stance remained awaiting the encore of the flawless as ever musical sensation.
Unifying the gathering, the 2007 NME Godlike Genius Award winners closed their musical Sunday School with hugely popular 1994 single 'Rocks'. Never failing to churn out unique, intricate and perfectly crafted music Primal Scream hosted a real crowd pleaser of a show. Within the refurbished Methodist Chapel, Birmingham's O2 Institute, some real Sunday rituals were carried out, loyal Primal Scream worshippers left in awe of the preachings offered by Bobby Gillespie and his Britpop sensation and with full faith that their musical legacy will continue alongside their unsurpassed ability to remain at the top of their game. A band who's sound, vision and creativity is simply matchless.
Photographs by Katy Smith