Review: Henge touch down in Birmingham to spread Cosmic Dross
Cosmic rave-rockers Henge played to a packed Sunflower Lounge on Sunday 7th April, with support from Manchester based multi-instrumentalist Shunya.
[amazon bestseller="henge"]
It's a Sunday night and the Sunflower Lounge is full of an unfamiliar crowd, clad in tin foil hats and vaguely ceremonial looking robes. More than one person sports extra eyes, either of the googley or face paint variety.
Support comes from Shunya, an Irish-born multi-instrumentalist who's previously collaborated with Josephine Oniyama, Werkha and DJ Yoda. Alan Keary, the mastermind behind Shunya, is performing solo tonight. He stands with his violin, surrounded by racks of various synths and sequencers that spill out onto the dance floor. Keary builds up lush, otherworldly soundscapes of looped violin, synth, live vocals, and samples. Making use of sounds from the SNES game Chrono Trigger, he laments his youth.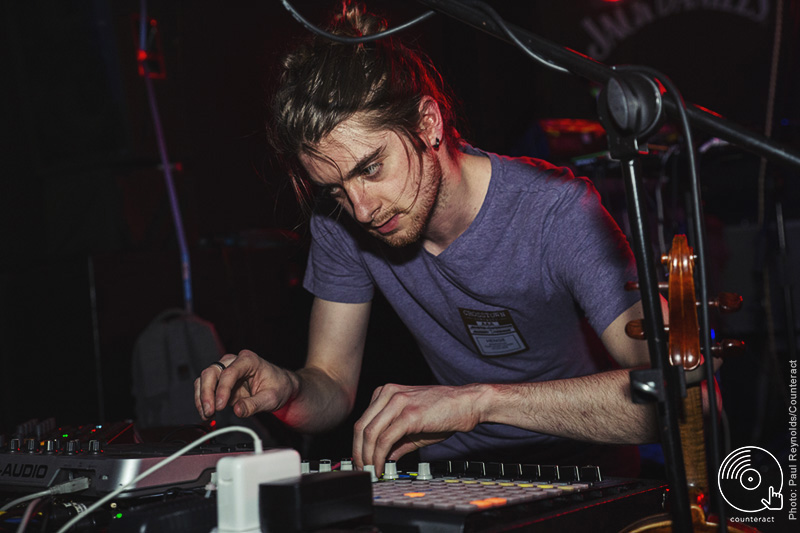 Shunya
"I coulda been off flirting with girls, but I was at home playing video games and practicing my fiddle." Judging by the warm reception he gets tonight, it was time well spent.
Henge wade through the crowd in full costume to reach the stage. Their frontman, who goes by the name Zpor, is the last to make it to the front, stopping along the way to waggle his fingers at a number of audience members. More than one person is compelled to touch the plasma lamp he wears on his head.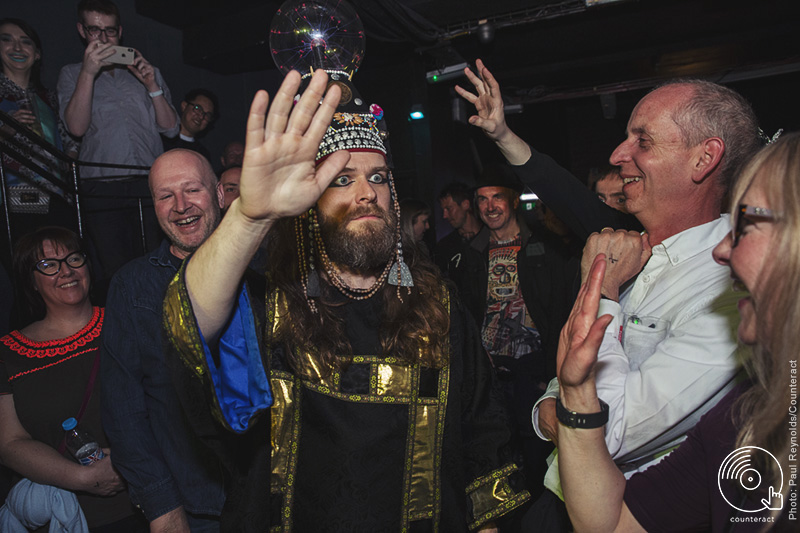 Henge
The band start up, filling the room with juddering bass. No one has ever looked so thrilled to be playing the Sunflower, and Henge's glee is infectious. A few songs in, Zpor gestures to his headgear and proclaims,
"My essence is in here – this body is just a clone. My computer system would like to perform it's own piece, would you like to hear that?" and the crowd are fully on board, responding with a hearty cheer to his heavily vocoded cry: "WAVE YOUR HANDS IN THE AIR…IF YOU LOVE COMPUTERS…"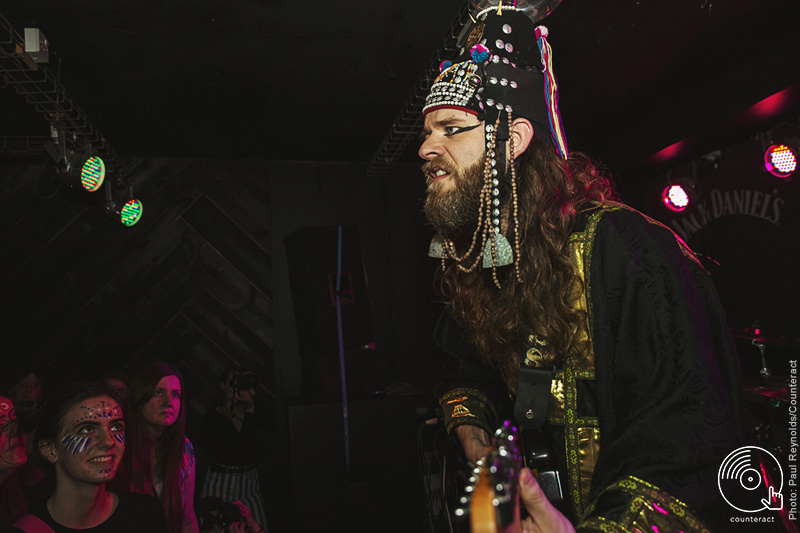 Henge
Henge's squelchy rave rock is like the intergalactic lovechild of Trash Fashion and an early Mighty Boosh skit, peppered with shameless guitar solos and a generous helping of cowbell. The thick, juddering bass of new song "XO" nestles comfortably against live staple "Get Outta Ma House" with its bizarre, pitch shifted vocals. As is a tradition in their live shows, Henge incite the giddy, sweaty audience to sing along with their set-closer, "Demilitarise", by holding up placards with the lyrics:
"WE DEMAND/THAT THE WEAPONS OF WAR/ARE MANUFACTURED NO MORE/DEMILITARISE
WE DEMAND/THAT WE HAVE IN ITS PLACE/THE MEANS TO UNITE/AND COLONISE SPACE"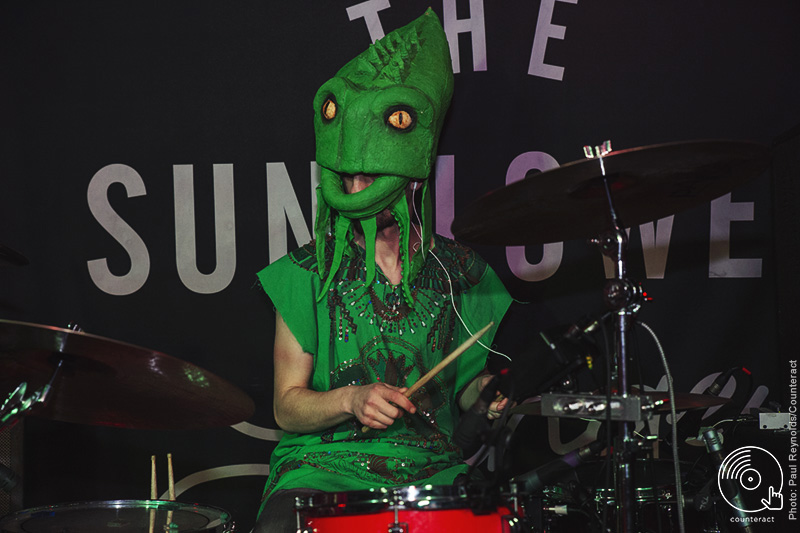 Henge
…and when four guys dressed like Dr Who baddies tell you to do something, who are you say no?
Photographs by Paul Reynolds
Like this? Try these…
Visual artist, multi-instrumentalist, and scrounger. Always wearing headphones, probably listening to Ezra Furman, Sleater-Kinney or Goat.