Interview: The Blinders on their pilgrimage beyond 'Columbia'
Since releasing their cataclysmic debut album "Columbia", Doncaster trio The Blinders have been firing on all cylinders. Sophie Hack sat down with Charlie from the band to discuss their debut album, upcoming tour and more.
[amazon bestseller="blinders columbia vinyl" items="1″]
An extensive UK tour that stretched over in Europe, a stint at SXSW and uprooting to the big city of Manchester all in such a short space of time, before heading out on another headline UK tour this April starting in Birmingham on Friday, April 26th. But, according to bassist Charlie McGough, the past few months have actually been quite quiet.
"The end of last year with this album coming out, it was full on. This year has started quite quiet compared, but it has its benefits. We've been doing a lot of writing and this quiet time gives us time to set things up and get things in order."
Not that it looks like The Blinders are disorganised. Everything seems carefully calculated, from the rich tapestry of narratives embedded into their politically charged tracks, to the complete take over of the alternative music scene by supporting Cabbage, Miles Kane and Blossoms. The release of 'Columbia' in September of 2018 was met with high critical acclaim, painting modern society in an Orwell's 'Big Brother' light.
Dystopian and grey with walls scaling high as guitars amplify and supercharge singer Thomas Haywood's formidable take on the modern world. Combine that with an ominous, electrified stage dynamic and demonic persona as Thomas smears black paint around his eyes and you have something so damning, yet awakening at the same time.
---
"It's all something that happened naturally," admits Charlie. "It's not like we do role play before we go on stage… it's just something that happened gradually and with the creation of the album. How long it will remain I'm not sure."
"This may be our second, third, maybe fourth tour with the same songs and set up, we want to make sure its fresh. Not just for us, but for the audience too. With 'Columbia' we were passionate about the lyrics being relevant to today, but also like a time capsule. We write about thematic events which makes it a bit easier than, say, topical lyrics like Idles. Our political issues are so entwined, how can you write about just one thing? But we're trying to look for more broader scenes within politics, like who holds the power and why."
Since creating 'Columbia', The Blinders have gone on a different kind of pilgrimage, one that has seen dozens of new experiments and ventures into new themes that they hope to test out on new crowds soon. However, there's "no real theme at the moment," apart from a building of characters. Charlie adds: "There's a few songs that go together, we're trying to write different things and challenge ourselves, write through other people's eyes. We've got a dozen songs now but we want to write a dozen more. Certain songs are very socially aware and come from our own opinions, some are themes we've never spoke about before."
But where does this drive for a new sound come from? After the roaring success of 'Columbia', it would be safe to assume The Blinder's have their formula ironed out. But if anything, this whirlwind of a year has made them more driven to push themselves, as Charlie explains: "You write for yourself, you can't write songs with the ambition of 'we're going to sell out Wembley or headline Leeds' – you'd end up going down a different route that wouldn't please yourself. We're all inspired by the greats, but we're inspired by those who kept changing their sound. Bowie, Radiohead, Arcade Fire, Arctic Monkeys, all their albums are completely different. That's what we're trying to follow. We don't want to get stale."
---
One thing's for sure; these new songs are kept close to The Blinders' chest. According to Charlie, people weren't expecting the album tracks 'Orbit' and 'Ballad of Winston Smith' as they're different to their anthemic tracks such as 'Brave New World'. This creates a concern over fans being able to 'get' their possible new direction, but the only way to find out is by testing the water on these upcoming tour dates. "Hopefully we'll be able to pull [the new songs] off, if people don't go to the bar during these tunes then we're doing something right."
Catch The Blinders at Birmingham's O2 Institute on Friday, April 26th as part of a short run of four UK dates, also including Manchester, Glasgow and London. Tickets are on sale now.
The Blinders are teaming up with Safe Gigs 4 Women on this upcoming tour, making sure their shows are a safe space free of harassment and intimidation for all. You can find out more here.
Like this? Try these…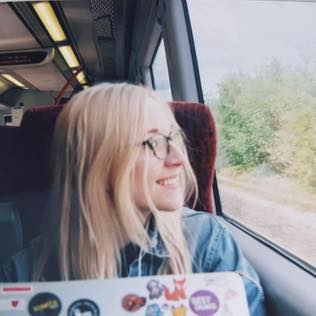 PR, events and social media by day, lover of all things geeky and retro. Can often be found scribbling notes at the back of the gig.