Review: IDLES spread joy at sold-out Digbeth show
Bristol socialists Idles played a triumphant sell out gig at the O2 Institute on October 26th, with support from noise-punks Heavy Lungs.
Fellow Bristolians Heavy Lungs have been supporting Idles on all eleven UK dates of their near sell-out tour. They seem to be getting comfortable with the big stages by now, launching into an onslaught of abrasive post-punk. It's 7:30pm, and the crowd are fairly static save for a smattering of committed dancers. The guy in front of me leans over to his friend and apologises for Birmingham being "a bit dead". Heavy Lungs themselves, however, make no such judgement;
"It's very nice to be supporting Idles – cause that's what everyone's here for, right?" muses frontman Danny Nedelko. "Thanks for listening to us"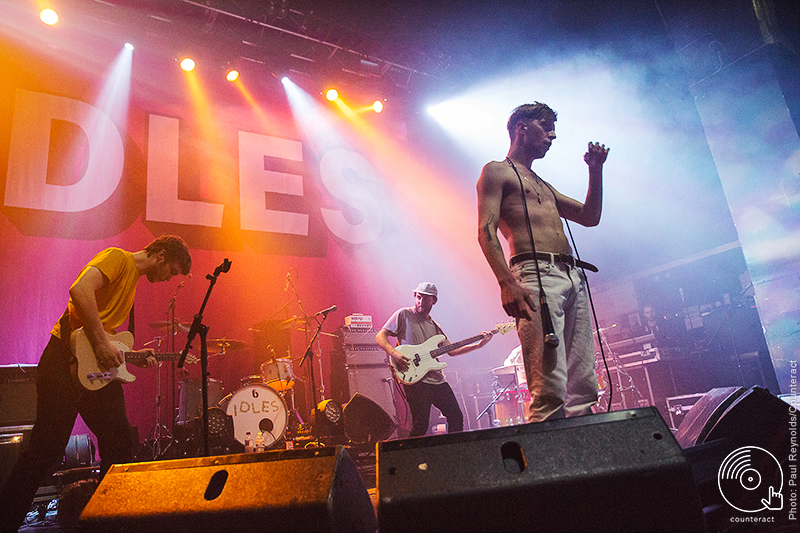 Heavy Lungs
Against the imposing hot-pink "IDLES" banner hung across the back of the stage, Heavy Lungs hold their own. Nedelko lolls around the stage in a pair of white trousers and no shirt, mic cable draped around his neck. He delivers his throaty vocals with a charming sneer. New single 'Blood Brother' is a stand out track, the pounding bass knitted together by a bouncing guitar line. Songs from their 2018 EP Abstract Thoughts take the set down an altogether noisier path. The creeping riff of 'Stutter' gives way as drummer George Garratt creeps out from behind the kit. He takes the mic of Nedelko and laughs into it, a Joker-esque giggle that goes all the way up to a strangled falsetto.
A brief changeover was characterised by a guitar tech who couldn't resist blasting out the first few notes of 'Sweet Child O' Mine', to a collective groan from the O2 Institute. The lights are dimmed, and drummer Jon Beavis rattles out a beat on the kit. Strobe lights accompany an achingly slow opening of 'Colossus'. The sighing riff seems to go on for minutes, winding up the atmosphere in the now-packed room as Idles band members come on stage one by one. Frontman Joe Talbot stands front and centre, staring directly into the eager crowd. Everyone knows what happens next.
"It's coming,
It's coming,
It's coming…"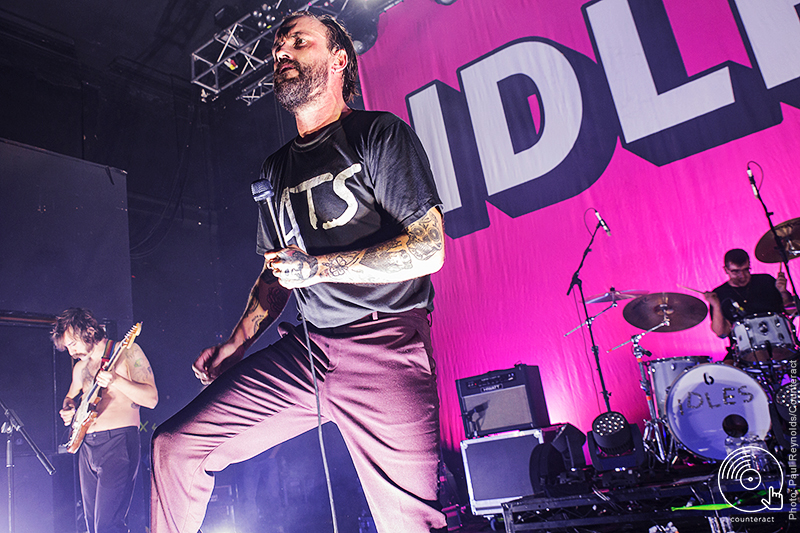 Idles
As the band launch into the second half of the song, the room erupts into pogoing, sing-a-long chaos. Pits open and close again as audience members push to get nearer to the stage – Talbot calls a halt to proceedings at times, insisting the crowd "get some fucking women in that pit".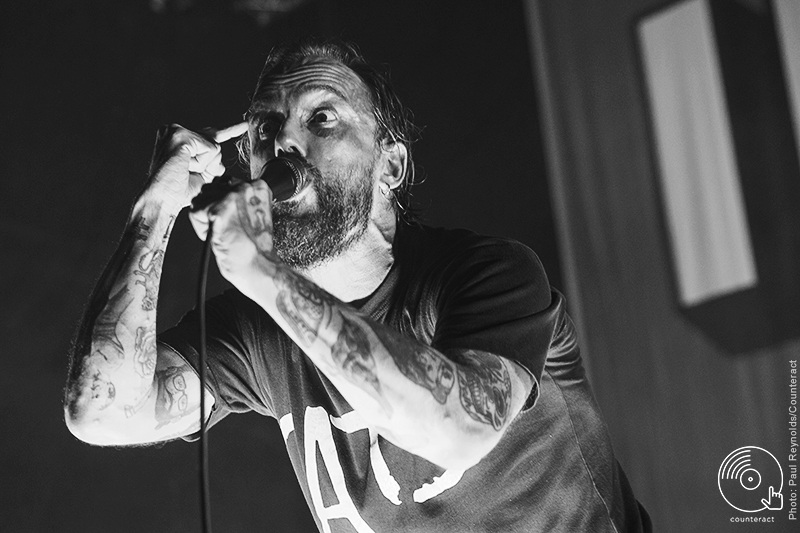 Idles
Tracks from 2018's Joy As An Act of Resistance nestle alongside old favourites in a set that leaves you no room to catch your breath. 2017's 'Mother' is a welcome inclusion; Talbot proudly dedicates the song to our NHS, where his Mother was a nurse. There's something very heartening about a room of one-thousand five-hundred strong shouting along to the refrain, "the best way to scare a Tory is to read and get rich".
From start to finish, the set feels like a celebration of what Idles have achieved in the last twelve months. Talbot muses on stage that, "the last time we played Birmingham, it was at the Hare & Hounds" – they headlined All Years Leaving 2017. They dedicate 1049 Gotho to the AF Gang, their online community that numbers eleven-thousand and counting. For their performance of 'Danny Nedelko', a pro-immigration ode to brotherhood and community, the songs namesake reappears on stage to sing along.
"He's made of flesh, he's made of love
He's made of you, he's made of me
Unity!"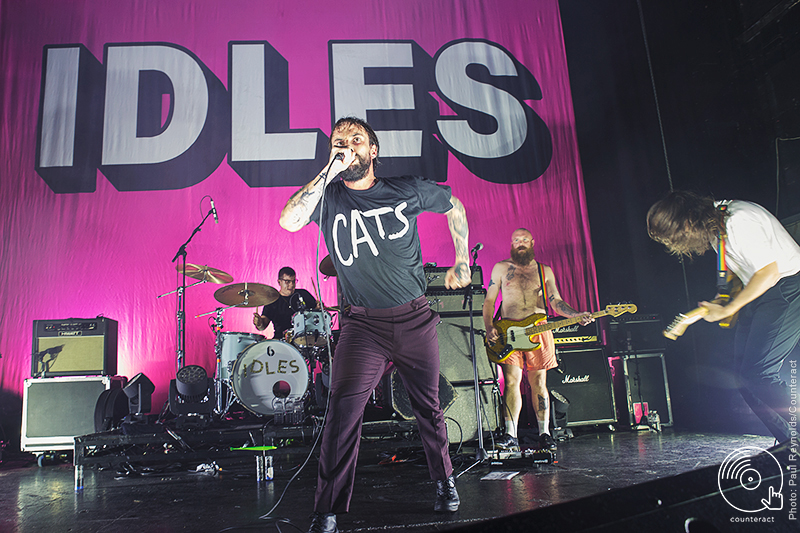 Idles
As noisy, political bands go, IDLES charm is in their wit and their accessibility. The sardonic groove of 'Exeter' provides a backdrop to a stage invasion, with guitarists Mark Bowen and Lee Kiernan offering their instruments to members of the crowd to play along. As the song ends, Talbot shoos everyone offstage again ("otherwise they stay and chat. It's weird") and they group launch into a defiant cover of Solomon Burke's "Cry To Me".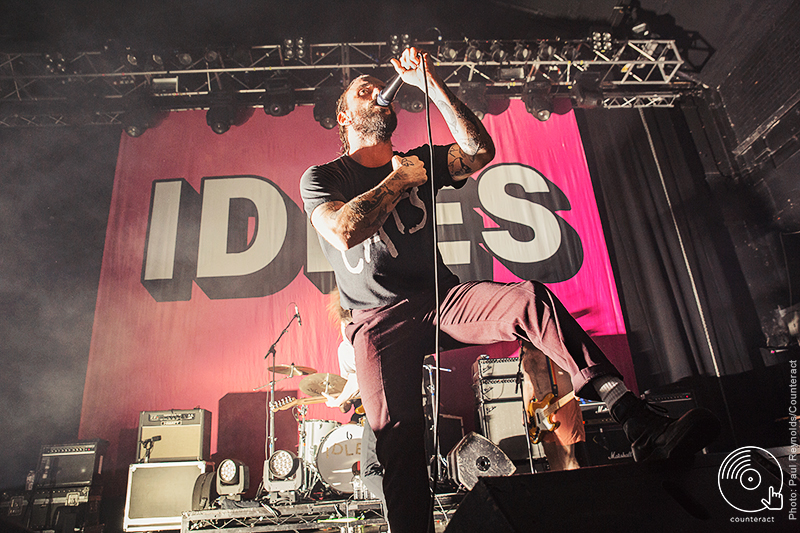 Idles
As with all rising stars, it's normal for fans to miss the days of sweaty, intimate gigs at indie venues. Idles have managed to translate that sense of community as they go. And best of all, they haven't forgotten who their friends are in this town. As Adam Devonshire hammers out the bass line of one of their newest singles, 'Great', Talbot turns to the crowd, and growls,
"LISTEN TO MORE TABLE SCRAPS."
Photographs by Paul Reynolds
Visual artist, multi-instrumentalist, and scrounger. Always wearing headphones, probably listening to Ezra Furman, Sleater-Kinney or Goat.