Interview: Lycio talk band auditions, new music and life in lockdown
June 23rd, 2016 – a fateful date on which a decision was made that will impact lives for years to come…
Two of Birmingham's most promising musicians were in Harborne watching another one – Ed Geater – and as they reclined in the beer garden of The Plough, they decided to ring the young singer they had recently jammed with and offer her the leading role in their band.
Genie Mendez had replied to an advert placed by Alex Lowe and Charlie Kellie and made quite an impression on them, and when Alex offered her the gig, she readily accepted and the soulful electro-pop trio Lycio was formed. Oh, and there was some big vote as well. We spoke to Alex to find out more…
First things first… what did the advert say?
I actually found an original advert still up on a notice board a few weeks ago but it's in Robannas studio in town, so I'll have to have a look next time. It was also online… I believe the Facebook group West Midlands Bands and Musicians was where Genie replied to. I remember we said we needed someone who could write great lyrics and melodies – we referenced Alt-J and Genie loves them. She says that's what made her reply. The funny thing is that only last year she confessed that she wasn't convinced after that first jam… like she wasn't feeling it, and when we rang her and said "we'd love you to join" she was kind of like "oh…" like she wasn't convinced. But luckily she gave it a go and the rest is history.
Were there any other contenders?
Yes, but we jammed with Genie first and we were so convinced we said yes to her before we saw the other person. We decided that we'd jam with them anyway as we'd already agreed and wanted to honour that, but she said she wasn't feeling the genre and vibe so there was no bad feeling.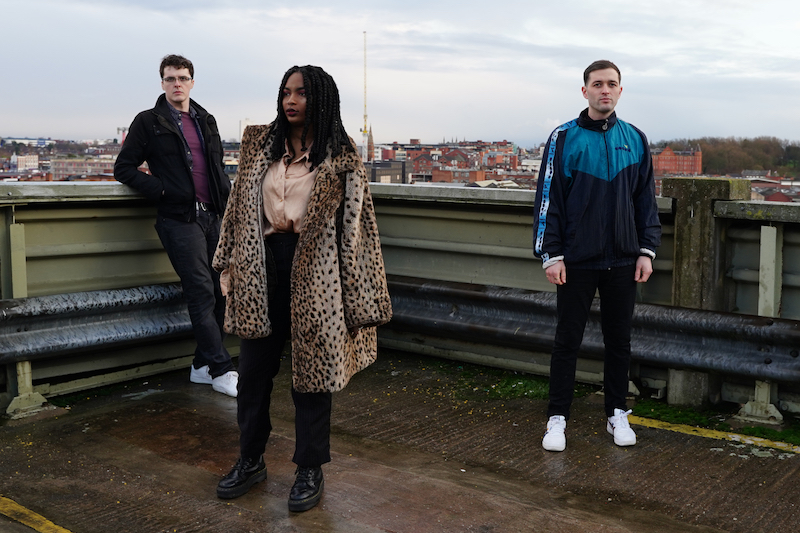 So does Genie write all the lyrics then?
Yeah, she writes all the lyrics and melodies while Charlie & myself write the music.
What are your musical backgrounds?
Charlie did music tech / popular music / composition at Huddersfield Uni, Genie went to the BOA Performing Arts School in Eastside, and I went to BIMM in Brighton and did a professional diploma in drums and then professional musicianship. It's like a reverse of how we originally grew up, because Charlie was originally a drummer – a very good one – and I was a classical person. Violin was my first instrument and I played guitar, so we've almost swapped roles compared to our teenage selves.
And Genie famously worked at the Sunflower Lounge for a while…
Yeah, she worked at the Sunny but that was a little after we started. She was in the in-between phase of college and going to uni when she got in contact with us about our advert. She was gonna go to Derby University to do sound tech I think, but she was deferring the place by a year or so and by the time that came round she decided she didn't want to go – which was lucky for me and Charlie! We were already two or three years graduated from our music degrees so we were in different phases of our lives when we started the group.
It's been a while since Saharan King blew us away and there haven't been like, loads of songs since then. Are you perfectionists?
I suppose we are! After Saharan we did Evil People and then we did three songs where we engineered, mixed and produced ourselves – Cash, Young Ties and Up Down. The process slowed us down a bit but we learned a lot so it was worthwhile.
Your current single Nightfall looks and sounds like a really topical comment on the Covid crisis.
Yeah, Nightfall definitely looks like that – as we always try to put a visual together for every track, and because we were limited due to the situation, Charlie borrowed his brother's GoPro and cycled around the deserted streets filming (video below). We've had this kind of double single release of Nightfall/Somebody planned since around September last year but I worry that people will think we released the tracks in this way because of the lockdown, when in fact we've had it planned for a long time. We wrote both songs in February of last year, in the same week, so they feel like cousins!
---
Somebody is a more upbeat one. Musically, it's more groovy, but Genie wrote it about unrequited love; so it's lyrically fairly open. Usually her stuff is a little more ambiguous and often related to mental health issues.
Is there a visual for that one too?
Yeah, I've surprised Charlie and Genie with this one actually and put together a memory video (below). We were collecting all of our Lycio memories, initially to use on social media during this lockdown for some fun content, and it occurred to me to make a montage. Partly to reminisce about past fun times and to look forward to when we can tour again; and also, as the song is about unrequited love, it's a nice visual to represent friendship and that kind of love.
---
We've seen the version you performed for Sofar Sounds…
Ah yeah the acoustic version. I love watching Sofar Sounds shows – it's such an iconic platform and I think you can often see bands looking a little more sweaty than usual, and concentrating more than they usually do! I kind of see it as a Jools Holland for up and coming bands – you don't wanna mess it up! We have a healthy number of dislikes on that video – I kind of like that because it's good to provoke a strong reaction!
You must have had big live plans around your double single release before this damn lockdown?
We were going to be playing Mello Festival on 22nd May and The Bear Tavern for Bear Grooves on 5th June, and we also had a gig with a band called Beautiful Little Fools at the Victoria planned, but they disbanded because of the whole situation at the moment apparently. I was gutted for them because they had loads of potential.
Yes, that's a real shame, they were certainly off to a promising start. Named after a great Jorja Smith song too.
Yeah it was a great name! I'm hoping they reconsider and start up again sometime soon. We've got an as-of-yet unannounced headline show though for later in the year and another two tracks to be released so we're re-aligning for later this year.
It's good to hear that you're not getting TOO derailed by it all.
We're pretty productive so we're good at finding things to do. We've worked around this period as best we can and started to record stems just before the lockdown for releases in 2021. So we've been been pretty busy working remotely on those.
One more thing – where did the name come from?
Unfortunately the name is a secret, sorry! Its origin has been our best kept secret!
No Counteract exclusive then?
It's such a ridiculous way that we thought of it… we're not sure we'll ever be able to bring ourselves to tell anyone…
Photo credit: Evolvedstep
Like this? Try these…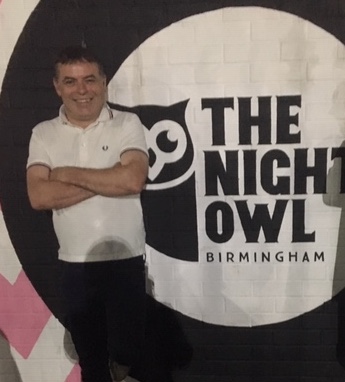 Militant anti-racist and Brummie. Lucky to be born in the most innovative musical city on Earth. If I hadn't been, I'd have moved here by now.